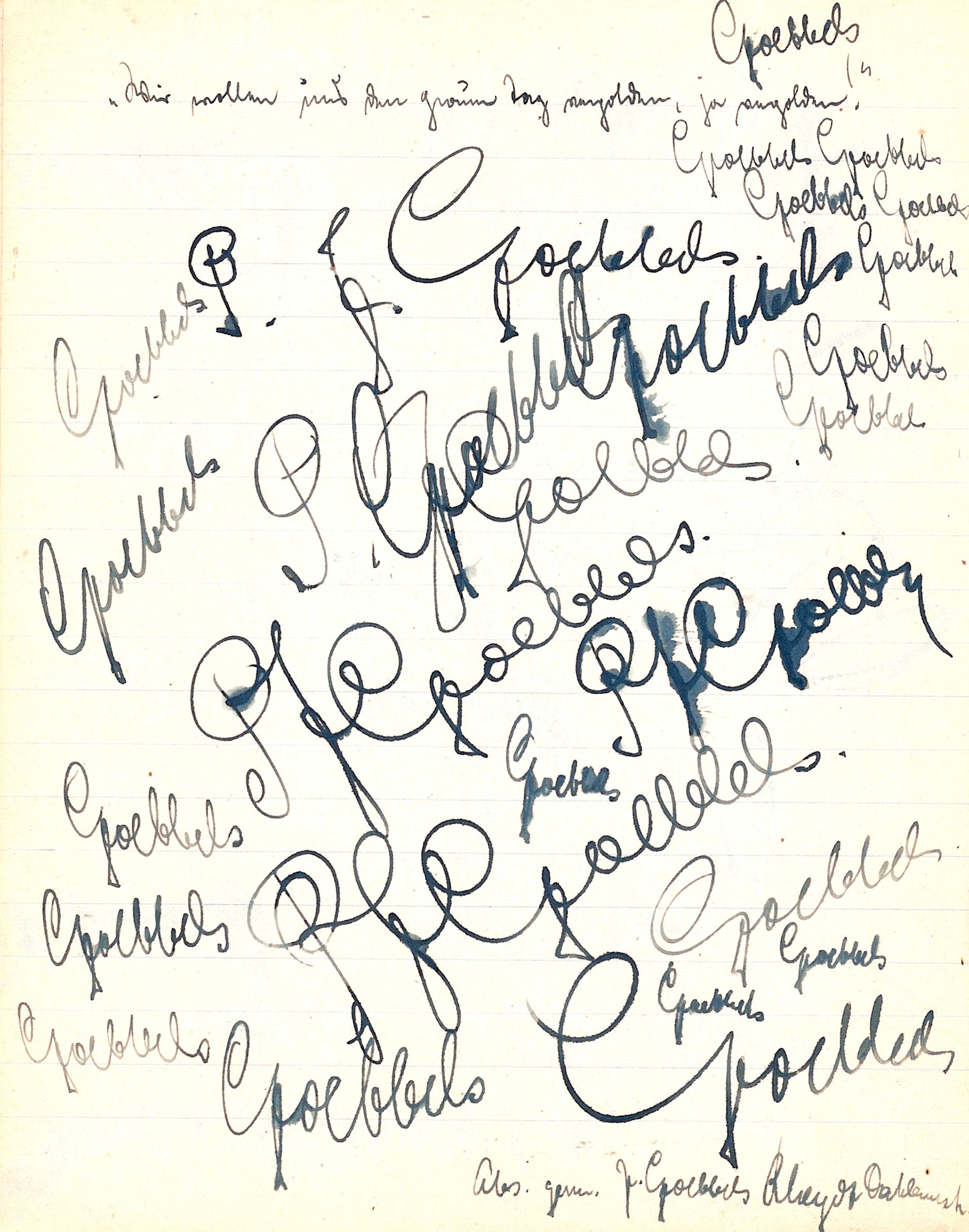 Eric Wakin, director of the Hoover Library and Archives, has announced the acquisition of an extensive collection of the papers of Joseph Goebbels, one of Adolf Hitler's closest associates and followers, who in his later years was the infamous Reich's minister of propaganda.  The papers are mostly from Goebbels' youth and university studies, before he joined the Nazi party in 1924.  These papers are a strong complement to the original portions of the Goebbels's diaries, which have been housed at Hoover since 1947 and are discussed in a recent Hoover Digest article.
The newly acquired materials document Goebbels's early literary ambitions – going back to his student days as novelist, poet, playwright, and essayist.  Those ambitions were eventually frustrated, which Goebbels tended to blame on "Jewish" editors in Germany. There is also private correspondence with family and friends, including his first girlfriend, Anka Stalherm (even locks of her hair). There is also documentation of Goebbels's courses of study in high school and at several German universities, essays, and notebooks that occasionally have the character of journals.
These original documents were apparently not viewed by Goebbels's recent biographers, whose books have been criticized for not bringing Goebbels the man to life in their pages, despite the availability of the published Goebbels diaries.  The documents that are now at Hoover may illuminate Goebbels's inner life and his formation as a young man in a way that the self-dramatizing diaries (which for the later years were clearly written with an eye on posterity) cannot. A more complete biography could well result from this collection.
Other outstanding Hoover Archives collections on Nazi Germany.
The Hoover Institution holds the only original portions of the Goebbels diaries (1925–26, handwritten; 1942–43, typewritten); they were offered to Herbert Hoover in 1946 when he was in Germany during his postwar trips to assess world hunger. 
The Hoover Archives also holds the original diaries of Heinrich Himmler (1914–24).  Included are several photo albums, audio recordings, and copies of documents from the 1940–44 period.  The diaries were given to the Hoover Institution by Himmler's biographer, Bradley Smith, who had received them from a U.S. intelligence officer stationed in Germany after the war.
In 1968, Colonel William R. Philp (from San Francisco) donated to the Hoover Institution several documents he had gathered in Germany at the end of the war, including Hitler's testament, marriage certificate, and head X-rays, as well as albums of photos depicting the signing of the Ribbentrop-Molotov pact in 1939.
For further details contact Maciej Siekierski at siekierski@stanford.edu
Images: Joseph Goebbels photograph from Deutschland erwacht, Werden, Kampg und Sieg der NSDP (Berlin, 1933). Page of signatures is from one of the several Goebbels notebooks.