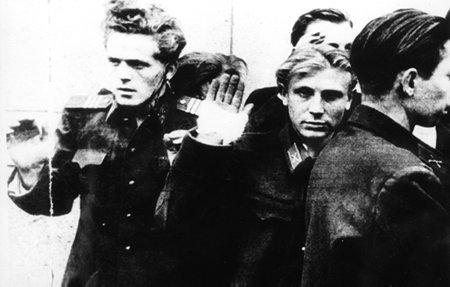 This month Hoover Library & Archives marks the sixtieth anniversary of the famed 1956 revolution in Hungary by digitizing and making available rare scripts documenting the event from our Radio Free Europe/Radio Liberty collection, collaborating with the Hungarian National Széchényi Library to make rare recordings of the event available online, and opening an exhibition of Hungarian Revolution-related materials in the Hoover Tower Rotunda. During the Hungarian Revolution, student demonstrators marched through central Budapest with a van broadcasting Radio Free Europe coverage through loudspeakers, and attempted to broadcast their political demands from the Radio Free Europe studio.
These scripts are part of the special programs created by the Hungarian Broadcast Department of Radio Free Europe during the 1956 Hungarian Revolution. In addition to the regular programming, which continued during this period (and which has not been digitized, but is available in the reading room of the Hoover Institution Archives), these special programs cover unfolding events during the crisis in Hungary that led to mass emigration after Soviet tanks entered Budapest to quash the revolution on November 4, 1956.
The Hungarian Revolution has been a focus of historical battles ever since, with the role of RFE receiving particular attention: in the aftermath of the revolution, RFE was blamed for incendiary broadcasts offering succor to the revolutionaries and promising Western aid and intervention. Fortunately, both the actual on-air recordings and scripts from the period have been preserved, and now with both available over the Internet, historians can judge for themselves whether the scripts, prepared in advance to be read on air, were in any way incendiary, whether broadcasters overstepped the bounds of those scripts during the actual broadcasts, or whether there was a campaign in the aftermath to tarnish RFE by falsely claiming that its broadcasters had incited the Hungarian population to bloodshed.
The newly released and displayed materials give listeners and viewers firsthand accounts of the dramatic uprising that shook the Soviet bloc and became a diplomatic crisis between the United States and the USSR. Researchers interested in the 1956 Hungarian Revolution can also read Hoover visiting fellow A. Ross Johnson's article about Hoover's Radio Free Europe/Radio Liberty collection and the Hungarian Uprising in the latest issue of Hoover Digest.