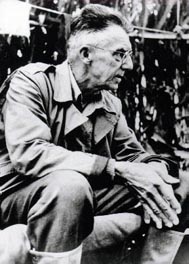 Several messages to the American people from General Joseph W. Stilwell, recorded in Burma during World War II, are among the sound recordings in the Stilwell papers that have been digitized by the Hoover Archives. Also available is a speech made by Stilwell in 1946 in which he vigorously defended the U.S. Army against its critics and urged continued support for the military during peacetime.
In one wartime message from Burma, Stilwell recites the many nationalities of the Allied forces, noting that "the American contingent is as yet unfortunately small, but being American, you know it's good." The specific dates of Stilwell's messages from Burma are unknown, but Stilwell's diary for January 14, 1944, reports in part, "Breakfast with U.S. radio crew—oat-meal, coffee, bacon, pears."
The recordings about Stilwell include a talk by Frank Dorn, who served with Stilwell, in 1956. After telling stories about the military man, Dorn reads "Is Marriage a Failure?" a poem written by Stilwell. "Uncle Joe," a dramatization starring Walter Abel as narrator, was broadcast as part of the radio series Warriors of Peace. Finally, just days after Stilwell's death in 1946, Red Barber saluted him as soldier and athlete on the Sports Magazine of the Air.
To set up an appointment to listen to these recordings at the archives or purchase copies if you cannot visit, please see Audiovisual Services.