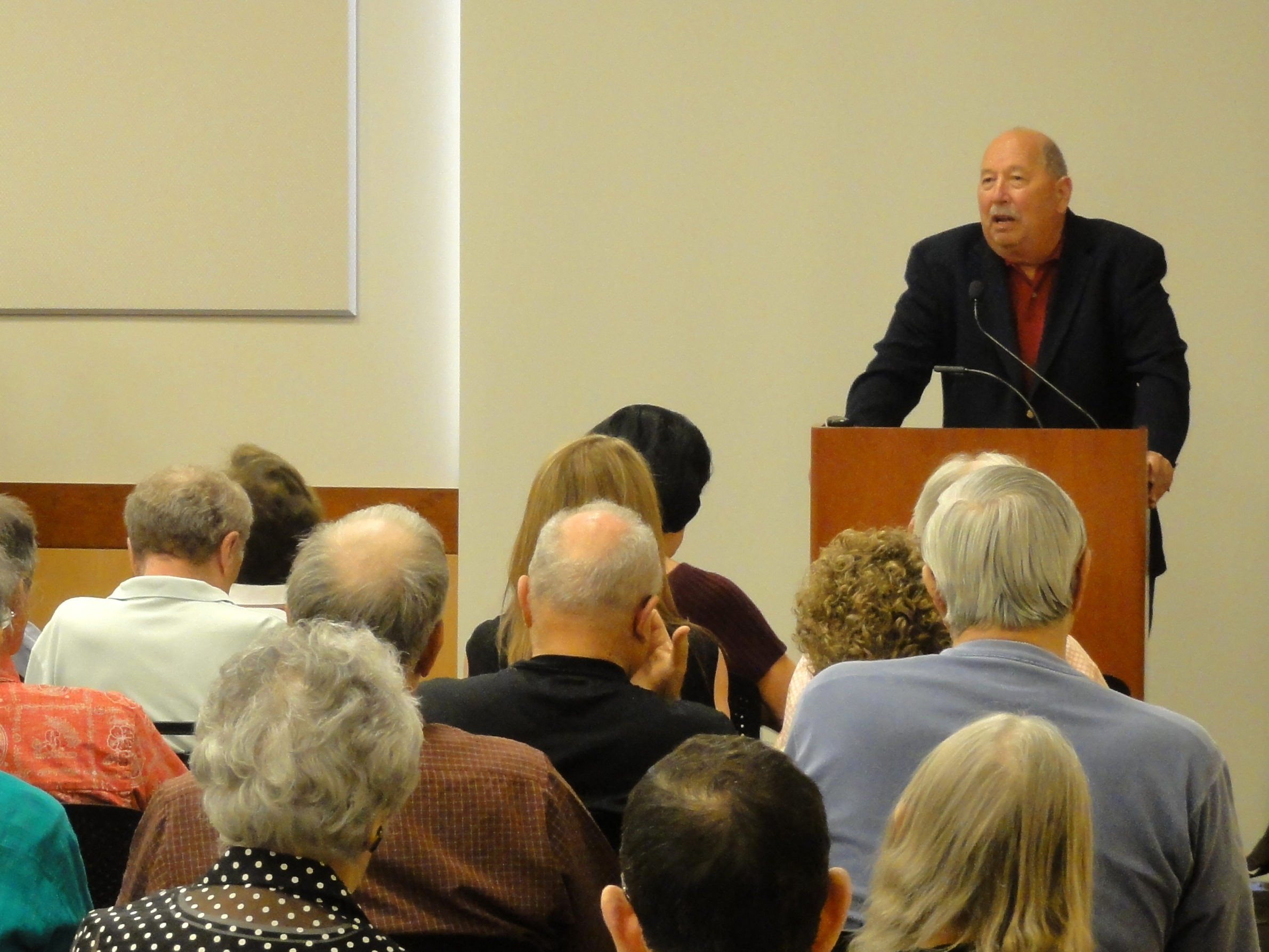 Hoover Participants
Lisa Nguyen
Sally Paine
Naralia Reshetova
Eric Wakin
Invited Participants
Stanford Faculty
Stanford Graduate Students
Observers
Eliot Assoudeh
Sherman Lai
Felix Schnell
Jörg Baberowski Jörg Baberowski is Professor of East European History at the Humboldt University in Berlin. His latest book, Verbrannte Erde. Stalins Herrschaft der Gewalt (Scorched Earth: Stalin's reign of violence) was awarded the Leipzig Book Fair nonfiction prize.
Vanessa Bozzay is a graduate student in China Studies at the Free University of Berlin. She earned a BA in Chinese and Economics from the School of Oriental and African Studies, University of London. Her research focuses on economic and political aspects of modern and contemporary China. She is the author of "Chinese Perspectives on China in Africa: Responses to External Criticism and Internal Debate on the Way Forward", published in the Berliner China-Hefte / Chinese History and Society (Vol. 42, 2013). Based on previously untapped Chinese language archival materials, her current research looks at "System Change and Refugee Crisis: The Transformation of Governance Institutions in China, 1945-1957", as part of a project of the Collaborative Research Center (SFB 700), funded by the German Research Foundation.
Samuel Casper is a third-year graduate student in history at the University of Pennsylvania. His dissertation examines the rationale for and implications of political rehabilitation in the years following Stalin's death, as well as the importance of rehabilitation as a category for thinking through the past in the post-Khrushchev USSR. While at Hoover he plans on working with the personal papers of several Soviet émigrés, as well as Fond 89 and the records of the Party Control Committee.
Shaolei Feng is Professor and Dean of the School of Advanced International and Area Studies, East China Normal University, Shanghai.
Hajo Frölich is a research associate and PhD candidate at Freie Universität Berlin in Germany. His research focuses on the image of the Chinese state and its relation to society during the late nineteenth and twentieth century. He is especially interested in state control over education in the 1900s (the topic of his dissertation), and in the treatment of refugees and relief organizations in the 1940s and 50s. At Hoover, he will be using various Chinese holdings for an article on the fate of refugee relief organizations in North China after the founding of the Peoples Republic.
Stephen Kotkin is John P. Birkelund '52 Professor in History and International Affairs at Princeton University. His latest book is Uncivil Society: 1989 and the Implosion of Communist Establishments, with a contribution by Jan Gross (Random House, 2009). He is currently writing a book on dictatorship and power entitled "Stalin's World". He also has a manuscript in draft called "Lost in Siberia: Labyrinths of the Ob River Basin".
Sergey Kudryashov Until the collapse of the USSR Sergey Kudryashov was a researcher in the Academy of Sciences Institute of USSR History and the Institute of Theory and History of Socialism (formerly the Institute of Marxism-Leninism). After 1991, Kudryashov and friends set up the archival journal Istochnik, which he managed until 2004. In 2005 he was invited to join the German Historical Institute in Moscow, where he continues to work. He has published on various aspects of Soviet history. He is currently preparing a three-volume edition of Brezhnev's working diaries.
Danhui Li is a Professor of the Center for Cold War International History Studies, East China Normal University, Shanghai.
Klaus Mühlhahn is Professor of Chinese History and Culture at the Free University of Berlin. He is interested in Chinese legal history in the modern period, and the history of imperialism and Sino-Western exchanges in the twentieth century. His most recent publications include: Criminal Justice in China – A History, winner of the American Historical Association's Fairbank Prize for 2009; "The concentration camp in global historical perspective" [History Compass 8(6)]; "'Friendly pressure': law and the individual in modern China" in Mette Halskov Hansen and Rune Svarverud (eds) iChina – The Rise of the Individual in Modern Chinese Society; and "National studies and global entanglements: the re-envisioning of China in the early 20th century" in Vanessa Kuennemann and Ruth Mayer (eds) Transpacific Interaction: The United States and China, 1880–1950.
Mikhail Nakonechny graduated from Pskov State University and is currently a postgraduate student in the St. Petersburg Institute of Russian History (Russian Academy of Sciences). Over several years he has conducted comparative research on mortality in the Imperial Russian penitentiary system under Alexander III and Nicholas II (1885-1917) and the Soviet GULAG (1930-1953) in a global context. He aims (1) to determine the place of Russian and Soviet prison mortality in global comparison and (2) to investigate the major reasons for Russian and Soviet penitentiary mortality trends in the given period. He works not only with Russian Imperial and Soviet prison mortality data but also with date from the USA, metropolitan England, Belgium, Austria, Sweden, Spain, metropolitan France, Prussia, colonial Vietnam, French Guyana, New Caledonia, Germany (the Kaiserreich, Weimar Republic and Third Reich), Imperial Japan, and Poland. He uses the archives of former Soviet republics, both central and regional (GA RF, GAPO) and official and unofficial penitentiary reports and documentation of different countries. Mikhail has participated in scholarly conferences in Belgrade and St. Petersburg, and published some preliminary results in «Comparison of mortality in prison system of late Russian Empire(1885-1915) and Soviet GULAG(1930-1953)» in 2012. Another article on «Prisoners' mortality of Gulag OGPU-NKVD 1930-1945 and death rates of the Nazi concentration camp system in 1933-1945: cоmparison in historical context» will be published in 2013.
Zhihua Shen is a Professor of History and the Director of the Center for Cold War International History Studies at the East China Normal University, Shanghai.
Penelope Van Tuyl is the Deputy Director of the UC Berkeley War Crimes Studies Center and the Asian International Justice Initiative and a Visiting Fellow at the Hoover Institute at Stanford University. An American lawyer, Penelope received her J.D. from the UC Berkeley School of Law, and is admitted to practice in the state of California. Penelope oversees several key WCSC/AIJI projects, including the annual Summer Institute in International Humanitarian Law and Human Rights, the "Virtual Tribunal" project, and our regional trial monitoring programs at the Extraordinary Chambers in the Courts of Cambodia, the International Crimes Tribunal in Bangladesh, and the Special Court for Sierra Leone. She has authored and edited numerous reports and articles on international criminal law and procedure, and taught courses in law and rhetoric at U.C. Berkeley Her research interests touch on Human rights rhetoric and practice, as well as substantive, procedural, and administrative aspects of international criminal trial practice.
Stefan Wiese is a PhD candidate at the Humboldt University in Berlin. In his current project, he analyzes oratory in the CPSU Central Committee from the late 1920s to the early Brezhnev era. Stefan interprets the Central Committee not primarily as a decision making body, but as a place where new modes and standards of behavior were communicated to and within the Soviet political elite. He devotes special attention to the process of subsequent re-writing the speeches for partial publication and to the messages this implied.
Marianna Yarovskaya In 1998 Yarovskaya directed UNDESIRABLES, which won a Student Academy Award (Student Oscar) and screened at Cannes. Since 2000 she has worked for Discovery Channel, National Geographic, History Channel, NASA Ames Research Center and Greenpeace as Producer and Senior Editor. In 2006 she was Head of Research on AN INCONVENIENT TRUTH which won an Academy Award. Her last project, HOLY WARRIORS, a study of soldiers who found religion, has played in 35 countries worldwide and won numerous awards. Marianna is also a finalist for a 2010 China-U.S. Fulbright fellowship to do research for her latest project.