The Hoover Institution Library & Archives has acquired a collection of ninety-four photographs, forty-four documents, plus a collection of military insignias, printed invitations, newspaper clippings, and assorted ephemera formerly belonging to Sergeant Leo McDowell, a decorated African American Marine who served during three American wars and earned accolades as a Marine recruiter. The materials date from 1955 to 1986.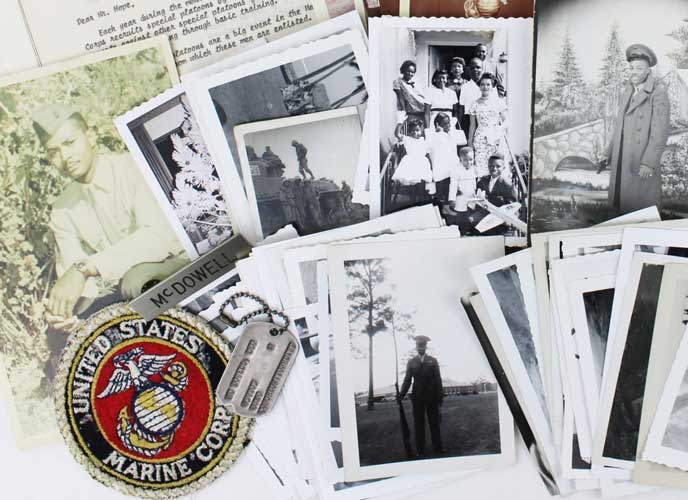 Leo McDowell (1927–2017), a native of Detroit, was seventeen years old when he joined the United States Navy during World War II. He served the in the Navy for two years before enlisting with the US Marine Corps and served in the Marines through the wars in Vietnam and Korea. During the Korean War, McDowell was chosen by officers at Marine Corps headquarters to assist with integration efforts in the military; McDowell was asked by Marine Corps Quartermaster General W.P.T. Hill to serve on the Steward Inspection and Demonstration Team, which sought equality for Black stewards serving under officers. After a hand grenade shattered McDowell's ankle during combat, Sergeant McDowell eventually retired from the military, then worked at the Department of Housing and Urban Development (HUD), the Veterans Administration, and in various private security firms. McDowell was a lifelong Republican who supported President Nixon and served Ronald Reagan while Reagan was governor of California and later President of the United States. 
The photographs in the collection illustrate both McDowell's early career in the military and his later work in government administration. Most of the photos chronicle McDowell and his fellow soldiers during their time in Hawaii and the Pacific in the late 1950s, showing them at work and at play. Several of these earlier photographs depict McDowell and some of his fellow African American soldiers in training exercises. A couple of slightly later color photographs feature McDowell at his recruiting desk in Hollywood, California. One photograph features McDowell posed with Hollywood stars Charlton Heston, Jimmy Stewart, and Lloyd Bridges. There is also a color photograph of Ronald Reagan inscribed, "To Leo McDowell Very Best Wishes Ronald Reagan."
Most of the documents are related to assignments given to McDowell in his later military career, or during his time in other government service or private security service—including a letter written and signed to one of McDowell's colleagues from John Wayne. Another letter is a retained carbon copy of a letter McDowell wrote to Bob Hope in 1966. A related document is a red-ink drawing of a Spartan-like character on a horse to illustrate "The United States Marine Corps Bob Hope Challenge Platoon," a public recruiting event McDowell greatly assisted Bob Hope with during the 1960s. The collection also includes typed documents written by McDowell, including a two-page rumination on the importance of Black History Month and a six-page corrected typescript of a speech by McDowell entitled, "Actual Experience," in which he recounts the effects of a 1971 earthquake on himself and his family, an event which led McDowell to work at HUD.
The ephemera in the collection includes McDowell's military insignia, his dog tags, name badges, patches, event invitations, newspaper clippings, his marble desk top nameplate, and more. Among these items are an invitation to Nixon's 1973 Inaugural Ball, a ticket to Nixon's Inauguration, and an invitation to Reagan's 1981 Inaugural Convocation. The collection overall is a unique assortment of materials documenting the career of a notable African American Marine and changing policies concerning race that affected the United States military from the 1940s to the 1980s.
Leo McDowell died in Littlerock, California, on March 8, 2017, at the age of 78.