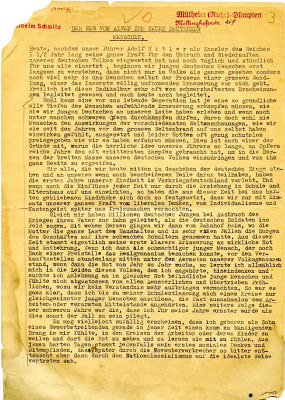 Hoover Archives has digitized and made available more than 3,700 pages of autobiographical sketches written by members of the Nazi Party. The documents are from the Theodore Abel papers. The collection of this noted sociologist allows researchers incredibly valuable insight into the workings of authoritarian regimes and the ideological beliefs of their members.
As a sociologist at Columbia University in the 1930s, Abel believed that the life stories of early party members could help make sense of the National Socialist movement in Germany, but struggled to gain access to Hitler's followers. After failed attempts to make personal contacts, Abel decided to stage a contest, in which Abel offered 400 German marks "for the best personal life history of an adherent of the Hitler movement." Limiting the contest to people who had joined the party before 1933, his announcement, distributed at all local headquarters of the party and published in the party press, stated that "contestants are to give accurate and detailed descriptions of their personal lives, particularly after World War I. Special attention should be given to accounts of family life, education, economic conditions, membership in associations, participation in the Hitler movement, and important experiences, thoughts, and feelings about events and ideas of the post-war period."

Abel paid the awards out of his own pocket. Had he been able to offer more money, he thought, he would have gotten more entries. Even so, he received 683 manuscripts, "a result as unexpected as it was gratifying. The wealth and variety of material contained in these life histories fully justified the undertaking." Abel used these documents as the foundation for his  book, Why Hitler Came into Power: An Answer Based on the Original Life Stories of Six Hundred of His Followers (1938). A celebrated study, Abel's book represents one of the most innovative and insightful attempts to understand Nazi psychology in the 1930s.