The Hoover Institution Library & Archives presents the Fanning the Flames Speaker Series. This seventh session is moderated by Kaoru (Kay) Ueda, Curator of the Japanese Diaspora Collection at Hoover's Library & Archives and presented by Reiko Tsuchiya, professor, Waseda University. The "Propaganda Leaflets against the Japanese by the Allies: Insight, Revelations and Japanese American Contributors" event virtual is on Thursday, January 27, 2022 at 4:00 pm PDT | 7:00 pm EDT.
To learn more about the accompanying book (edited by Kay Ueda) and to see past events, videos, and highlights, please visit our new interactive online exhibition website, Fanning the Flames: Propaganda in Modern Japan .
---
WATCH THE DISCUSSION
---
Participant Bios

Professor Reiko Tsuchiya
Professor Reiko Tsuchiya received her Ph.D in Sociology from Hitotsubashi University, Japan, and has been a professor of sociology and media history in the Faculty of Political Science and Economics at Waseda University since 2010. She serves as Director of the 20th Century Media Institute and Editor-in-Chief of the history journal Intelligence. Previously, she was a visiting scholar at the University of Maryland (2003) and the London School of Economics and Political Science (2017), as well as a visiting professor at Cairo University in Egypt (2018) and the Communication University of China (2013-2015).She has numerous publications, including Chronology of Japanese Media History (ed., 2018),The Pacific War Read from Propaganda Leaflets against the Japanese (2010), and The Origin of Popular Newspapers in Japan (2002). She also created the Database of Wartime Propaganda Leaflets.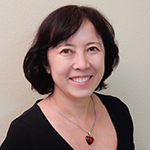 Kaoru (Kay) Ueda
Kaoru (Kay) Ueda is the curator of the Japanese Diaspora Collection at the Hoover Institution Library & Archives. She curated many of the materials used in the Fanning the Flames book and exhibition. Ueda manages the Japanese Diaspora Initiative, endowed by an anonymous gift to promote the study of overseas Japanese history during the Empire of Japan period. She is the editor of On a Collision Course: The Dawn of Japanese Migration in the Nineteenth Century (Stanford, CA: Hoover Institution Press, 2020).