Hoover Archives Acquires New Soviet-era Dissident Papers
Above: Pavel Litinov in the early 1970s.
By Lora Soroka
Hoover Archives recently acquired two significant collections, the papers of Aleksandr Esenin-Vol'pin and of Pavel Litvinov, both of whom were notable Soviet dissidents.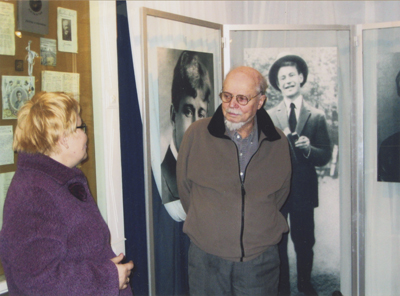 A poet and mathematician, Aleksandr Esenin-Vol'pin is considered one of the founders of the human rights movement in the USSR. In 1949 he was arrested and sent to a psychiatric hospital for writing "anti-Soviet poetry" and was arrested again in 1959 for sending abroad samizdat (self-printed works), including his Free Philosophical Tractate. In 1965 Esenin-Vol'pin organized a legendary "glasnost meeting," a demonstration at Pushkin Square in the center of Moscow, demanding an open and fair trial for the arrested writers Andrei Siniavskii and Iulii Daniel'. Esenin-Vol'pin was one of the first Soviet dissidents to take a "legalist" strategy of dissent, proclaiming that it was possible and necessary to defend human rights by strictly observing the law, in turn demanding that the authorities observe the formally guaranteed rights. In 1968, Esenin-Vol'pin circulated his famous "Memo for those who expect to be interrogated" that was widely used by fellow dissidents. He immigrated to the United States in 1972, where he taught math at Boston University and continued his human rights activities.  He died on March 16, 2016, at the age of ninety-one. His papers include biographical materials, unpublished memoirs, correspondence, and photographs.
Born in 1940, Pavel Litvinov was a physicist, writer, and Soviet-era dissident and the grandson of Maxim Litvnov, Russian minister of foreign affairs in 1930–39 and ambassador to the United States in 1941–43. Litinov was raised among the Soviet elite, but after Stalin's death in 1953, he became disillusioned with the Soviet system after witnessing the return of family friends from the labor camps. In his twenties, he became acquainted with a group of intellectuals who were following the show-trials of the writes Andrei Siniavskii and Iulii Daniel'. Litvinov was one of the eight participants in the1968 Red Square demonstration against the Soviet invasion of Czechoslovakia, and raised banners in Czech and Russian supporting Czechoslovak independence. The KGB promptly arrested the protesters and put them on trial two months later. Litvinov was sentenced to five years' exile in Siberia. In 1974 Pavel Litvinov and his family immigrated to the United States, where he taught physics and mathematics at a boarding school in Tarrytown, New York, until his retirement in 2006. The Pavel Litvinov Papers include biographical material, correspondence, memoirs and other writings, notes, printed matter, and photographs, relating to political prisoners, civil rights and dissent in the Soviet Union, and Russian émigré affairs.