This March Hsiao-ting Lin, Hoover fellow and curator of East Asia Collections at the Library & Archives, will release his book Accidental State: Chiang Kai-shek, the United States, and the Making of Taiwan, the product of years of research in Hoover Archives. Published by Harvard University Press, Lin's book draws from sixteen collections at Hoover related to the history of Taiwan and US operations in East Asia.
Lin's extensive research in recently declassified archives shows that the creation of a Taiwanese state in the early 1950s owed more to serendipity than to careful geostrategic planning. The establishment of the Taiwanese state, Lin argues, was the cumulative outcome of ad hoc half-measures and imperfect compromises, particularly when it came to the Nationalists' often contentious relationship with the United States.
The existence of two Chinese states—one controlling mainland China, the other controlling the island of Taiwan—is often seen as a seemingly inevitable outcome of the Chinese civil war. Defeated by Mao Zedong, Chiang Kai-shek's Nationalists fled to Taiwan to establish a rival state, thereby creating the "two Chinas" dilemma that vexes international diplomacy to this day. Accidental State challenges that conventional narrative, offering a new perspective on the founding of modern Taiwan.
Lin argues that the archives at Hoover reveal that Taiwan's political status was fraught from the beginning. The island had been formally ceded to Japan after the first Sino–Japanese war; during World War II the Allies promised Chiang that Taiwan would revert to Chinese rule after Japan's defeat. But as the Chinese civil war turned against the Nationalists, US policy makers reassessed the wisdom of backing Chiang, with the idea of placing Taiwan under United Nations trusteeship gaining traction. Cold War realities, and the fear of Taiwan falling into communist hands, led Washington to recalibrate its policy. Yet US support of a Taiwan-based Republic of China remained ambivalent, meaning that Taiwan had to eke out a place for itself in international affairs as a de facto, if not fully sovereign, state.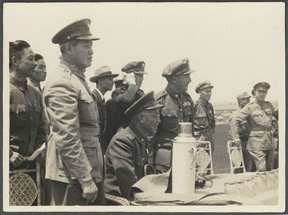 Undated photo of Sun Liren discussing military strategy with Chiang Kai-shek. Hoover Institution Archives, Shen Keqin papers, Box 4
In his research for Accidental State, Lin used the following Hoover collections:
Lin holds a BA in political science from National Taiwan University (1994) and an MA in international law and diplomacy from National Chengchi University in Taiwan (1997). He received his DPhil in 2003 from the University of Oxford, where he also held an appointment as a tutorial fellow in modern Chinese history. He has published extensively on modern Chinese and Taiwanese politics, history, and ethnic minorities, including Modern China's Ethnic Frontiers: A Journey to the West (Routledge, 2011); Breaking with the Past: The Kuomintang Central Reform Committee on Taiwan, 1950–52 (Hoover Press, 2007); and Tibet and Nationalist China's Frontier: Intrigues and Ethnopolitics, 1928–49 (UBC Press, 2006), which was nominated as the best study in the humanities at the 2007 International Convention of Asia Scholars and more than a hundred journal articles, book chapters, edited volumes, reviews, opinion pieces, and translations.