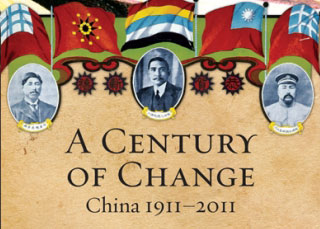 The Association of College and Research Libraries' Rare Books and Manuscripts Section has selected the Hoover Institution Library and Archives' exhibition catalog, A Century of Change: China 1911-2011, as the 2013 winner of the Katharine Kyes Leab and Daniel J. Leab American Book Prices Current Exhibition Award. The awards were announced in the March 25 edition of the American Libraries Association (ALA) News.
Funded by an endowment established by Katharine Kyes Leab and Daniel J. Leab, editors of American Book Prices Current, the awards recognize outstanding exhibition catalogs issued by American or Canadian institutions in conjunction with library exhibitions. A Century of Change:  China 1911-2011, received accolades in the Division Two category: "moderately expensive" exhibit catalogs. The catalog accompanied an exhibition of the same name that was on view in the Herbert Hoover Memorial Pavilion from April 12, 2011, to February 18, 2012. 
"Commemorating the one-hundredth anniversary of the Chinese Revolution of 1911, the highly original content of this catalog, with its diverse and engaging variety of images, artifacts and bilingual text, documents a century of tumult and change which results in the establishment of the Republic of China," said Cherry Williams, chair of the Rare Books and Manuscripts Section Exhibition Awards Committee and curator of manuscripts at Indiana University. "The use of ivory and red color in the page layouts is a particularly effective organizing tool providing subtle definitions which flow from one section to the next. Highlighting a resource which may be unfamiliar to some, the catalog appeals to a broad constituency of visitors by providing an enticing glimpse into the rich holdings of the Hoover Institute [sic]."
The exhibition was produced by a team of Hoover Institution curators and archivists; Jacqueline Jones designed the catalog. The award will be presented on Sunday, June 30, at the 2013 ALA Annual Conference in Chicago.
Click here to read the full press release.
Click here to read the article in the Stanford Dish.