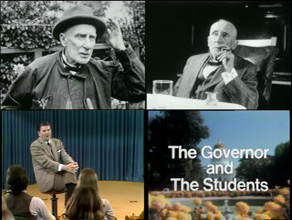 Eleven more historic California recordings from Hoover collections have been digitized for California Light and Sound, a project of the California Preservation Program. Those recordings provide a historic perspective on political and social issues in California, including gun registration, crime, earthquake mitigation, and the wine industry. Among the new items are footage of Edward Adams, founder of the Commonwealth Club of California, in 1928, and a public service announcement featuring John Hadl, quarterback of the Los Angeles Rams, talking about helmets and motorcycle safety in 1974.
The digitized materials are hosted by the Internet Archive. The original items came from several different collections at Hoover, though most are from the Commonwealth Club of California records and the Governor and the Students videotape series.
List of the Hoover Institution's recordings on the Internet Archive.