On November 4, 2022, the Second International Workshop on Japanese Diaspora, a full-day workshop co-hosted by the Hoover Institution Library & Archives and the Japanese Association for Migration Studies, welcomed ten presenters to the Library & Archives. The workshop, which was supported by the endowed Japanese Diaspora Initiative at Hoover and managed by Kaoru (Kay) Ueda, curator for Japanese Diaspora Collection, encouraged rising young scholars to present their new research on Japanese global migration and to discuss the Japanese diaspora from a transnational perspective. 
The workshop activities opened with a public lecture which was held on Thursday, November 3rd, and featured Sheldon Garon, Nissan Professor of History and East Asian Studies at Princeton University. Garon's talk "Through a Transnational Lens:  Embedding Japan in Global History" spurred lively discussion of transnational exchanges of ideas in the following day's discussion.
The day began with a tour of the Library & Archives conducted by Ueda, and featured various Japanese diaspora related collections, which included the Mitsuo Fuchida and Zen'ichiro Uchida papers. The presentations were organized into three sessions: 1) Geopolitics, Nationalism, and Identity,  2) World War II and its Consequences, and 3) Economy and Global Commodity. The sessions were respectively chaired by Jun Uchida of Stanford's history department, Yuma Totani, Hoover visiting researcher, and Yoko Tsukuda from the Japanese Association for Migration Studies. Many presenters extensively used the Hoji Shinbun Digital Collection as part of their primary sources.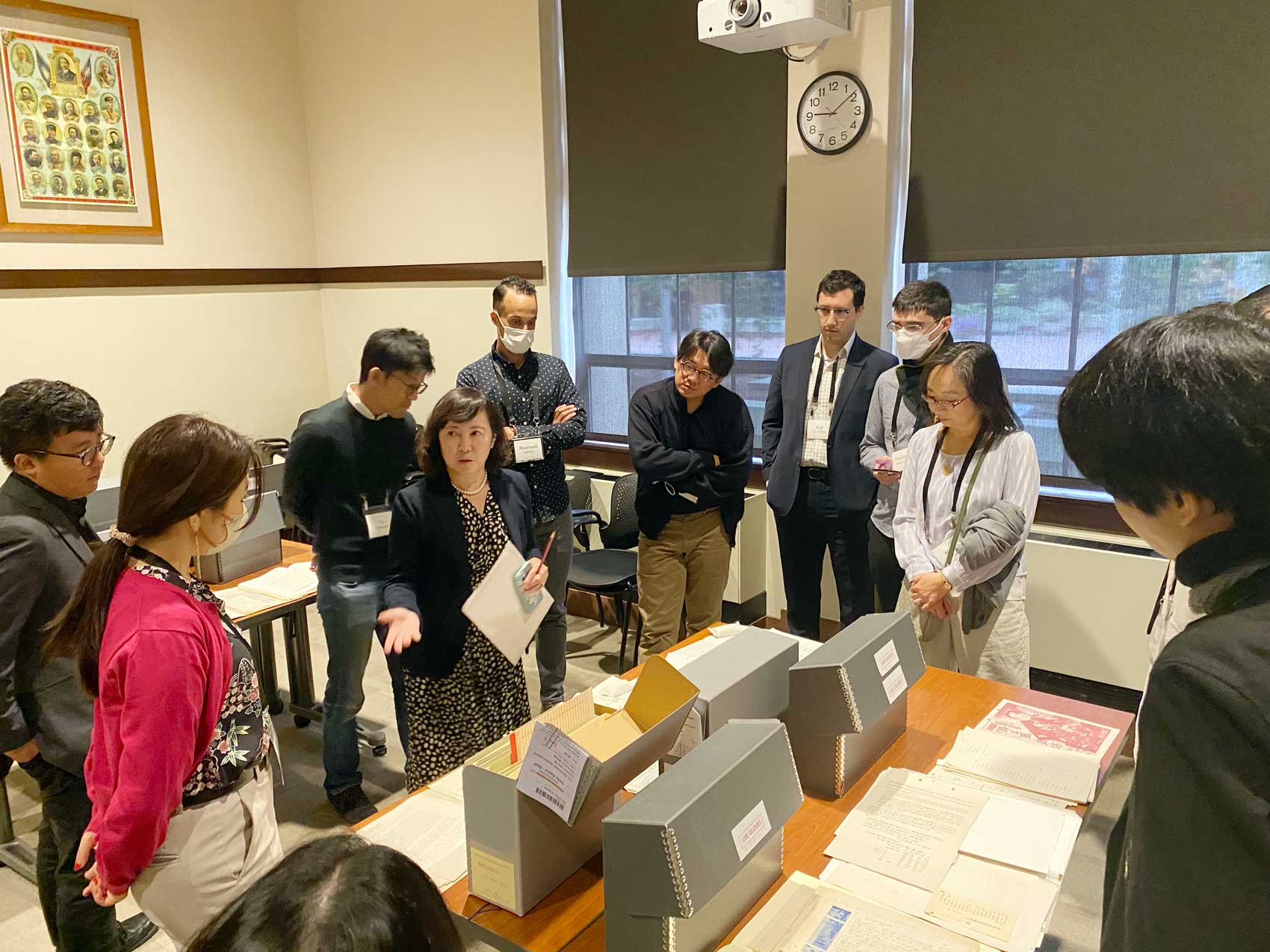 Discussions throughout the day focused on the topics of using the Hoji Shinbun Digital Collection, how to move interdisciplinary research on the Japanese diaspora forward, and broadening the scope of diaspora or migration studies to include exchanges of ideas. The workshop was concluded by Eiichiro Azuma, the workshop chair and Hoover visiting researcher. 
The event was a great opportunity for scholars in this research area to network and engage in rich conversation and discussion about their research topics.  One of the presenters shared, "I will incorporate the feedback in my future research." Overall, many of the attendees, including a senior scholar, indicated that they learned a lot about the new studies within the topic of Japanese global migration.
These presentations are now available on the workshop event webpage.