Updated Guide to Firing Line Broadcast Records Now Available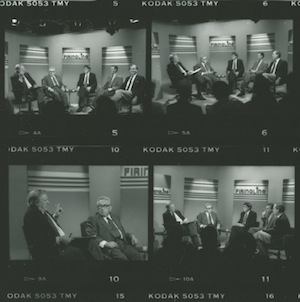 A major update to the Firing Line broadcast records finding aid is now available.
In addition to the original videotapes of this long-running television show, the Firing Line collection includes extensive paper and photographic records related to the series; the updated finding aid now includes a detailed list of speakers who were invited on the show. All of the background files, publicity files, and transcripts for individual shows are grouped together by episode and linked to the program summaries in the Firing Line database.
The integrated finding aid and online database will provide a more accessible and productive experience for those researching the show, the host, and featured guests. Users interested in ordering video copies or transcripts of Firing Line episodes should continue to consult the online Firing Line database.