German Soldiers' Photographs From The Front
Above: A column of Soviet prisoners of war on the march, Ukraine, late summer 1941
The Hoover Library & Archives acquired a trove of four hundred photographs taken by unknown German soldiers during the early years of World War II.  The collection is housed in two albums; most of the photographs are from the opening phases of Operation Barbarossa, the code name for the German invasion of its erstwhile Soviet ally, that began on Sunday, June 22, 1941.
The first album contains some 180 photographs depicting the experiences in the invasion of France and Soviet Russia.  The photos depict training and combat scenes from the May–June Battle of France, including destroyed French tanks and cannons, dead soldiers and makeshift cemeteries, and black French colonial troops riding their mounts, under German escort, after surrender.  Following are  several photos showing Germans practicing amphibian landings by raft, perhaps in anticipation of an attack on England.  The rest of the album contains photos from the Ukrainian part of the Eastern Front: Soviet prisoners, burning villages, both Soviet and German dead.  The last image shows a soldier, probably the owner of the album, standing next to a rail car marked Munich.  His right arm is heavily bandaged and in a sling.  He is probably going home to recuperate and to return to the front at a later date.
The other album, containing 220 images, belonged to a German officer.  It covers his service from late 1939 to 1942.  The first several dozen photos are noncombat: training and review of troops, graves of German dead, views of Potsdam, Nuremberg, and Poznań (in occupied Poland).  The rest of the photos are of combat scenes from Latvia and northwestern Russia:  heavily damaged cities of Riga and Luga showing burning and bombed buildings, Russian dead, civilians hanged in a square, an assault by boat, "dragon's teeth" antitank obstacles, wrecked Soviet Tanks, downed plane, and more.
The two German albums will add depth to Hoover Archives' already large World War II Pictorial Collection, most of which presents the war through the lenses of American photographers.      
 Maciej Siekierski  siekierski [at] stanford.edu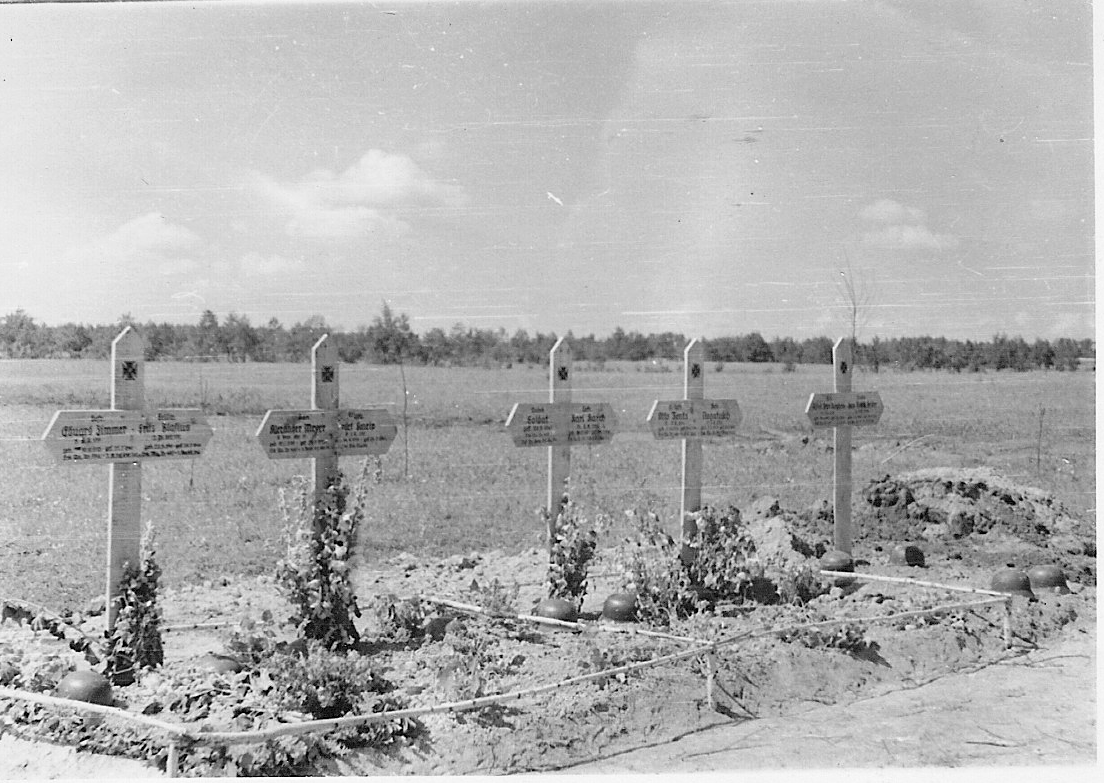 Makeshift German military cemetery somewhere in the Ukraine, summer 1941