Hoover Acquires The Personal Papers Of General Bai Chongxi, A Prominent Military Leader In Republican China
Above: Chiang Kai-shek (right) visited Bai's hometown residence in Guilin during World War II. Throughout their lives the two maintained a love-hate relationship. 
Bai Chongxi (1893–1966) was born in Guilin, Guangxi Province, into a Chinese Muslim family of Hui nationality. In 1911, Bai joined his fellow Guangxi cadets in participating in the Xinhai Revolution in Wuhan. After graduating from Baoding Military Academy in 1921, Bai continued to be a core member of Sun Yat-sen's revolutionary movement. During the Northern Expedition, Bai became known as one of the greatest military strategists in Chinese history. From 1930 to 1936, with Li Zongren and several other prominent military and political leaders from Guangxi, Bai engaged in building his home province into a model of economic development and administrative efficiency. During the Sino-Japanese War (1937–45), Bai was made deputy chief of staff of the Nationalist army, responsible for military training and operations. During the war Bai assisted Li Zongren in defeating the Japanese in Tai'erzhuang in Shandong Province. He also commanded the Battle of Wuhan and defeated the Japanese in Guangxi Province.
In 1946 Bai was appointed minister of national defense and assisted Chiang Kai-shek in waging war against the Chinese Communists. He went to Manchuria and proposed destroying the local Communists under Lin Biao, but Chiang did not accept his plan. Shortly after the riot broke out in Taiwan in February 1947, Bai was sent as Chiang's personal representative on a fact-finding mission and to help pacify the populace on the island. After a two-week tour, including interviews with various segments of the Taiwan population, Bai made sweeping recommendations, including replacing the governor and prosecuting his chief of secret police. He also granted amnesty to student violators of peace on the condition that their parents take custody and guarantee subsequent proper behavior. For his forthright actions native Taiwanese held Bai in high regard.
By late 1948 the civil war was going disastrously for the Chinese Nationalists, with the Communist victory only a matter of time. In January 1949, after Chiang resigned from the presidency, Li Zongren became the acting president, with Bai responsible for building a solid Nationalist defense line along the Yangtse River. As the Nationalist governance in most of China was disintegrating, Bai fought fiercely against the Chinese Communists in Central and Southwest China. In October 1949 Bai planned to make a last anti-Communist stand in Southern China and his home province of Guangxi. It went nowhere; at the end of the year he fled to Taiwan, where he spent the rest of his life.
The personal papers of Bai Chongxi include official files at different stage of his military and political careers, correspondence between Bai and important Nationalist Chinese government officials, family letters and correspondence, personal diaries, notes and writings, decorations and certificates, and documentaries recording his family activities, an inspection tour he took to Taiwan in the spring of 1947, and his funeral. They also include more than a thousand rarely seen, invaluable photos that document the Muslim general's splendid military and political careers at different stages of his life. Not always an obedient military subordinate to Chiang Kai-shek, Bai was an independent militarist and administrator who had his own judgments and viewpoints, frequently putting him at odds with the generalissimo. His personal papers complement the various collections on modern China at Hoover with different historical perspectives. They will serve as a significant source on the complicated and intriguing military and political landscape of China and Taiwan in the twentieth century.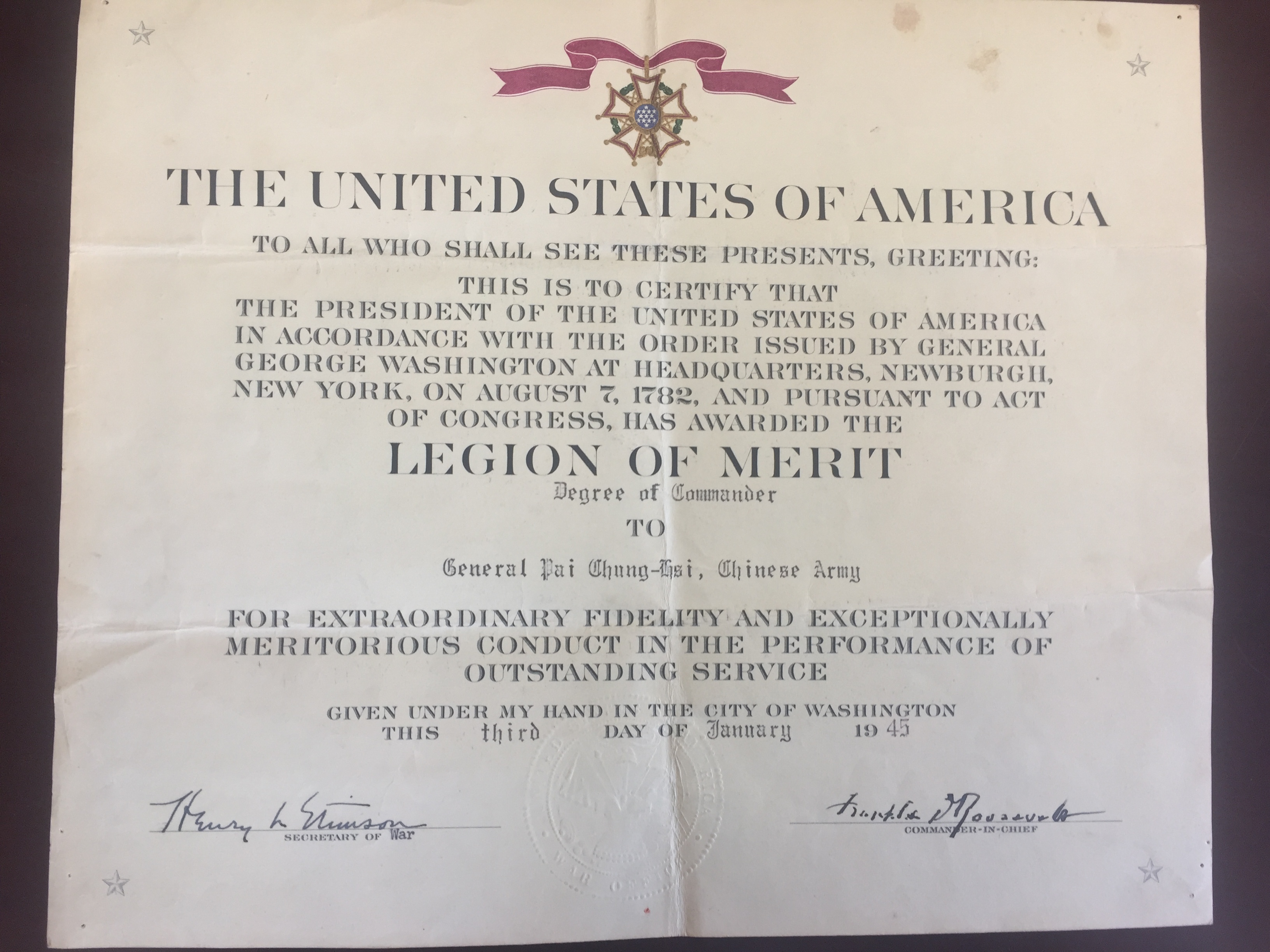 US secretary of war Henry Stimson awarded General Bai the Medal of Freedom, Gold Palm, for his outstanding performance in the China Theater during World War II.