America's famine relief mission to Soviet Russia in 1921–22 was chronicled in photographs and motion pictures taken by Floyd Traynham, a young cameraman from Atlanta, Georgia. Traynham's films of American food being transported across the frozen Volga River and fed to hungry Russian children on the edge of starvation were shown in movie theaters across the United States. In 1922, a two-reel (22-minute) feature was compiled from Traynham's movies. On May 2, that film, "America's Gift to Famine-Stricken Russia," had its first public screening in a century. The film was accompanied by the performance of a string quartet of students from the Stanford Department of Music, with music arranged by cellist Jonathan Pak.
To learn more about Floyd Traynham you can view the digital story "A True Picture of Famine and Revival: Floyd Traynham, ARA Cameraman." It is part of the online exhibition Bread + Medicine: Saving Lives in a Time of Famine.
learn-more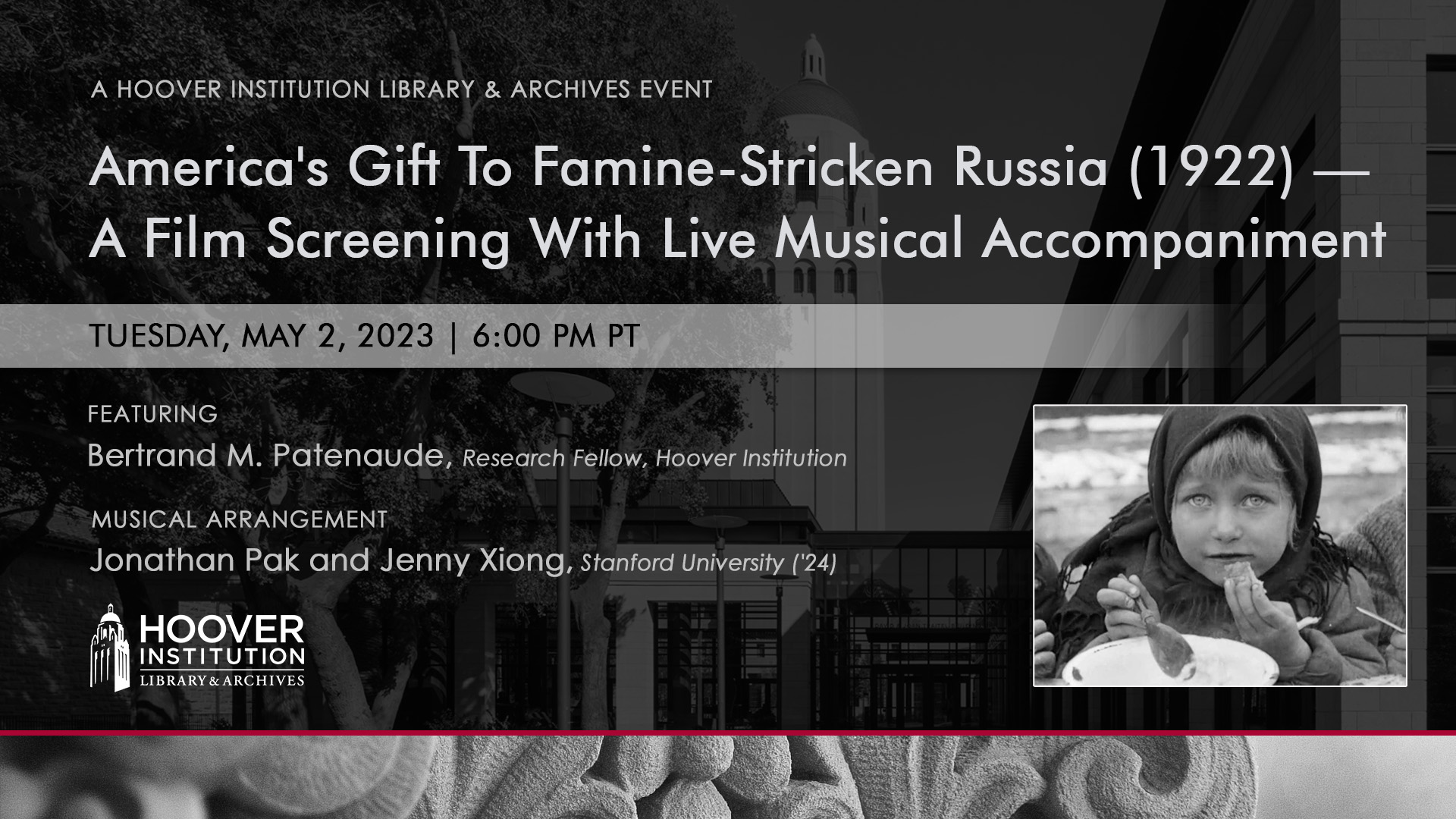 ---
Download the event program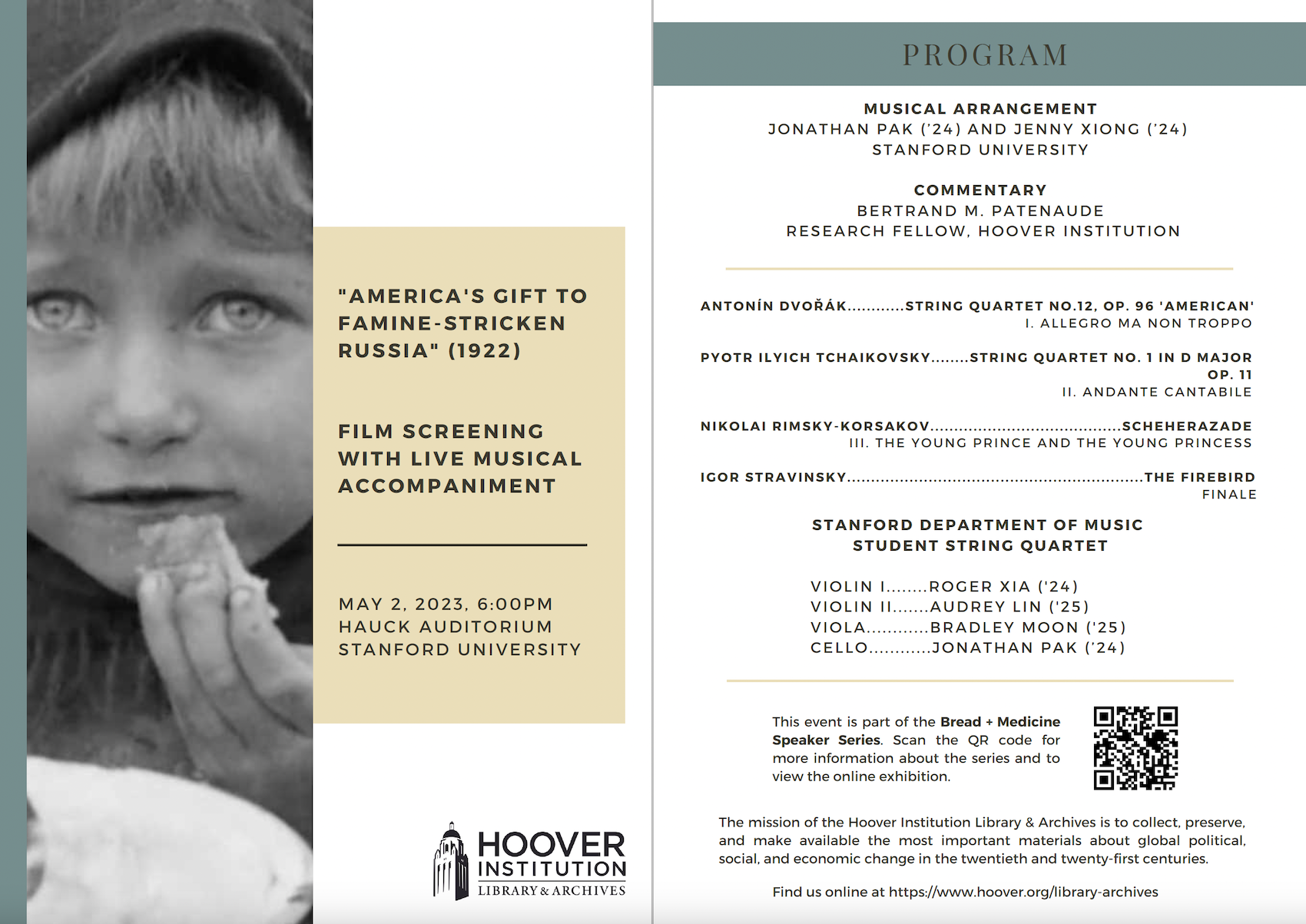 ---
ABOUT THE PARTICIPANTS
Jonathan Pak is a Stanford undergraduate ('24) majoring in International Relations and minoring in Music. He studies the cello with Christopher Costanza and conducting with Paul Phillips in the Stanford Department of Music. A native of Los Angeles who was raised in Phoenix, Jonathan is a founder of the Stanford Medicine Orchestra and conducted its inaugural concert in Bing Concert Hall in 2022. His fellow musicians for this event are Stanford undergraduates Roger Xia ('24, violin I), Audrey Lin ('25, violin II), and Bradley Moon ('25, viola). Musical arrangement by Pak and Jenny Xiong ('24).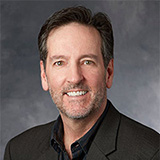 Bertrand M. Patenaude is a research fellow at the Hoover Institution Library & Archives and a lecturer at Stanford University. His first book, The Big Show in Bololand: The American Relief Expedition to Soviet Russia in the Famine of 1921 (Stanford University Press, 2002) won the 2003 Marshall Shulman Book Prize and was made into a documentary film for the PBS history series American Experience. He is also the author of Trotsky: Downfall of a Revolutionary (HarperCollins, 2009) and A Wealth of Ideas: Revelations from the Hoover Institution Archives (Stanford University Press, 2006).
---
ABOUT THIS SERIES
The Bread + Medicine Speaker Series highlights conversations with historians of Russia and Ukraine and leading experts on famine and humanitarianism. It is presented in conjunction with the exhibition Bread + Medicine: Saving Lives in a Time of Famine devoted to the American famine relief mission to Soviet Russia in 1921–1923.