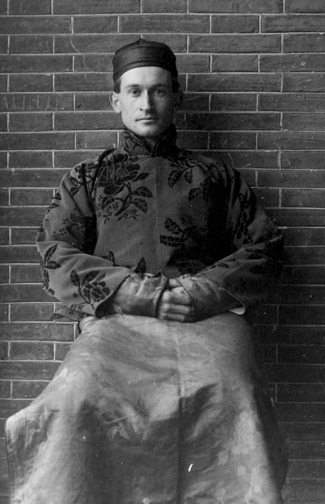 The Hoover Archives is pleased to announce the acquisition of the Francis Eugene Stafford photograph collection. The albums are a generous gift from Ronald E. Anderson (PhD, Stanford University, 1970) and family.
Francis E. Stafford (1884­–1938), a US lithographer and photographer, arrived in Shanghai, China, in 1909.  He was hired by the Commercial Press­—then Asia's largest publishing company—to manage its printing division from 1909 to 1915.  During the onset of the Wuchang Uprising in October 1911, Stafford was on hand to capture remarkable photos of the Qing Dynasty's collapse.  The collection, which consists of nearly 1,100 images, also includes the largest number of surviving original photographic prints of the Chinese Revolution of 1911. 
Stafford's historic pictorials record the turbulent period between 1910 and 1933, as China transitioned from being a feudal monarchy to becoming a republic.  Depicted are battle scenes, military and political figures, as well as everyday people, life, and culture in China.  Also in the collection are rare glimpses of printing operations and employees of the Commercial Press.  His iconic photos first appeared in such publications as the Da Ge Ming Xie Zhen Hua (War Scenes of the Chinese Revolution) and were reproduced as illustrated posters (see Poster Collection,).  The images have also been highlighted in several major museum exhibitions in Hong Kong and Shanghai.
In 2010 the University of Washington Press republished 162 of the photographs in The Birth of a Republic:  Francis Stafford's Photographs of China's 1911 Revolution and Beyond.  As noted by the book's editor, Hanchao Lu, Stafford's unique photographs "reveal sweeping social and political change, as well as the tenacity of tradition" and "appeal to historians interested in modern China, revolution, and war."
A gallery of the Francis E. Stafford photos can be viewed on the iStanford app