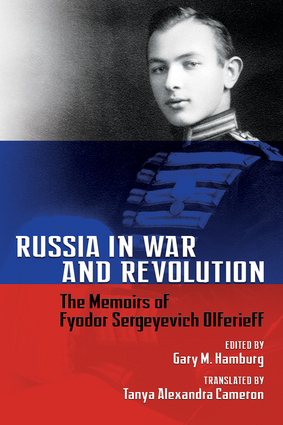 Hoover Institution (Stanford, CA) – The Hoover Institution has published Russia in War and Revolution: The Memoirs of Fydor Sergeyevich Olferieff, featuring chronicles by a career Russian military officer who witnessed firsthand the final years of Russia's imperial rule.
Appearing in print for the very first time, from an unpublished manuscript translated by Olferieff's granddaughter, Tanya Alexandra Cameron, the memoirs describe in great detail the violence of the 1905–7 revolution, events related to the First World War, the collapse of the imperial state, and the first episodes of civil wars in Ukraine and Crimea.
Olferieff's memoirs include his earliest childhood memories of Russian country life, his military training, and the horrors of total war. Along the way, he considers whether his own advantages in status and education could be justified when so many peasants lived in poverty and squalor—and whether, if born a peasant, he might have thrown himself into the revolutionary movement.
In an illuminating companion essay, Gary Hamburg, the memoirs' editor, writes that Olferieff did not anticipate the publication of his memoirs: "[Olferieff's] memoirs are precious because of his personal perspective on events, and because of his reflections concerning his own motivations. Like Lev Tolstoy's fictional character Pierre Bezukhov, Olferieff was a privileged observer of a bloody, historically pivotal era, one that has forever altered Russia and has also left its indelible mark on us."
Other key themes in Olfiereff's memoirs include the viability of the Russian monarchy, an institution inextricably linked to the maintenance of social arrangements under challenge in the waning days of the empire; the rapid politicization and disintegration of the Imperial Army in 1917; the social psychology of the catastrophic military defeat during the First World War; and Russia's subsequent revolution and civil wars. During the civil wars, Olferieff observed the creation of the Volunteer Army, which fought against Bolsheviks in South Russia and Ukraine.
Anatol Shmelev, the curator of Hoover Institution Library & Archives' Russian Collection, explains in the foreword that Oleferieff's papers have been housed at the Hoover Institution for many decades. In 2016, Cameron contacted Library & Archives about her grandfather's remaining papers, including the memoirs.
"The publication of the memoirs in connection with the acquisition seemed an ideal fit," Shmelev writes. "The memoirs are now in your hands, for which we thank Tanya Cameron and her family."
Russia in War and Revolution: The Memoirs of Fyodor Sergeyevich Olferieff is available in hardcover and e-book formats. Click here to purchase.
About the Editor
Gary Hamburg is Otho M. Behr Professor of History at Claremont McKenna College and author or editor of more than seventy works, including Russia's Path toward Enlightenment: Faith, Politics, and Reason, 1500–1801.
About the Translator
Tanya Alexandra Cameron is the granddaughter of Fyodor Sergeyevich Olferieff. She learned Russian and Russian history and traveled extensively to the Soviet Union in order to translate his memoirs.
"Fedor Sergeevich Olfer'ev, a former Imperial Page and officer of the Russian General Staff ,has gifted to us a remarkably forthright and captivating account of the first thirty years of his life (which also happened to be imperial Russia's last). Yet, as Professor Gary M. Hamburg reminds the readers in his insightful and lucid prolegomenon, Olfer'ev did not write his memoirs to settle old scores or 'to be understood by his contemporaries.' His goal was loftier—'to understand himself and to record his broken life for posterity.' Masterfully translated by his American-born granddaughter and splendidly contextualized in Hamburg's extraordinary learned historical essays, Olfer'ev's reflections on the challenges and choices of his generation, which was groomed to serve the monarch but ended up abandoning His Majesty to save the country, offer an indispensable guide to life and polity of old Russia during its last and most consequential years of wars and revolutions."
—Semion Lyandres, professor of Modern European/Russian history, University of Notre Dame
"Accurate, clear-eyed, and unsentimental, Fyodor Olferieff's memoirs provide valuable insights into the last years of imperial Russia, World War I, the Revolution, and the civil strife that followed. Gracefully translated and augmented by Gary Hamburg's insightful companion essay, these recollections can be read with pleasure and profit by specialists and the general public."
—Richard Robbins, professor emeritus, University of New Mexico
"Fyodor Olferieff's memoir is a fascinating account of a tsarist officer's life and journey through Russia's revolutionary era. Olferieff was a perceptive observer who witnessed a host of important events and figures, and Gary Hamburg's detailed introduction enhances his memoir's value as historical source."
—Sam Ramer, associate professor of history, Tulane University
"This memoir of a Russian nobleman and officer, not titled but of high rank, who lived through the entire drama of the decline of the monarchy, war, revolution and civil war, to a classic escape through Odessa in 1919 and eventual American exile and citizenship, fluently translated into English by his granddaughter, tells a story that is familiar—the landed gentry childhood, the Corps of Pages, the Horse Grenadiers, the Imperial Military Academy, active duty in the imperial army and then survival in the incredible confusion of  Kiev in 1918—yet one that is extraordinarily textured, detailed, and thoughtful. The background is expertly set in Gary Hamburg's historiographically up-to-date introductory review of the decline of the old regime, the war, revolution, and civil war, followed at the end of the memoir by his meticulously well-informed running commentary on the contents of the memoir (best consulted, I should think, in a back-and-forth with the reading of the memoir itself). Altogether, a remarkable contribution to historical knowledge."
—Terence Emmons, professor of history emeritus, Stanford University
For coverage opportunities, contact Jeffrey Marschner, 202-760-3187, jmarsch@stanford.edu.