The Hoover Institution Library & Archives presents the Fanning the Flames Speaker Series. This eleventh session is moderated by Alice Tseng, professor of Japanese Art and Architecture at Boston University and presented by Shaoqian Zhang, associate professor, East Asian Art History at Oklahoma State University. The "Tradition Repurposed: New Year's Pictures, Cartoons and Political Posters around the Second Sino-Japanese War" virtual event is on Thursday, May 19, 2022 at 12:00 pm PDT | 3:00 pm EDT (60 minutes).
Historically, Sino-Japanese cultural exchanges were dominated by a China-oriented mentality. This relationship shifted abruptly in the late nineteenth century with Japan's rapid westernization and industrialization, which coincided with the cultural and political implosion of the Qing Dynasty, and was further inverted as Japan became a world power and China struggled to reassemble itself. It was thus with a sense of justification that the Japanese advertised themselves as the legitimate protector of East Asian culture, and key Chinese cities under their occupation became a battleground for what Japan called the New Order in East Asia. 
The influence of Japanese aesthetics on Chinese art had also become increasingly noticeable by the end of the Nineteenth century.  However, not until around the Second Sino-Japanese War did the Chinese political and military agencies start paying attention to the effectiveness of Japanese visual propaganda strategies in China, especially to the exceptional Japanese skill at adopting traditional Chinese folk motifs. This lecture examines the subsequent war of propaganda prints between the Guomindang and the Japanese militarists during the 1930s and 1940s.
To learn more about the accompanying book (edited by Kay Ueda, curator of the Japanese Diaspora Collection at Hoover) and to see past events, videos, and highlights, please visit our interactive online exhibition website, Fanning the Flames: Propaganda in Modern Japan. Please also visit our exhibition, now open in Hoover Tower at Stanford University.  For complete details please visit our exhibition web page.
---
WATCH THE DISCUSSION
---
Participant Bios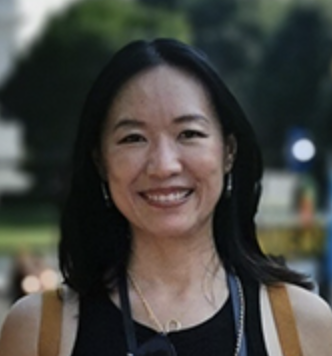 Dr. Shaoqian Zhang, is an associate professor of art history at Oklahoma State University. She received her BA in traditional Chinese architecture from Beijing University and MA and Ph.D. in art history from Northwestern University. Professor Zhang's research touches upon a wide variety of visual materials ranging from traditional East Asian architecture to modern and contemporary art in China. She has published a number of articles that reflect her interests in print culture, military history, medium specificity, and spectatorship in China's modern period, appearing in journals such as Modern Art Asia, Transcultural Studies, Twentieth-Century China, Dao: A Journal of Comparative Philosophy and Art in Print. She is the author of "Political Art and Posters" in Oxford Bibliographies of Chinese Studies. Professor Zhang received the 2017 Oklahoma State University College of Arts and Sciences Junior Faculty Award for Scholarly Excellence.