The Hoover Project on China's Global Sharp Power in partnership with the Freeman Spogli Institute's Walter H. Shorenstein Asia-Pacific Research Center (APARC) invite you to a lecture by Professor David Shambaugh entitled China's Leaders: From Mao to Now on Thursday, December 1, 2022 from 4:00pm - 5:00pm PT.
Since the founding of the People's Republic of China over 70 years ago, five paramount leaders have shaped the fates and fortunes of the nation and the ruling Chinese Communist Party: Mao Zedong, Deng Xiaoping, Jiang Zemin, Hu Jintao, and Xi Jinping. Drawing on his recent book, China's Leaders: From Mao to Now, in this lecture Professor David Shambaugh will explore the differing backgrounds, contrasting leadership styles, and impact of each paramount leader.
learn-more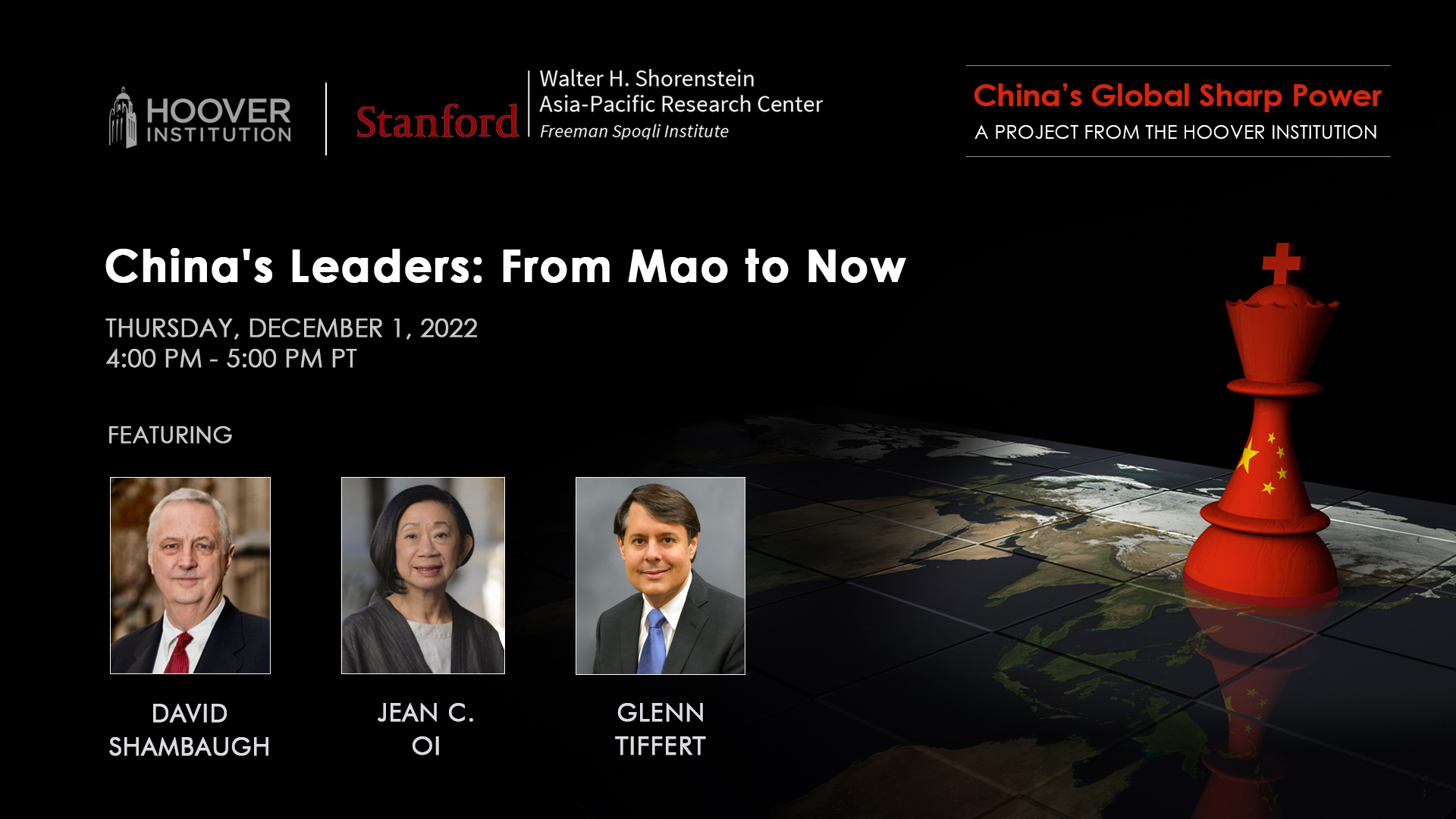 ABOUT THE SPEAKERS
David Shambaugh is the Gaston Sigur Professor of Asian Studies, Political Science & International Affairs, and Director of the China Policy Program, Elliott School of International Affairs, at George Washington University. Professor Shambaugh joined the George Washington faculty after serving as Reader in Chinese Politics at the University of London's SOAS and as editor of The China Quarterly. As an author, Professor Shambaugh has published 35 books, including most recently International Relations of Asia (3rd ed., 2022), China's Leaders: From Mao to Now (2021), Where Great Powers Meet: America & China in Southeast Asia (2021), and China & the World (2020).
Jean C. Oi is the William Haas Professor of Chinese Politics in the Department of Political Science and a senior fellow in the Freeman Spogli Institute for International Studies at Stanford University. She directs the China Program at the Walter H. Shorenstein Asia-Pacific Research Center (APARC) and is the Lee Shau Kee Director of the Stanford Center at Peking University.
Glenn Tiffert is a research fellow at the Hoover Institution and a historian of modern China. He co-chairs the Hoover project on China's Global Sharp Power and works closely with government and civil society partners to document and build resilience against authoritarian interference with democratic institutions. Most recently, he co-authored and edited Global Engagement: Rethinking Risk in the Research Enterprise (2020).