Overview
The Hoover Institution is committed to advancing public policy research, grounded in the commitment to preserving the principles of limited government, individual liberty, and free markets. A key component to this effort is transferring the Institution's knowledge about improving the human condition to younger generations.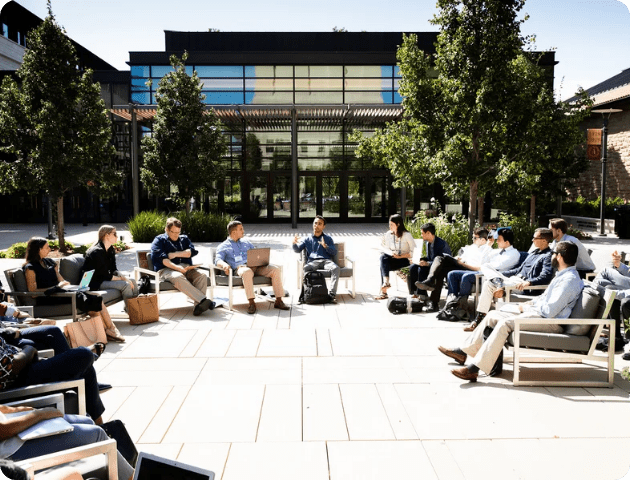 Hoover Institution Summer Policy Boot Camp
Made possible by the generosity of the Kurt Hauser Family, the Summer Policy Boot Camp is an annual program led by Hoover fellows that convenes 60 university students and recent graduates for four days of intensive sessions covering a diverse set of policy disciplines.
"My week at the Hoover Institution Summer Policy Boot Camp was astonishing. While each lecture was no more than an hour, they often went further than any college course has."
Kaila Webb
Summer Policy Boot Camp participant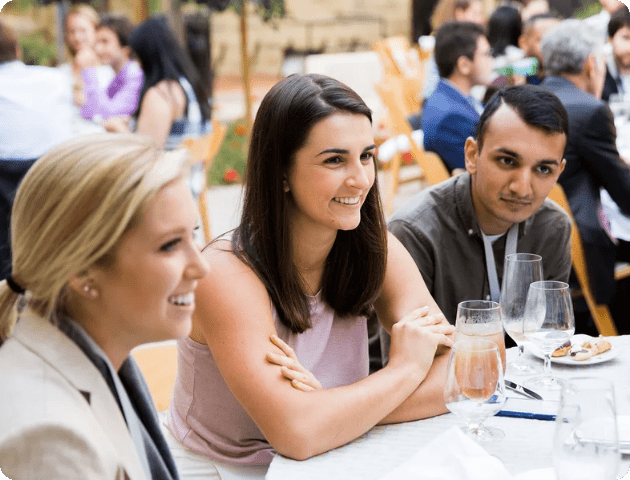 Hoover Student Fellowship Program
The Hoover Student Fellowship is a three-semester paid internship program that offers Stanford undergraduates an opportunity to participate in academically enriching work at the Hoover Institution across key research disciplines and organizational areas.
Applications open: Tuesday, August 1, 2023
Applications due: Thursday, August 31, 2023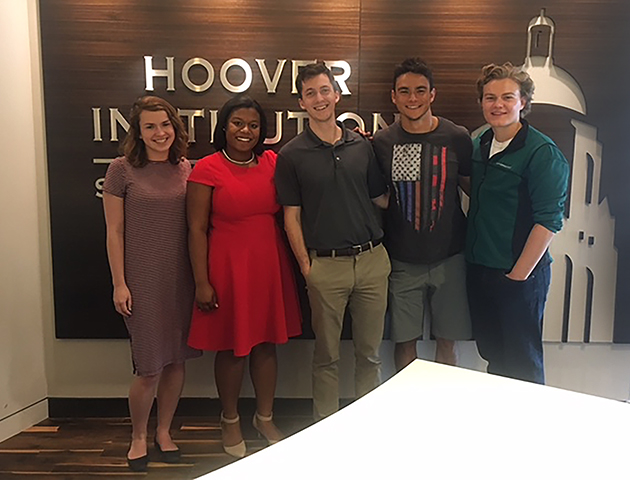 Hoover DC Internships
Hoover's Washington, DC office continually reviews applications for undergraduate, graduate, and recently graduated students to acquire practical work experience related to their study or career interest. Internships in the DC office are offered on an as-needed basis, and there is not currently a formal DC internship program at this time.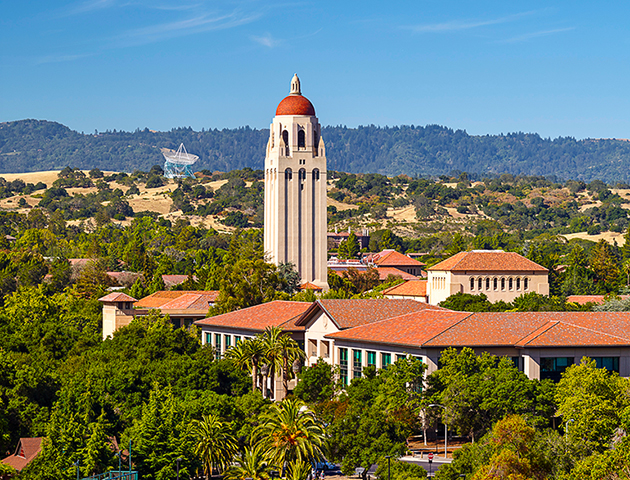 Hoover Institution National Security Affairs Fellows Mentorship Program
The Hoover Institution's National Security Affairs mentorship program pairs selected Stanford students with one of eight distinguished diplomats and military officers who come to Hoover each year as part of the Robert and Marion Oster National Security Affairs Fellowship (NSAF) Program. NSAFs go on to serve in the highest levels of government.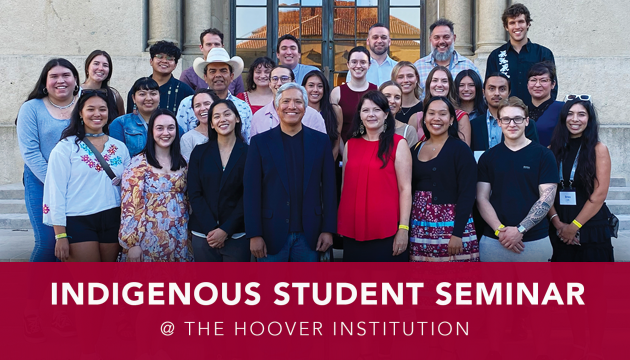 Indigenous Student Seminar
The Hoover Indigenous Student Seminar offers top college students and recent graduates an opportunity to engage with scholars and policy practitioners on the campus of Stanford University. Attendees of the week-long, fully funded program participate in focused seminars led by scholars and policy practitioners who focus on issues affecting indigenous communities in the United States and elsewhere.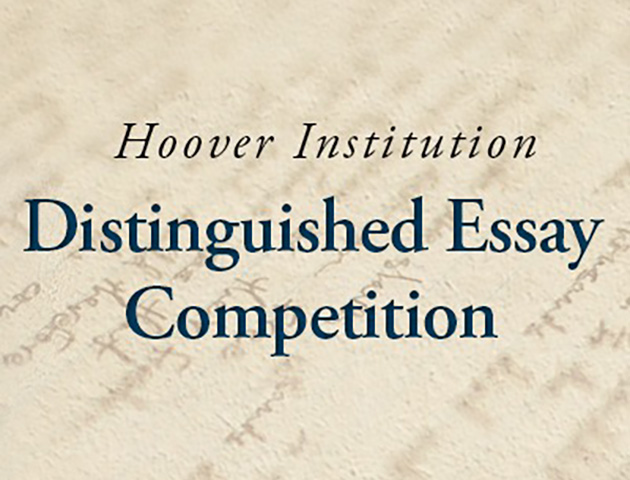 Hoover Institution Distinguished Undergraduate Essay Competition
The Hoover Institution sponsors an annual competition for distinguished essays written by undergraduates as part of their coursework at Stanford University. Essay submissions are expected to come from different disciplines and address a widely varying topics that evince a concern with the values and institutions of liberty, including the impact of policies on human freedom.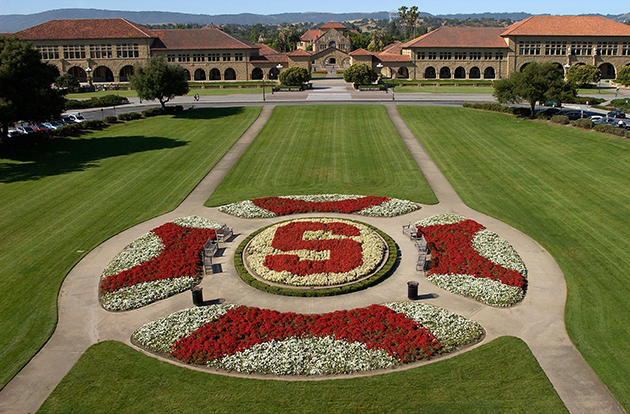 Hoover Institution Student Funding Application
This form is for use by Stanford undergraduate student groups for policy-oriented programming that aligns with the mission of the Hoover Institution. The Hoover Institution is the nation's preeminent research center dedicated to generating policy ideas that promote economic prosperity, national security, and democratic governance. Preference will be given to activities that involve Hoover Fellows and their research and scholarship.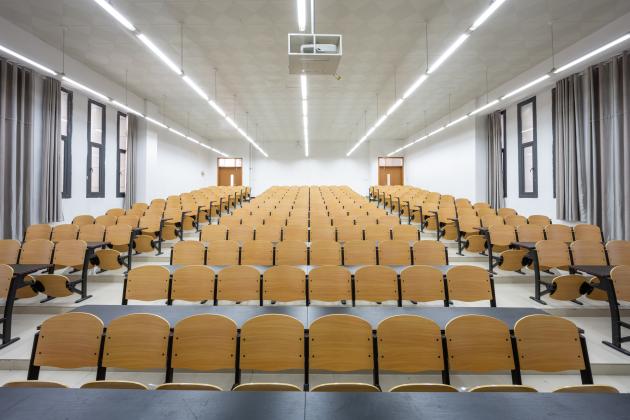 Courses Taught by Hoover Fellows
The Hoover Institution's fellows are dedicated to producing research of the highest caliber that is relevant to government leaders and other stakeholders who are addressing contemporary policy challenges. The fellowship also includes educators who are devoted to transferring their knowledge to future generations. Many of these fellows, including the Institution's director, Condoleezza Rice, teach undergraduate and graduate courses across various disciplines at Stanford University, which is ranked perennially by US News and World Report as among the top five colleges and universities in America. Below is a listing of Stanford University courses taught by Hoover fellows in the current academic year.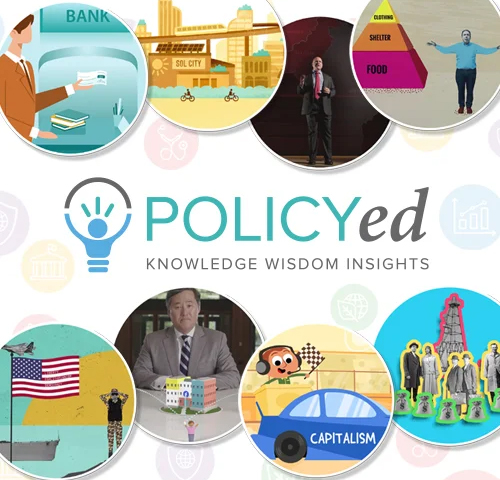 PolicyEd
In 2016, the Hoover Institution launched the Mary Jo and Dick Kovacevich Initiative, Educating Americans about Public Policy (EAPP). Since its inception, EAPP's video platform, PolicyEd, has reached millions of young Americans through compelling content, including documentary shorts and animations and study guides. PolicyEd continues to equip new generations of citizens with accurate facts and information, as well as encouraging a discerning analytical perspective, so that they can better perform their civic duties, hold their elected leaders accountable, and—just as Herbert Hoover affirmed in a mission statement of 1959—"point the road to peace, personal freedom, and to the safeguards of the American system."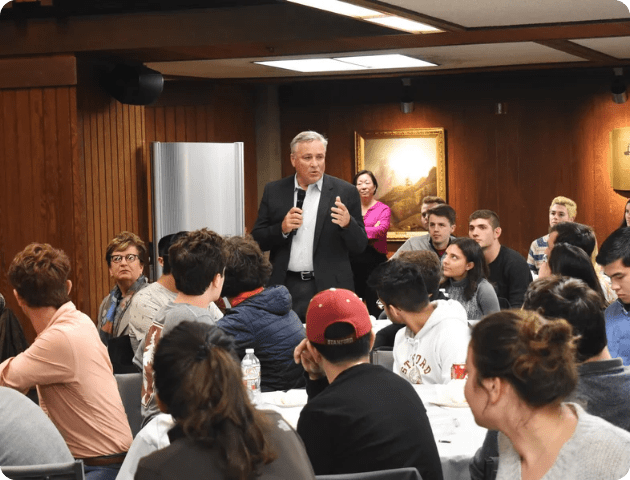 Pizza and Policy Lecture Series
The Institution's quarterly Pizza and Policy lecture series connects Stanford University students interested in public policy with Hoover fellows and nationally recognized leaders. Each event includes a pizza dinner followed by speaker remarks and a question-and-answer session in which students lead the discussion.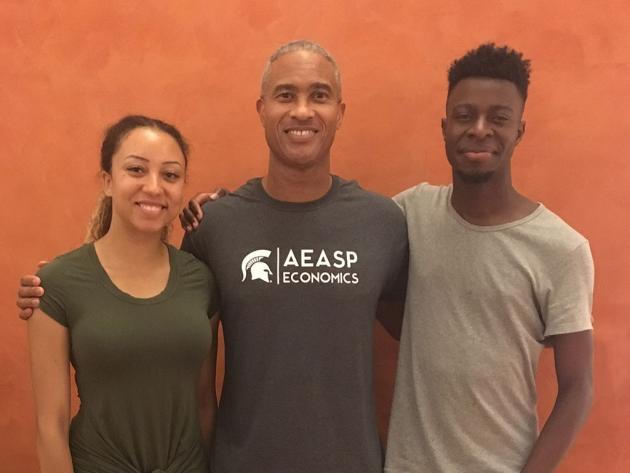 The PhD Excellence Initiative
Since 2014, with support from the Alfred P. Sloan Foundation, the PhD Excellence Initiative has worked to address the critical problem of underrepresentation of minorities in the field of economics by identifying high-achieving college graduates of color (or graduating seniors) who have a passion for economics and preparing them for the rigors of top-tier doctoral programs within the discipline.
Through its fellowships, the Initiative augments the skills and competitiveness of these talented and already highly qualified scholars, positioning them for further success in academia, where they will eventually serve as role models for others and thus help break the self-reinforcing pattern of underrepresentation.