The Hoover Institution hosts Spies, Lies, and Algorithms: A Conversation with Amy Zegart and Condoleezza Rice on Tuesday, February 22 from 3:00 p.m. - 4:00 p.m. PT. 
Please join us for a conversation with Amy Zegart as part of her tour with her new book Spies, Lies, and Algorithms: The History and Future of American Intelligence. The conversation will be moderated by Director Condoleezza Rice with an introduction by Michael McFaul.
"Today we face a critical juncture for American spy agencies, as big as 9/11 — only most people don't know it," says Amy B. Zegart, one of the country's leading experts on intelligence and a professor at Stanford University. "New dangers come from tech, not terrorists. Emerging technologies like AI and social media are weakening the strong and empowering the weak, fundamentally changing dynamics of international conflict. To be blunt: The U.S. is losing its intelligence advantage."
To help us better understand these looming threats, Zegart has written Spies, Lies, and Algorithms: The History and Future of American Intelligence (Princeton University Press; February 1, 2022). It's the first comprehensive book on the past, present, and future of American intelligence—and outlines what's urgently needed to protect our nation today. The book draws on over thirty years of research (including new research just for this book) and hundreds of interviews with current and former intelligence officials. 
Weak intelligence makes us more vulnerable to attacks on our power grids, water supply, elections, corporate network servers, and nuclear weapons. Helping the American public better understand these evolving threats is crucial.
---
watch the discussion
---
RECAP
Before a crowd of people from the Stanford University community in Hoover's Hauck Auditorium, the Hoover Institution's director, Condoleezza Rice, interviewed Morris Arnold and Nona Jean Cox Senior Fellow Amy Zegart about her new book, Spies, Lies, and Algorithms: The History and Future of American Intelligence. This wide-ranging conversation covered various topics of global espionage, including the impacts of advanced technologies on intelligence gathering and analysis, and the struggle between the interests of the intelligence community and democratic accountability.
Zegart described how the convergence of widespread smartphone use, global internet connectivity, and the deployment of commercial satellites is shaping the intelligence landscape by increasing the number of threats in cyberspace; the speed at which information travels; the amount of data collection and analysis; the quantity of customers; and the number of government agents. Zegart explained that these new technologies are enabling civilians without security clearances to have access to intelligence that can monitor events in real time. She also said that, unlike government information, these open-intelligence sources also have the benefit of shareability.
As the nation learned in the aftermath of September 11, 2001, the government failed to anticipate the terror attacks in part because laws governing classified information are too cumbersome and because intelligence services, which are often overprotective of their own secrets, didn't adequately share information about threats to the homeland with other government agencies. Moreover, then as well as now, Congress has not conducted adequate oversight and guidance of the intelligence agencies because it isn't a winning political issue. Classified information isn't allowed to be shared with the public for several important national security reasons. Also, intelligence policy hasn't reached a significant level of public interest that would prompt politicians to devote much of their time and resources to discussing it with their constituencies.
Zegart said that, today, detecting threats is not just the domain of government intelligence agencies. The enhanced cyber capabilities of America's adversaries enable them to launch more pernicious attacks against national economies. Thus, private industry is prioritizing significant resources and personnel to the security of their infrastructure, data, and intellectual property. Zegart asserted that because the government and private industry have overlapping interests in protecting the homeland against these evolving threats, government and corporate leaders should encourage greater cooperation and the exchange of talent between both sectors.
Zegart also talked about how revolutionary intelligence dynamics are shaping the current Russia-Ukraine crisis. She speculated that the Biden administration has been strategically disclosing intelligence about Russian activity prior to its invasion of Ukraine for a variety of reasons: 1) in this current age of information warfare, disclosure about the truth has undermined Vladimir Putin's ability to promulgate false pretexts for an assault on Ukraine; 2) it puts the Kremlin in a defensive position if the whole world understands its motives and intentions; and 3) it doesn't allow Russia's allies and partners, such as the People's Republic of China, to assist in these activities undetected in order to escape international scrutiny.
---
about the speakers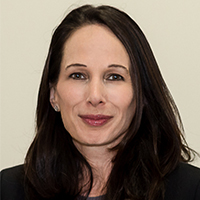 Amy Zegart is the Morris Arnold and Nona Jean Cox Senior Fellow at the Hoover Institution and Professor of Political Science (by courtesy) at Stanford University. She is also a Senior Fellow at Stanford's Freeman Spogli Institute for International Studies, Chair of Stanford's Artificial Intelligence and International Security Steering Committee, and a contributing writer at The Atlantic. She specializes in U.S. intelligence, emerging technologies and national security, grand strategy, and global political risk management. The author of five books, Zegart's award-winning research includes the leading academic study of intelligence failures before 9/11 — Spying Blind: The CIA, the FBI, and the Origins of 9/11 (Princeton 2007). Her forthcoming book, Spies, Lies, and Algorithms (Princeton 2022) examines technological challenges to American intelligence. Zegart's research has been published in The Atlantic, Foreign Affairs, the New York Times, Washington Post, Wall Street Journal, and elsewhere. She has served on the NSC staff, advised senior officials about intelligence and foreign policy, and most recently served as a commissioner on the 2020 CSIS Technology and Intelligence Task Force. She received an A.B. in East Asian studies magna cum laude from Harvard University and an M.A. and Ph.D. in political science from Stanford University.

Condoleezza Rice is the Tad and Dianne Taube Director of the Hoover Institution and its Thomas and Barbara Stephenson Senior Fellow on Public Policy. She is also a founding partner of Rice, Hadley, Gates & Manuel LLC, an international strategic consulting firm. Rice currently serves on the board of online-storage technology company Dropbox, energy software company C3, and Makena Capital, a private endowment firm; and is a member of the boards of the George W. Bush Institute, the Commonwealth Club, the Aspen Institute, and the Boys and Girls Clubs of America. Previously, Rice served on various additional boards, including those of KiOR Inc., the Chevron Corporation, the Charles Schwab Corporation, the Transamerica Corporation, the Hewlett-Packard Company, the University of Notre Dame, the John F. Kennedy Center for the Performing Arts,and the San Francisco Symphony Board of Governors. From 2005 to 2009, Rice served as the sixty-sixth secretary of state of the United States, the second woman and first African American woman to hold the post. Rice also served as assistant to the president for National Security Affairs for President George W. Bush from 2001 to 2005, the first woman to hold this position.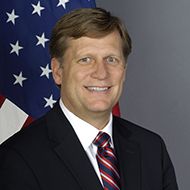 Michael A. McFaul is the Peter and Helen Bing Senior Fellow at the Hoover Institution as well as a professor of political science, director and senior fellow at the Freeman Spogli Institute for International Studies at Stanford University. He also currently works as a news analyst for NBC.  His areas of expertise include international relations, Russian politics, comparative democratization, and American foreign policy.  From January 2012 to February 2014, he served as the US ambassador to the Russian Federation.  Before becoming ambassador, he served for three years as a special assistant to the president and senior director for Russian and Eurasian Affairs at the National Security Council.