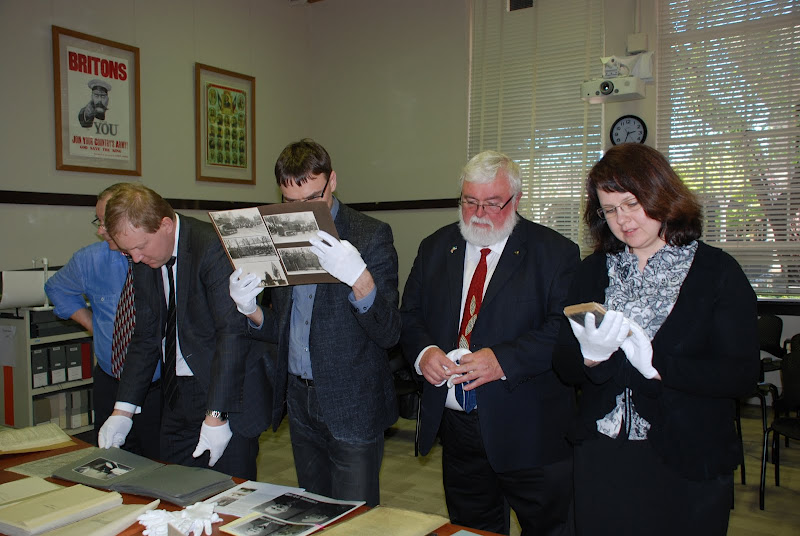 On Thursday, April 19, 2012, a five-member delegation from the Estonian Parliament, including Marko Mihkelson, chairman of the Foreign Affairs Committee; Sven Mikser, chairman of the Social Democratic Party of Estonia; Kadri Simson; Imre Sooäär; and Birgit Leppik, secretary, visited the Hoover Institution Library and Archives to examine materials from the Baltics, mainly Estonia. All are members of the Foreign Affairs Committee, which oversees Estonia's relations with other states and international organizations and maintains contacts with foreign affairs committees of the parliaments of other countries. Andrus Viirg, director of Enterprise Estonia Silicon Valley, joined members of the delegation on their visit.
Maciej Siekierski, curator of the European collections at the Hoover Institution Archives and a research fellow at the Hoover Institution, along with David Jacobs and Nicholas Siekierski, presented materials from the American Relief Administration collection, the Kaarel Pusta papers, the Franciszek Charwat collection, and the Nicolai Koestner collection.
The Estonian delegation visit coincides with the recent cooperation agreement between the Hoover Institution and the National Archives of Estonia that allows for digitizing and sharing records pertaining to Estonia. The first project will be Hoover Archives' acquiring copies of selected groups of records of the NKVD and its successor, the KGB, of the former Estonian SSSR.
More than ninety thousand digitized images of Estonian SSSR KGB documents are currently available in the Hoover Archives, complementing similar documentation from Lithuania (see "Agents of History," Hoover Digest, no.1, winter 2010).  The project is expected to continue for several years, resulting in the transfer to Stanford of copies of vast Soviet-era archival resources documenting Estonia's tragic history during five decades of Soviet occupation.
Click here to see related story.