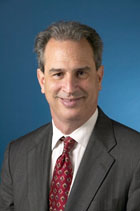 Among the awards to Stanford faculty, the Walter G. Gores Award is considered the university's highest teaching honor. Stephen H. Haber, the Helen and Peter Bing Senior Fellow at Hoover and the A. A. and Jeanne Welch Milligan Professor in Stanford's Department of Political Science, was the senior faculty member selected to receive the 2012 award. The Gores Award, which honors excellence in undergraduate and graduate teaching, will be presented at the university commencement on June 17.
Nominated by his peers and students and selected by a committee of faculty, staff, and students, Haber was recognized for his outstanding achievements in pedagogy, unconditional support as a mentor to graduate and undergraduate students, and developing a curriculum reform for honors students. He was the founding director of the Social Sciences History Institute and developed the Research Honors Track, which has become an important element of Stanford's Department of Political Science. Haber is also a two-time winner of the Dean's Distinguished Teaching Award and winner of the Allan V. Cox Medal for Faculty Excellence in Fostering Undergraduate Research.
Haber matches his outstanding teaching with a distinguished research record. An expert on Latin American history and political science with a PhD from UCLA, he has long studied the resource curse and crony capitalism that are endemic to the region. His current research focuses on two areas: the relationship between political institutions and the creation of stable and efficient banking systems and the long-run influence of climate and geography on democracy and economic growth--work that is considered pathbreaking in the field. Haber is also a member of Hoover's John and Jean De Nault Task Force on Property Rights, Freedom, and Prosperity.
"Steve Haber richly deserves Stanford's highest teaching award, in recognition of his twenty-five years of unswerving devotion to promoting excellence in teaching at Stanford, and for his extraordinary success as a teacher–in the classroom, as a mentor, and as a curricular innovator," stated Josiah Ober, chairman of the Department of Political Science at Stanford.
Using humor, candor, and clear explanations, Haber challenges his students to think critically and ask questions. Many former students who have become professors themselves explain that Haber is the reason they pursed careers in teaching and education. The students' response to Haber's nomination was uniformly positive. Here is a sampling from their letters.
"He modeled the high standards of scholarship and professionalism that he expects in his students."
"A world-class scholar who forms undergraduates and graduate students to do world-class research; a captivating and inspiring lecturer; a demanding yet encouraging seminar discussion leader; and, most important, a mentor who passionately believes in and encourages his students in both their academic and outside-the-classroom lives; Steve embodies the very best of teaching."
"Stephen Haber is the rare professor who aggressively seeks not just truth but also the best in every student."
"Professor Haber has been one of the most inspiring teachers I have had at Stanford. He combines in an excellent manner a deep understanding and involvement with the substantive topics that he teaches with a very kind and generous relationship with his students."
Condoleezza Rice, the Thomas and Barbara Stephenson Senior Fellow at Hoover and the Denning Professor in Global Business and the Economy at the Graduate School of Business, received a Gores Award in 1984 as a junior faculty member in the Department of Political Science.
The award is named for Professor Walter J. Gores, a member of Stanford's Class of 1917 who became a professor of design at the University of Michigan.
Click here for more information.