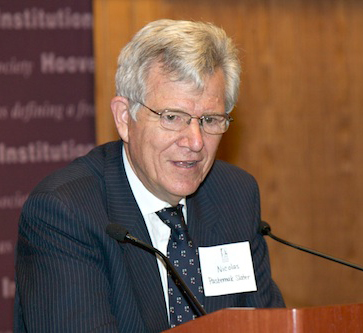 Members of the extended Pasternak family were on hand Monday, May 3, for a book launch hosted by the Hoover Institution to celebrate the release of Boris Pasternak: Family Correspondence, 1921–1960, translated and annotated by Nicolas Pasternak Slater, edited by Maya Slater, and with a foreword written by Lazar Fleishman (Hoover Institution Press, 2010).
The event opened with remarks by Richard Sousa, Hoover Institution Library and Archives director, who spoke of the importance of these letters from historical and literary perspectives. The letters, he said, document life in Russia at the culmination of a revolution, during the early stages of World War II, in the aftermath of the world wars, and throughout the cold war, thus providing English-language readers with unique and eloquent views of Soviet Russia.
Nicolas Pasternak Slater, Boris Pasternak's nephew and the book's translator, also spoke on the correspondence's significance: "Reading them now, and going back to other letters that were written long before I was born, one of the striking features is the extraordinary intellectual and emotional intimacy between the parents and their children and between brother and sisters." In his remarks, Slater discussed not only the topics in the missives but the context in which they were written: "Every letter from him brought an electric atmosphere of excitement into the house–but much of our excitement was really anxiety about him, his safety, and, as time went on, about the relentless, vicious persecution of him by the authorities, as his novel Doctor Zhivago gained fame and notoriety and the award of the Nobel Prize unleashed a political storm."
Slater discussed the letters between his mother, Lydia, and her brother Boris in which they developed codes: she congratulated him on the Soviet Sputnik, with Sputnik meaning his novel. In response, he wrote of the travels of a friend, Yura, meaning Yuri Zhivago, visiting friend, Kolya (his British publisher Collins) and his friend Galya (the publisher Gallimard in France). "Looking back on it," Slater said, "the whole correspondence comes across as a continuous struggle on Boris's part to keep genuine human contact alive between him and the family he loved and felt empathy with—in the face of restrictions, suspicion, terror, war, and persecution. It's a deeply moving story, and with its publication we are celebrating Boris's success in achieving that aim."
Other Pasternak family members attending included grandson Petr Pasternak and great-granddaughter Anastasia Pasternak, both of Moscow; niece Ann Pasternak Slater, of Oxford; and grandniece Anna Pasternak, of London. Jacqueline de Proyart, of Paris, a friend of Boris Pasternak's who translated Doctor Zhivago into French in 1958, was also present.
Recorded music composed by Pasternak played before and after the ceremony. (Before turning to writing, Pasternak had considered becoming a composer.)
The first English translation of the correspondence between Boris Pasternak and his family, the book reflects the events of his life during those forty years, including descriptions of his marriages and of his wives; those of his second wife, Zina, are reminiscent of Lara, the heroine of Doctor Zhivago. Pasternak also obliquely informs his family of the horrors in Russia, such as the execution of a writer who, he says, "died of the same illness as the late Liza's first husband." His letters are also accomplished literary works in their own right, on a par with his poetry. Known mostly as a prose writer in the West, Pasternak, who won the Nobel Prize for Literature in 1958, is loved in Russia for his poetry.
Pasternak did not keep a diary or write a memoir; thus the letters offer the only insights into his thoughts during his life. It is particularly fitting that the first English translation of Pasternak's correspondence is being published this month, on the fiftieth anniversary of his death (in May 1960), by the Hoover Institution, which houses the largest collection of Pasternak materials in the world.
The Pasternak family papers housed at Hoover include, in addition to the papers of Boris Pasternak, those of his father, artist Leonid Pasternak, his sister Josephine Pasternak, and other family members. Materials in the collection include correspondence, diaries, writings, drawings, photographs, and sound and video recordings pertaining to Russian art and literature, culture in the Soviet Union, and Russian émigré life.
Hundreds of poems and letters have been added to the Pasternak family papers digital archive in the Hoover Archives reading room, including more than two hundred pages of Boris Pasternak's poems, chiefly typescript and holographic copies, such as "Vysokaia bolezn'," "Stikhi o Pushkine," "Sestra moia zhizn'," and "Marburg." More than four hundred letters from Boris Pasternak to family members and others, such as his friends Konstantin Loks and Segei Bobrov, Osip and Nadezhda Mandelshtam, and his cousin and lifelong friend Olga Freidenberg, have also recently become available.
These additions build on the digitized documents already in the database, including more than six hundred photographs, correspondence, and several drafts of Doctor Zhivago. Scanned from original documents that remain with the Pasternak family in Moscow, these digital surrogates are available only at Hoover. Digital images continue to be added to the database.
The finding aid for the collection is at http://www.oac.cdlib.org/findaid/ark:/13030/tf70000535/.
An audio recording of the event is available here. (37:07)
Rights to the content of the digital images remain with the Pasternak family and are protected by copyright laws. As a result, the Hoover Institution is unable to post the images on the Internet.