Hoover Institution Spring Retreat 2007
STANFORD—The Hoover Institution's 2007 Spring Retreat opened on Sunday, April 22, with before-dinner remarks by renowned educator Rafe Esquith.
Esquith, a fifth-grade teacher at Hobart Elementary School in central Los Angeles and author of There Are No Shortcuts and Teach Like Your Hair's on Fire: The Methods and Madness inside Room 56, spoke on his teaching experiences. Esquith puts in long hours, including Saturdays, to teach his students. He also uses a variety of teaching methods, such as rules of conduct, money management lessons, and an annual production of a Shakespeare play, to challenge students to learn.
Despite the numerous awards he's received, Esquith said he is most proud that, after 25 years, he's still a classroom teacher. Warning that he might offend some people, Esquith went on to examine what he believes are some of the problems with education. "Hobart Elementary," he said, "is a nightmare," noting that only 32 percent its students will graduate from high school. The children, however, said Esquith, are not the problem; the system is badly broken. An education, Esquith noted, consists of more than doing well on a math test; it's learning about honor, decency, a work ethic, and humility.
Esquith has been recognized for his efforts by President Bush with a National Medal of the Arts and named by Queen Elizabeth as a Member of the British Empire.
Welcoming remarks at the dinner were made by John Raisian, the Tad and Dianne Taube Director of the Hoover Institution, and Peter Bedford, chairman of the Hoover Board of Overseers.
At dinner on April 23, political commentator and journalist John O'Sullivan recalled in his talk, "The President, the Pope, and the Prime Minister," the political vibrancy of the era of President Ronald Reagan, Pope John Paul II, and British prime minister Margaret Thatcher. These figures, he said, helped bring about the end of communism, as did the Hoover Institution.
O'Sullivan cited particular fellows and the Hoover Archives as the resources used by many to bolster the changes that took hold as Soviet Union's dominance declined.
 "Now the time has come again for Hoover and other think tanks to turn their attention to the critical issues facing the world," he said, referring to extremism around the globe. "We can't afford to neglect the issues over which people are killing each other. Having won the war against communism, it is time to win the next war which is threatening civilization."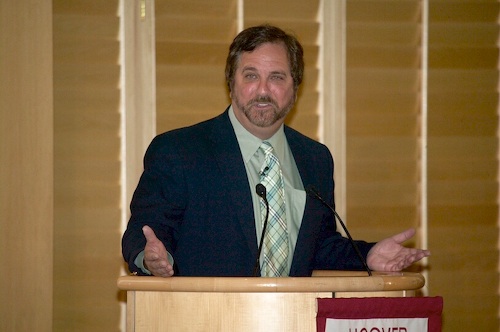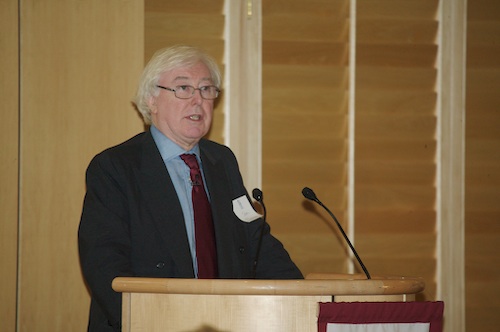 Rafe Esquith (left) and John O'Sullivan
Sessions at the retreat featured presentations by scholars, politicians, and members of the media on topics ranging from conservativism to the war in Iraq to domestic issues, such as property rights, Hurricane Katrina, and education.
"What we think about politics and why we think it are two questions people don't usually stop to examine," said Hoover research fellow Mary Eberstadt, editor of Why I Turned Right: Leading Baby Boom Conservatives Chronicle Their Political Journey. Political writers, she noted, are the exception. Most, however, has been written by the political left, she said, which was part of the reason for her book.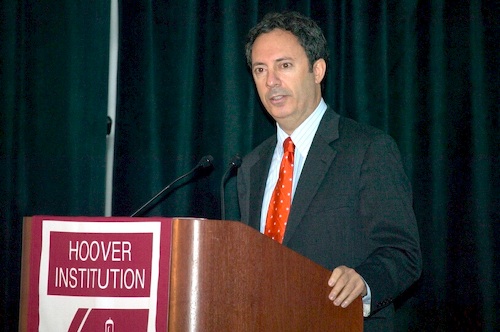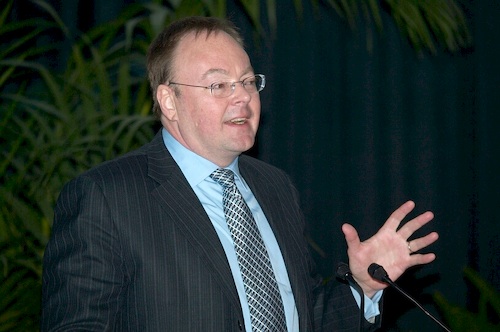 Mary Eberstadt, Peter Berkowitz (middle) and Tod Lindberg
Eberstadt moderated a panel discussion, "Why I Turned Right," that included two of the contributors to the book, Peter Berkowitz, Hoover senior fellow, and Tod Lindberg, Hoover research fellow, who discussed their views on conservativism. During his educational experiences, said Berkowitz, he became convinced of the need to conserve our heritage. Lindberg attributed liberalism's failures for contributing to his conservative political views.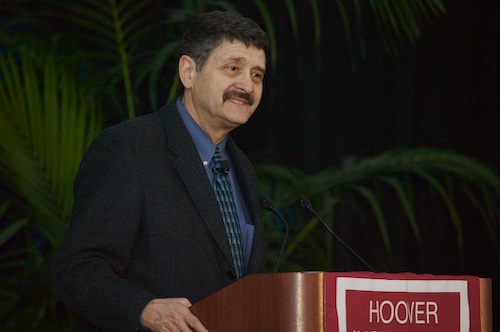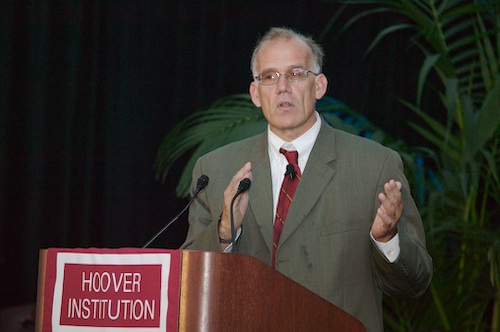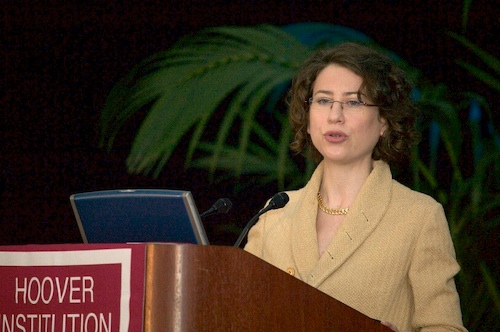 Michael Medved (left), Victor Davis Hanson, and Kimberly Kagan
Radio talk show host Michael Medved discussed the political climate in "More Right Turns? Will the Current Generation Follow the '60s Generation in Joining the Conservative Movement?" Medved believes that more people will become conservatives, not because conservatives are so much better but because their ideas work.
On the subject of the war in Iraq, Martin and Illie Anderson Senior Fellow Victor Davis Hanson discussed how some people think that the war on terrorism is over in "Beyond Iraq." Since 9/11, however, the U.S. State Department has cataloged 10 serious incidents that were broken up before they came to fruition, Hanson pointed out. Although the United States could withstand 9/11, Hanson does not believe the country could withstand a series of attacks.
"It's extraordinary," said military historian Kimberly Kagan, "that the war has lasted so long without provoking discussion on how the war is fought." In "Facing the Challenges of the War in Iraq," Kagan, an adjunct professor in the Security Studies Program and a senior fellow at the Center for Peace and Security Studies at Georgetown University, discussed the new strategy in Iraq, which focuses on securing Baghdad. The United States knows two kinds of wars, Kagan said, the long wars that we lose and the short wars that we win, but she disagreed with that approach.
Economics and political pandering was the topic of Hoover research fellow Russell Roberts's presentation. In "Hillary, Dice-K, and China: The Peculiar Economics of Political Pandering," Roberts cautioned against politicians who warn about the threats posed by China. "The threats are not real," Roberts said; instead "the politicians are practicing political pandering to economic ignorance."
Mississippi governor Haley Barbour (R) recounted the recovery of his state in the aftermath of the hurricane in his presentation "How One State Dealt with Hurricane Katrina."  What he learned, he said, is to have a plan and be prepared to change it.  "I knew within a day that the Mississipi Gulf Coast was going to recover," Barbour said, because "it was very clear that people on the coast were trying to get home." Now Barbour believes that Mississippi has made progress and is better prepared for the future.
Why is the United States so wealthy? In "How the U.S. Grew Rich: The Crucial Role of Property Rights and Finance," Stephen Haber, Hoover senior fellow, and Scott Kieff, Hoover research fellow, emphasized the importance of property rights in the success of the United States. "Property rights are not just about protecting the wealthy, they're about fighting poverty," Haber said.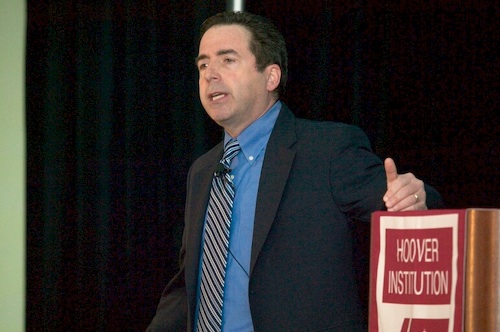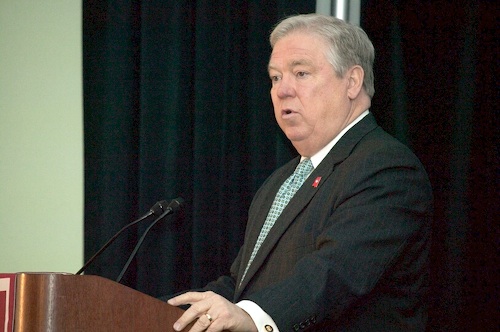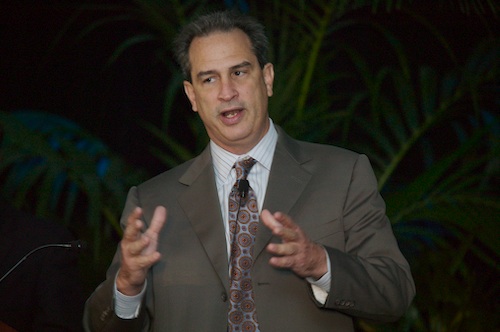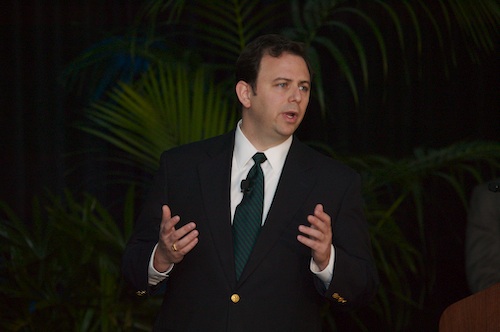 From left to right: Russell Roberts, Haley Barbour, Stephen Haber, and Scott Kieff
Who controls the schools was discussed by Hoover senior fellow Diane Ravitch in "Will Mayoral Control Save Our Schools." Urging caution in viewing movements, Ravitch said that the latest movement is mayoral control of schools that comes from the mayors themselves, not educators. There is no evidence, Ravitch said, that mayoral control of schools improves student performance, and, indeed, mayoral-run schools contain no checks and balances, no review, no accountability, and little or no transparency.
Raisian moderated the panel discussion titled "Public Policy Directions at Hoover" that concluded the retreat on April 24, joined by Hoover fellows Terry Anderson, Berkowitz, David Brady, Daniel Kessler, and Gary Libecap. They discussed the Hoover Institution's newly formed task forces in the following areas: the Middle East, national security, property rights, values, and health-care reform.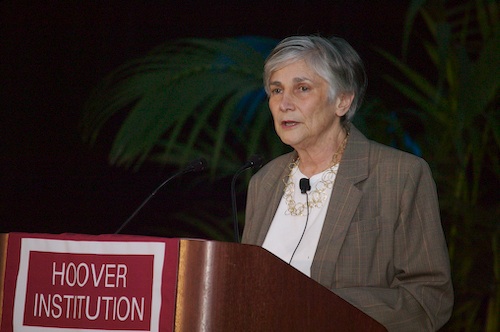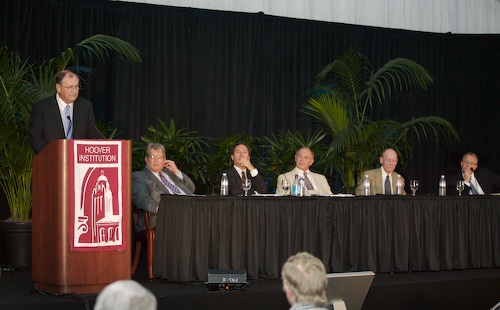 Diane Ravitch
David Brady at podium, John Raisian, Peter Berkowitz, Terry Anderson, Gary Libecap, and Daniel Kessler
In addition to the plenary speakers, Hoover fellows and guest speakers presented conversations on a variety of topics on April 23. The first set of conversations included Larry Diamond, Hoover senior fellow, and Abbas Milani, Hoover research fellow, "Whither Iran? Nukes, Kooks, or Democracy?"; Kenneth Jowitt, the Pres and Maurine Hotchkis Senior Fellow, "American Foreign Policy: Take a Step Back"; and Robert Leeson, Hoover national fellow, "Milton Friedman's Unfinished Revolution."
The second set of conversations included Michael Boskin, Hoover senior fellow, "Economic Issues Facing the Next President"; Alvin Rabushka, the David and Joan Traitel Senior Fellow, "Was the American Revolution REALLY a Tax Revolt?"; Abraham Sofaer,  the George P. Shultz Senior Fellow in Foreign Policy and National Security Affairs, "Tying Our Own Hands in War"; and Shelby Steele, Hoover research fellow, "Barack Obama: A Bound Man."
The final set of conversations included Wynton Hall, Hoover visiting fellow, "The Right Words: What Republicans Must Say to Win in 2008"; John Taylor, the Bowen H. and Janice Arthur McCoy Senior Fellow, "What's the Probability of Recession This Year and How Serious Would It Be?"; Tunku Varadarajan, assistant managing editor of the Wall Street Journal, "How to Ready a New Ally: Ten Books That Should Help Americans Make Sense of India."
-30-