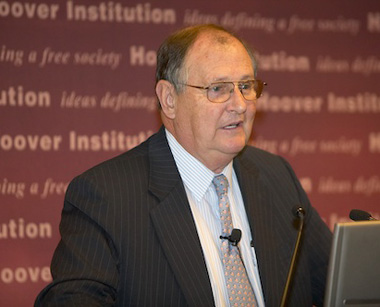 Campaign strategies for the upcoming presidential election, the state of the economy, and the Middle East were the topics at the Hoover Institution's May 28–29 retreat.
The campaign strategies of the Democratic and Republican presidential nominees were discussed by James Ceaser, a member of the Hoover Task Force on the Virtues of a Free Society and a professor of politics at the University of Virginia in "Ideas and Elections: Conservatism and Foreign Policy." The 2008 presidential election will turn on one of two issues, foreign policy or domestic matters, Ceaser said. The Democrats, he added, prefer to campaign on domestic issues but believe they can hold their own on foreign policy. He asserted that the Republicans would prefer to focus on foreign policy.
In a panel discussion, Daron Shaw, associate professor in the Department of Government at the University Texas, Austin, noted that for the first time since 1952, no incumbent president or vice president is campaigning in this year's presidential election. Joining Shaw in "A Preview of the 2008 Presidential Race," Hoover deputy director and senior fellow David Brady and guest speaker Frederick Yang analyzed the upcoming election. "For all the Democrats careful planning to finish in February, the campaign is still going on," Brady said. "This should be a year of big wins for the Democrats, but they're still trying to determine a candidate."
Shaw said the Republicans' strategy will be to move beyond the base, energize conservatives with selective issues, and target constituents and states where Illinois senator Barack Obama has shown weakness. Yang, a partner with the Garin Hart Yang Research Group, the political division of the survey research firm Peter D. Hart Research Associates, said that their surveys showed a desire for change–a stance that favors Obama.
Robert Hall, the Robert and Carole McNeil Senior Fellow, disputed claims that the economy is in recession in his presentation titled "Recession? Depression? Or Just a Slowdown?" He quoted Edward Lazear, chairman of the Council of Economic Advisers and a Hoover fellow on leave, who has stated that the data indicate that the United States is not in a recession. In his discussion, Hall noted that the indicators, such as unemployment numbers, real personal income, and inventory investment levels, are "normal." Construction and manufacturing employment are down, but the latter is the result of globalization, he said. In other employment news, employment was growing in the financial sector, he added. Hall concluded that, based on available information, there is no recession.
In "Middle Eastern Security Issues: Two Views" Annenberg Distinguished Visiting Fellow John Abizaid, U.S. Army general (ret.), and Giora Eiland, Israeli Army major general (ret.), senior research fellow at the Institute for National Security Studies in Israel, and former Israeli national security adviser, shared their views.
"Iran is a new emerging force in Middle East," said Eiland. He discussed Iran's desire to become a nuclear power, which he warned was likely to happen regardless of who leads the country. Eiland noted that, before the events of 9/11, stability was the goal for the Middle East. After 9/11, he said, in an effort to promote democracy, the United States pushed for free elections in Iraq. "Free elections should be the last phase, not the first," said Eiland, who believes that what is needed are regimes that are reliable, accountable, can keep order, and defend against extremism.
The activities under way in the Middle East, not just Iraq, are of vital national importance for the United States, Abizaid said in his presentation. "It has to do with very important ideological movements that are contrary to American interests and will shape the destiny of not only the Middle East but the planet in the twenty-first century if we don't move internationally in a concerted effort to stop these ideological trends."
Amity Shlaes, historian, columnist for Bloomberg News, and the author of The Forgotten Man: A New History of the Great Depression (Harper Collins, 2007), discussed the landmark 1936 presidential election and the shock waves it produced, reverberating to this day, in her dinner talk on Wednesday.
Shlaes noted that 1936 was a turning-point election year, one in which politicians learned how to create specific political constituencies and funnel money to those groups. Thus, Franklin Roosevelt spent so generously that he not only won the presidential election by a landslide but, through what became his New Deal programs, created the modern entitlement machine. In 1936, federal spending for the first time outpaced state and local spending, and Washington began the ascent to financial and policy dominance that it enjoys today.
In addition to the plenary speakers, conversations on the following topics were conducted by Hoover fellows, including Larry Diamond, Hoover senior fellow and cocoordinator of Hoover's Iran Democracy Project, "Stabilizing and Exiting Iraq"; Daniel Kessler, Hoover senior fellow, "Health Policy Reform and the 2008 Election"; F. Scott Kieff, Hoover research fellow and Washington University in St. Louis professor, "Intellectual Property Rights as Keys to Innovation, Health, and Economic Development"; David Davenport, Hoover research fellow and counselor to the director for external relations at Hoover, "Is it Time to Close the Electoral College?"; Michael McFaul, Peter and Helen Bing Senior Fellow, "Is Russia's New President Good or Bad News for the United States?"; William Ratliff, Hoover research fellow, "Chavez and Castros: Symptoms of Latin America's Condition"; Thomas Henriksen, Hoover senior fellow, "American Power and What Our Next President Faces Abroad"; Kenneth Judd, Paul H. Bauer Senior Fellow, "Economic Policy, Climate Change, and Energy Markets"; Paul Peterson, Hoover senior fellow and Harvard University professor, "What Americans Think about Their Schools–and School Reforms"; and Cecile Shea, Hoover National Security Affairs Fellow and U.S. State Department official, "The Problem of Pakistan: A Case for Strategic Patience"; Linda Bernard, Hoover deputy archivist, offered a tour of the exhibit Soviet Dissidents and Their Supporters.