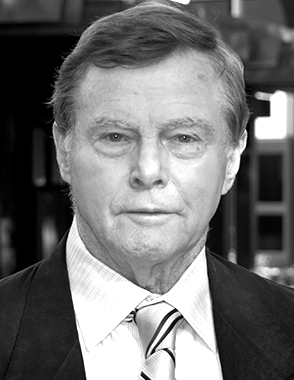 Joseph D. McNamara, a research fellow at the Hoover Institution and former San Jose police chief, passed away Friday, September 19, as announced by Hoover director John Raisian.
McNamara's law enforcement career spanned thirty-five years and three major cities.  After moving up the ranks of the New York City Police Department, he served for three years as the police chief of Kansas City, Missouri, before becoming the police chief for the city of San Jose from 1976 until his retirement in 1991. During his tenure, San Jose became the safest large city in the country, despite having the fewest police per capita.  The San Jose Mercury News profiled his career in a 2012 article, praising his management and reform of an unruly force.
After his retirement, McNamara turned to academia, lecturing around the country on various aspects of law enforcement, including the war on drugs, fighting crime, and police relationships with the community.  Most recently he wrote about the importance of demilitarizing police forces and rebuilding community relations in the wake of the Ferguson shooting and ensuing riots.  "It's time to recalibrate what the police are doing, what they have allowed to take over policing," he said in an interview with the New York Times. "The facts are so overwhelming on the side of getting police back to the side that they are public servants and that you accept the risk. No one drafted you into police work." In addition to teaching, McNamara served on the advisory board of the Bureau of Justice Statistics and was a consultant to the US Department of Justice, the Department of State, and the Federal Bureau of Investigation.   He was also a best-selling author, having published five detective novels.  For more information about his biography, see the Kansas City, Missouri, Police Officers Memorial page.
In the days that followed, local and national media published remembrances of McNamara.  Hoover Fellow Tunku Varadarajan published his memories of McNamara in an op-ed entitled "A Most Consequential Cop" for the Wall Street Journal. A poignant appreciation giving an overview of McNamara's career and impact on law enforcement leadership was published by the Washington Post.  A thoughtful obituary remembering McNamara's work at the San Jose police force can be found at the San Jose Mercury News, and CBS published a detailed overview of his work as San Jose chief of police.  SFGate and KTVU have also published stories about McNamara's impact in the San Jose community.  The Kansas City Star paper published a short obituary in honor of their former chief, and the Kansas City, Missouri, Police Officer Memorial page has more information on his work since retiring from police work.