"The Way Forward for the United States Regarding Syria" Secretary of State Rex Tillerson at the Hoover Institution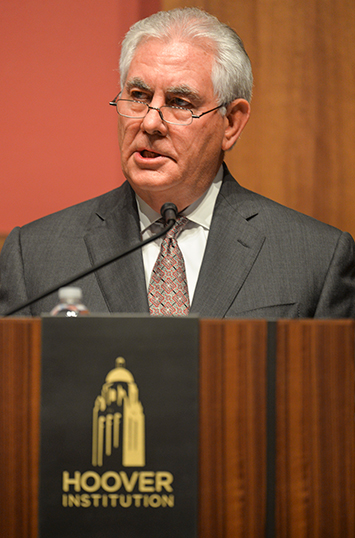 On January 17, 2018, Secretary of State Rex Tillerson visited the Hoover Institution to outline the future of US policy in Syria and the Trump Administration's vision for stability, the return of refugees, an end to the Assad regime, and the defeat of ISIS in the country.
Prior to joining the Trump Administration as secretary of state, Tillerson served for eleven years as chairman and CEO of ExxonMobil, where he started his career more than forty years earlier as a production engineer. Bringing a unique background in global business to the role of chief US diplomat, Tillerson's appointment was made at the recommendation of, among others, Hoover fellow and sixty-sixth Secretary of State Condoleezza Rice.
Secretary Rice, who continues to serve as a source of council to Tillerson, helped arrange his visit to Hoover to deliver this major speech on US foreign policy. The event was cohosted by Stanford's Freeman Spogli Institute for International Studies and was heavily attended and followed by the media, with outlets including the New York Times, Wall Street Journal, and CBS News running breaking coverage of the secretary's remarks.
Tillerson began his speech by applauding the Hoover Institution, saying that it has "consistently produced great, principled scholarship that makes the calls for representative government, private enterprise, and protecting the American way of life right at the center of your activities."
"In that regard," he continued, "you certainly have a true advocate in your ranks: my friend Dr. Condoleezza Rice." Also in attendance was Hoover fellow George P. Shultz, the sixtieth secretary of state under President Reagan, who Tillerson recognized as "one of our nation's most dedicated and gifted public servants."
The Future of US Strategy in Syria
After summarizing the history of the "humanitarian catastrophe" facing Syria today, which he noted has resulted in the deaths of up to 500,000 Syrians and more than eleven million displaced internally or abroad, Tillerson stated firmly that "previous American efforts to halt the conflict have been ineffective."
Contrasting the Obama Administration's lack of military response to Syrian president Bashar al-Assad's use of chemical weapons in 2013 with President Trump's April 2017 missile strikes, Tillerson's speech highlighted the Trump Administration's strategy as a new direction yielding significant results.
Upon taking office, Tillerson explained, the president called for and quickly approved a plan by defense secretary and former Hoover fellow Jim Mattis to defeat ISIS. The policy led to the liberation of ninety-eight percent of ISIS-controlled territory, which at its peak, Tillerson noted, covered an area the size of the United Kingdom.
Despite major victories in Syria, severe strategic challenges remain, which Tillerson affirmed must be addressed through ongoing US military and diplomatic efforts. He outlined five strategic goals that will drive the future of US policy in Syria: a lasting defeat of ISIS and al-Qaida elements in the country; resolution of the political challenges fueling the armed conflict and replacement of the Assad regime with a cohesive state; stunting Iranian influence and other regional threats in Syria; creating a safe environment for the return of the country's displaced citizens; and eliminating Syria's weapons of mass destruction.
In order to achieve these goals, US policy will focus on stabilization initiatives such as reopening schools and hospitals, as well as restoring local institutions to help weaken terrorist groups. Political and diplomatic efforts, supported by allies and regional partners, will seek to de-escalate the military conflict and create safe conditions for the deployment of aid, the return of refugees, and rebuilding the war-torn country. In addition, the United States will lead allies and regional partners in pressuring Assad to step down in compliance with UN resolutions and in building the foundations for a democratic state to replace his regime.
Tillerson stressed, however, that a lasting defeat of ISIS cannot be achieved without an ongoing commitment of US military forces in Syria. "We cannot make the same mistakes that were made in 2011," he said, "when a premature departure from Iraq allowed al-Qaida in Iraq to survive and eventually morph into ISIS."
"ISIS presently has one foot in the grave," he explained, "and by maintaining an American military presence in Syria until the full and complete defeat of ISIS is achieved, it will still soon have two."
Engaging with Hoover Fellows
Following his major announcements about the next phase of US policy in Syria, Tillerson sat down with Secretary Rice for a more casual discussion that mixed serious international issues with mutual reflections about the role of secretary of state.
"It's kind of a hard job, isn't it?" Rice asked, kidding Secretary Tillerson about the position that she held for four years under President George W. Bush. The two went on to discuss, among other things, Tillerson's thoughts on the role as he approaches one full year on the job and the place of American values in formulating foreign policy. Tillerson's visit to Hoover followed a meeting of world foreign policy leaders in Vancouver, Canada to discuss the North Korean nuclear threat, and Rice took the opportunity to question Tillerson about the future of US dealings with Kim Jong-un's regime as well.
In addition to his public discussion with Rice, Tillerson used the visit as an opportunity to participate in off-the-record meetings with Rice, Shultz, and a roundtable of other Hoover Institution foreign policy experts.
A recording of the event, along with additional links to media coverage, can be found here.
A transcript of Secretary Tillerson's remarks is available via the Department of State website.