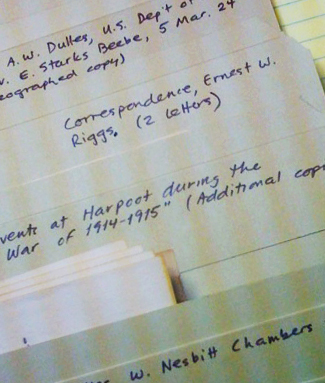 Greatly expanded guides to the records of Radio Free Europe/Radio Liberty at the Hoover Institution Archives are now available. The revised guides, known as finding aids, reflect a significant increment to the materials as well as the continued processing of the records.
The massive records of the RFE/RL organization were processed as two distinct collections: the corporate records and the broadcast records. The corporate records, which measure about 4,000 linear feet, contain administrative documentation, policy materials, and other matter relating to the organization's function as a corporate entity. The guide to the corporate records is now 676 pages, including 200 additional pages of description.
The broadcast records are even more extensive; at 7,000 linear feet this collection requires more than a mile of shelf space. This collection contains the scripts and tapes of the various broadcast departments and language services, in addition to research files, news wires, and other writings and collected materials used in broadcast preparation.  Also included are the daily broadcast analyses, which summarize program content in English. At 696 pages, the updated guide to the broadcast records now describes many thousands of boxes.