Hoover Institution (Stanford, CA) – Hoover Institution senior fellow Joshua D. Rauh and research analyst Jillian Ludwig have released a new paper, "Homelessness in California: Practical Solutions for a Complex Problem."
Rauh and Ludwig explain that since 2018, more than half of the unsheltered homeless population of the United States has lived on the streets of California. At the most recent count, in 2020, this amounted to more than 113,000 people. While overall homelessness and unsheltered homelessness have fallen nationally over the last decade, in California, overall homelessness has risen 31 percent and unsheltered homelessness has grown by 57 percent since 2010.
The increases in the Golden State are not due to insufficient resources or lack of awareness among politicians or the public, the authors maintain. The state has spent over $13 billion on homelessness programs over the last three fiscal years, and the May Revision of the 2022–23 budget sets aside about $9.5 billion for homelessness. Even as the number of permanent housing units for people experiencing homelessness has increased by 43 percent since 2016, unsheltered homelessness in the state has increased by 45 percent over the same period, as shown in Figure 1 below.
Figure 1: CA Housing Inventory and Homeless Population Counts over time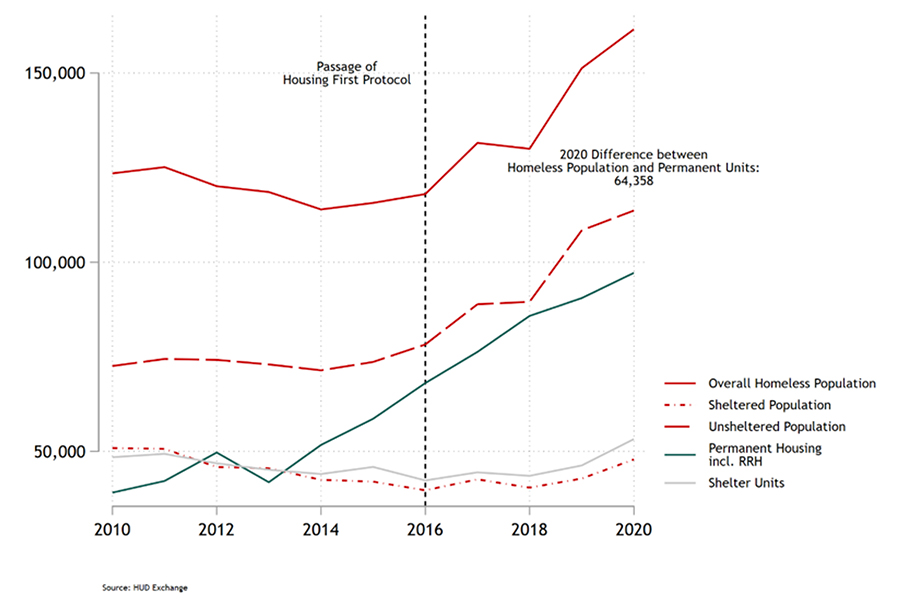 "Where is the disconnect?" the authors ask. "Where is the funding going, and why is homelessness continuing to rise in California?" They conclude: "While homelessness in the state continues to rise and funds continue to be poured into addressing the issue, state policies have not effectively moved people off the street into safer shelter, treatment, or permanent housing or prevented more people from entering homelessness."
In the paper, Rauh and Ludwig outline where status quo policies and governing have failed and urge the state to take a practical yet innovative approach to homelessness that deals with all aspects of the problem—from housing to health and well-being. They lay out a step-by-step plan to solve the current homelessness crisis:
There needs to be greater transparency and accountability surrounding homelessness services and their funding. Billions of dollars are spent each year on these programs, and politicians and the public are left in the dark about where that funding is going, not to mention the impact of that spending on the homeless population. California's Interagency Council on Homelessness must be equipped with the authority to require reporting about funding, spending, and outcomes from service providers. With this data, the council must conduct a systemwide needs-and-gaps analysis to assess the state's current spending and the provider mix. All the data collected should be consolidated and released on the current public-facing Homeless Data Integration System dashboard. This transparency and accountability from the state will allow for greater efficiency and a more impactful response to the needs of those experiencing homelessness.
California should diversify its portfolio of services beyond the "Housing First" approach. Housing First has been the mandated approach in the state since the passage of Senate Bill 1380 in 2016, and since that time, overall homelessness has increased by 37 percent despite massive growth in permanent housing units. While Housing First is a successful strategy for some homeless subpopulations, different methods may be more effective for others. California's strategy should be based on real-time outcome metrics and experiences of its own communities. A funding mechanism for programs should be developed such that providers that have the greatest impact receive the most support regardless of approach.
Considering the needs of those experiencing homelessness and the existing evidence, the state should expand the use of contingency management for substance abuse beyond pilot programs and ensure that this treatment reaches the homeless population. Estimates of the percentage of people experiencing homelessness who have substance abuse disorders range from 43 percent to 88 percent, making this a significant challenge for the homeless population. Drug overdose represents the leading cause of death among people experiencing homelessness in Los Angeles and San Francisco counties, and addiction is a major barrier to housing stability. Treating substance use disorders is crucial for ensuring better long-term outcomes for those experiencing homelessness.
To that end, California should encourage active enforcement of laws that are already on the books to protect the homeless population and the community at large and to connect people experiencing homelessness with services they need. Allowing the state's most vulnerable citizens to live on the streets in dangerous conditions where lethal drugs are easily accessible is not a humane response to homelessness, and the state must do more to shut down open-air drug markets and unsafe encampments. Rather than simply pushing people into the incarceration cycle, diversion courts should be utilized to ensure that people receive the treatment and care they need. Law enforcement and the criminal justice system must be given the right tools to protect and help the most vulnerable Californians.
Finally, homelessness in California will only continue to increase if the state does not address one of its main causes: lack of available housing and rising home costs. The state faces a severe supply-and-demand problem that has pushed median home prices over $790,000 and left more than half of renters paying over 30 percent of their income toward rent each month. To tackle the housing shortage and to lower housing prices, the state needs to make it easier to build homes. This should be done by getting rid of restrictive zoning laws, reducing the costs associated with building, and streamlining the development process, particularly with regards to the California Environmental Quality Act, or CEQA. By making housing more affordable, not only will more people be lifted out of homelessness, but more people will avoid becoming homeless in the future.
With homelessness at crisis levels, California faces a significant challenge, but not an ineradicable one, Rauh and Ludwig maintain. They assert that these "practical, common-sense steps will make the state's response to homelessness more efficient, but more importantly, they will also ensure that those experiencing homelessness can receive the care and service that is right for them."
Click here to read the paper.
For coverage opportunities, contact Jeffrey Marschner, 202-760-3187, jmarsch@stanford.edu.