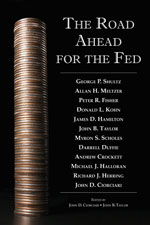 A broken financial system; a great recession; enormous challenges for the Federal Reserve. Financial institutions, the markets and the Fed itself will never be quite the same. John Taylor and John Ciorciari have brought together a highly knowledgeable and experienced group to analyze the issues and make useful and provocative proposals. The Road Ahead for the Fed couldn't be more timely.

—Paul Volcker, Former Chairman of the Federal Reserve Board

This is a book both to read and to keep on your bookshelf. You will find essays here that will make you smile in agreement and shake your head in disagreement, perhaps both, for the authors are not only smart, but opinionated. But this is a distinguished group, and their opinions are very well-informed, very much worth reading, and very timely.

—Alan Blinder, Former Vice Chairman of the Federal Reserve Board
In this new book, The Road Ahead for the Fed (Hoover Press, 2009), coeditors John B. Taylor and John D. Ciorciari bring together twelve leading experts to examine and debate proposals for financial reform and exit strategies from the financial crisis. With the administration and Congress debating major financial legislation this summer and with Federal Reserve policy at the center of the debate, the book could not be timelier.
The Fed's recent unprecedented actions—including new lending facilities for investment banks, purchases of mortgage–backed securities, and interventions into Bear Stearns and AIG—have exploded the Fed's balance sheet, raised concerns about inflation, and provoked questions about the Fed's independence and effectiveness. At the same time the administration is calling for the Fed to take on new regulatory and supervisory responsibilities. Some in Congress are wary of giving the Fed more power. Policy makers at the Fed are themselves debating what to do next. Where will those developments lead, and how can the Fed best proceed going forward?
In each chapter of the book, the authors put forward their own useful and frequently provocative views and respond to the views of others. The editors then organize the chapters in a logical sequence in which later chapters build on earlier ones. The result is a seamless and comprehensive narrative. The book explains how the Fed arrived at its current unprecedented position, identifies key concerns, and offers practical suggestions on how to exit and manage the risks. It draws on political, historical, and market experiences and provides principles and directions for the Fed going forward. It recommends both new market–based mechanisms and regulatory reforms that can help reduce the need for crisis-driven intervention and keep the Fed on the road to good monetary policy in the future.
About the authors:
George P. Shultz, former secretary of the Treasury and state, Hoover distinguished fellow
Allan H. Meltzer, author of the History of the Federal Reserve, professor, Carnegie Mellon University
Peter R. Fisher, managing director, BlackRock and former Treasury undersecretary
Donald L. Kohn, vice chairman, Federal Reserve Board
James D. Hamilton, professor, University of California, San Diego
John B. Taylor, Hoover senior fellow, professor at Stanford and former Treasury undersecretary
Myron S. Scholes; Nobel laureate and chairman, Platinum Grove Asset Management
Darrell Duffie, president, American Finance Association, and professor at Stanford Graduate School of Business
Andrew Crockett, president, J.P. Morgan Chase International, and former president of the Bank for International Settlements
Michael J. Halloran, former counsel to the chairman of the SEC
Richard J. Herring, professor, Wharton School, University of Pennsylvania
John D. Ciorciari, Hoover national fellow and assistant professor, University of Michigan
The Road Ahead for the Fed
| | |
| --- | --- |
| ISBN 978-0-8179-5001-9 | $19.95  cloth |
| 225 pages | June 2009 |