Angela Merkel: A Star Is Born
Angela Merkel made her debut appearance as German chancellor in February at the Munich Conference on Security Policy, a gathering of NATO defense ministers, ambassadors, and current and former policy-makers. The annual meeting is the leading venue for taking the temperature of transatlantic relations, by which I mean the prevailing attitude among those who have responsibility for actually deciding questions like what NATO will or won't do in Afghanistan, Iraq, or Darfur. Merkel's speech, and even more so her unscripted responses to questions from the floor, dazzled the crowd.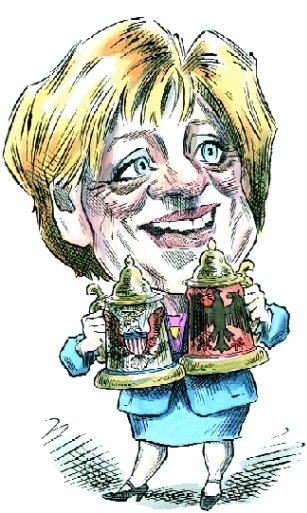 Merkel took office late in November as head of a grand coalition government after two months of protracted and painful negotiations following an extraordinarily close German election for the Bundestag in September. As recently as last summer, expectations were running high that her CDU/CSU coalition (the conservatives in German politics) would win an outright majority. When that failed to happen, her stature shrank in proportion to the unfulfilled expectations.
On her visit to Washington in January, she earned good reviews, but there was still a lingering impression of a political lightweight—some-one not quite ready for prime time. That now appears to have been nothing but spin from her political opponents turned coalition partners, the Social Democrats. She's no Margaret Thatcher, so the line went—more of a technocrat than a leader by inspiration. Wrong. Although she has a lot of work to do on domestic policy in order to revive the underperforming German economy, and although that might well take a toll on her now sky-high approval ratings, on foreign affairs she has already shown herself to be a voice of moral seriousness and balanced judgment. Perhaps that had something to do with coming of age in the police state of Erich Honecker's East Germany.
Consider, for example, Merkel's pointed response to recent statements of Iranian president Mahmoud Ahmadinejad (my notes and translation from the German text): "I must add that the absolutely unacceptable provocations of the Iranian president demand a reply from us. I say this especially as the chancellor of Germany: A president who has questioned the right of Israel to exist and disavowed the existence of the Holocaust cannot expect Germany to show the least tolerance in these questions. We have learned from our history." She said unequivocally, "we must prevent the development of Iranian nuclear weapons." When the Iranian deputy foreign minister took the floor during the question period to defend Iran's nuclear programs, Merkel pointedly replied that he had made no response to her regarding the Holocaust or Israel.
GERMANY'S BACK
A year ago at the Munich conference, then-chancellor Gerhard Schröder (in a speech he didn't bother to show up to deliver but rather had read by his defense minister) stated that NATO "is no longer the primary venue where transatlantic partners discuss and coordinate strategies." Although
U.S. diplomats subsequently decided to read a sense of regret into Schröder's comments, there was none. They came on the heels of his remarks about the "different light" in which the United States and Germany view their role in the world, with Schröder's Germany in favor of "international stability and order."
Merkel, by pointed contrast, noted specifically: "We must make a decision: Will we give NATO the primary role in transatlantic cooperation, the first attempt we make to undertake necessary political consultations and decide on necessary measures . . . or do we want to give NATO a secondary role?" She endorsed the primary role in no uncertain terms and spoke of the need for a "permanent shared analysis of threats." U.S. diplomats think her strong position will empower other, smaller alliance members to speak up with similar views they were reluctant to voice while Schröder and his friends seemed to be trying to get up the nerve to turn their backs once and for all on American participation in European security.
Spin from her opponents created an early impression of Merkel as a political lightweight—someone not quite ready for prime time. She's no Margaret Thatcher, so the line went—more of a technocrat than a leader by inspiration. Wrong.
In the meantime, Schröder has gone on to his reward: He has accepted a lucrative position as chairman of a subsidiary of Gazprom, Russia's state-owned natural gas behemoth, which is building a pipeline to Western Europe. As chancellor, he stood on the podium with Russian president Putin when the deal was signed in September. Such, then, was Schröder's view of the dignity of the federal chancellorship he held for seven years: a useful springboard to a job working for Moscow. It's not just members of the CDU/CSU who are appalled.
As for Chancellor Merkel, "Germany's back," one delighted U.S. diplomat told me after her presentation. "Magnificent," said Senator John McCain, who with Senator Joseph Lieberman led the U.S. congressional delegation to the Munich conference. Especially since the start of its second term, the Bush administration has been reaching out to old allies. Germany is reaching back.
The content of this article is only available in the print edition.
Join the Conversation