In this episode of Battlegrounds, H.R. McMaster and Ambassador Joe Hockey discuss economic recovery from the pandemic, trade, the interconnected challenges of energy security and climate change, and the need to compete in the face of a coercive Chinese Communist Party.
H.R. McMaster in conversation with Ambassador Joe Hockey on Wednesday, December 1 at 9:00am PT.
---
WATCH THIS EPISODE @ 9AM PT, DECEMBER 1, 2021
---
In this episode of Battlegrounds, Fouad and Michelle Ajami Senior Fellow H. R. McMaster interviews Joe Hockey, Australian ambassador to the United States from 2016 to 2018 and the country's treasurer from 2013 to 2015. Topics in this conversation include China's internal political and economic challenges; Beijing's aggression in the Indo-Pacific; and Australia's leadership in helping to provide security and stability in the region.
Hockey argues that although China has experienced unprecedented national income growth rates in recent years, the Chinese Communist Party (CCP) has detected vulnerabilities in its economy that have social and political implications. He explains that the expansion of the middle class, a great proportion of which is engaged on social media, is placing pressure on Beijing to be more responsive to the economic needs of Chinese citizens. Thus, the regime is designing and executing policies aimed at meeting increased demands for household consumption and supporting an aging population, in which many people are leaving the labor force or are no longer working. As well, since China does not have a strong social safety net for its 1.5 billion people and would thus find it difficult to cope with a recession, its government has asserted even more control over the economy to prevent boom-bust cycles. Hockey also maintains that the reason behind China's military aggression in the South China Sea is to protect its supply chains from disruptions by forces that are antithetical to its interests.
Hockey talks about why the CCP makes seemingly illogical decisions that might have severe economic consequences, such as cracking down on companies in its technological sector. He says that China is making this bet because although it understands the need to address the material needs of its population, it also prioritizes censorship of external cultural influences that pose a threat to its Communist system. Ultimately, its goal is to quell potential unrest by any means necessary.
Hockey describes how Australia remains a major trading partner with China, a relationship that is valued at $135 billion worth of Australian products this year. A large proportion of that amount is due to China's demand for iron ore, of which it imported a record $20 billion from Australia in August. Australia also supplies China's demand for coal. This dependency became even more apparent when Beijing lifted the ban on Australian coal that it put in place after Canberra called for an investigation into the origins of the COVID-19 pandemic.
Hockey explains how, in countering China, the Australian government made an investment in Telstra, the largest telecom service in his country, so that it would acquire the South Pacific operations of Digicel, a mobile phone carrier and home entertainment provider that serves 33 markets worldwide. He maintains that at a very low expense to taxpayers, this deal allows Australia to help expand telecommunications infrastructure in the South Pacific and thus limit the influence of China's telecom companies, as well as the expansion of the CCP's Belt and Road Initiative, an ambitious program that provides infrastructure to the developing world often at very low quality and at the expense of countries' political and economic sovereignty.
Toward the end of the conversation, Hockey addresses the political controversy over the AUKUS trilateral security pact, in which Australia paid $60 billion for eight nuclear-powered submarines from the United States and United Kingdom to bolster defenses in relation to China's build-up of forces in the Indo-Pacific region. A previous agreement by the Australian government to buy twelve diesel-electric submarines from France had been abandoned, much to the consternation of the Macron-led government. Hockey asserts that ultimately it was within the Australian government's interest to make an agreement with the US and UK, because nuclear submarines have a greater capacity than those powered by diesel and electricity to traverse the vast waters of the Indian Ocean. He believes that the rift with the French government will soon pass, because of a long-standing bilateral relationship between the two countries, which was epitomized by the sacrifice of thousands of Aussie troops who fought to defend France against Germany during World War II.
---
ABOUT THE SPEAKERS

The Honourable Joe Hockey served as Australia's Ambassador to the United States of America from January 2016 to January 2020. Previously, he was the elected Treasurer of Australia from September 2013 to September 2015. Mr. Hockey has had a long and distinguished career in public service. He spent more than seventeen years in parliament, starting in 1996. Mr. Hockey served as a Minister in a number of different portfolios including Financial Services, Small Business and Tourism, Human Services and Employment and Workplace Relations. Earlier in his career, Mr. Hockey served as a banking and finance lawyer. Today, Mr. Hockey is founding partner and president of Bondi Partners, an advisory firm focused on North America and Australia.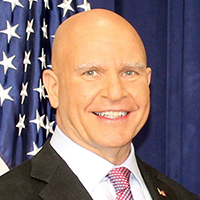 H. R. McMaster is the Fouad and Michelle Ajami Senior Fellow at the Hoover Institution, Stanford University and the Japan Chair at the Hudson Institute.  He is also the Bernard and Susan Liautaud Fellow at the Freeman Spogli Institute and lecturer at Stanford University's Graduate School of Business.  He was the 26th assistant to the president for National Security Affairs. Upon graduation from the United States Military Academy in 1984, McMaster served as a commissioned officer in the United States Army for thirty-four years before retiring as a Lieutenant General in June 2018.
---
Battlegrounds provides a needed forum with leaders from key countries to share their assessment of problem sets and opportunities that have implications for U.S. foreign policy and national security strategy. Each episode features H.R. McMaster in a one-on-one conversation with a senior foreign government leader to allow Americans and partners abroad to understand how the past produced the present and how we might work together to secure a peaceful and prosperous future. "Listening and learning from those who have deep knowledge of our most crucial challenges is the first step in crafting the policies we need to secure peace and prosperity for future generations."