A reunion of five former national security advisors-- who worked together as an informative consultative body known as the "Quint" from 2017-2018-- provides perspective on transatlantic cooperation. Hoover Senior Fellow H.R. McMaster is joined by Ambassador Mark Sedwill from the UK, Ambassador Mariangela Zappia from Italy, Ambassador Christoph Heusgen from Germany, and Ambassador Philippe Étienne from France to reflect on their experiences together and consider contemporary challenges to security and prosperity.
H.R. McMaster in conversation with Ambassador Mark Sedwill, Ambassador Mariangela Zappia, Ambassador Christoph Heusgen, and Ambassador Phillippe Etienne on Thursday, March 23, 2023.
Learn more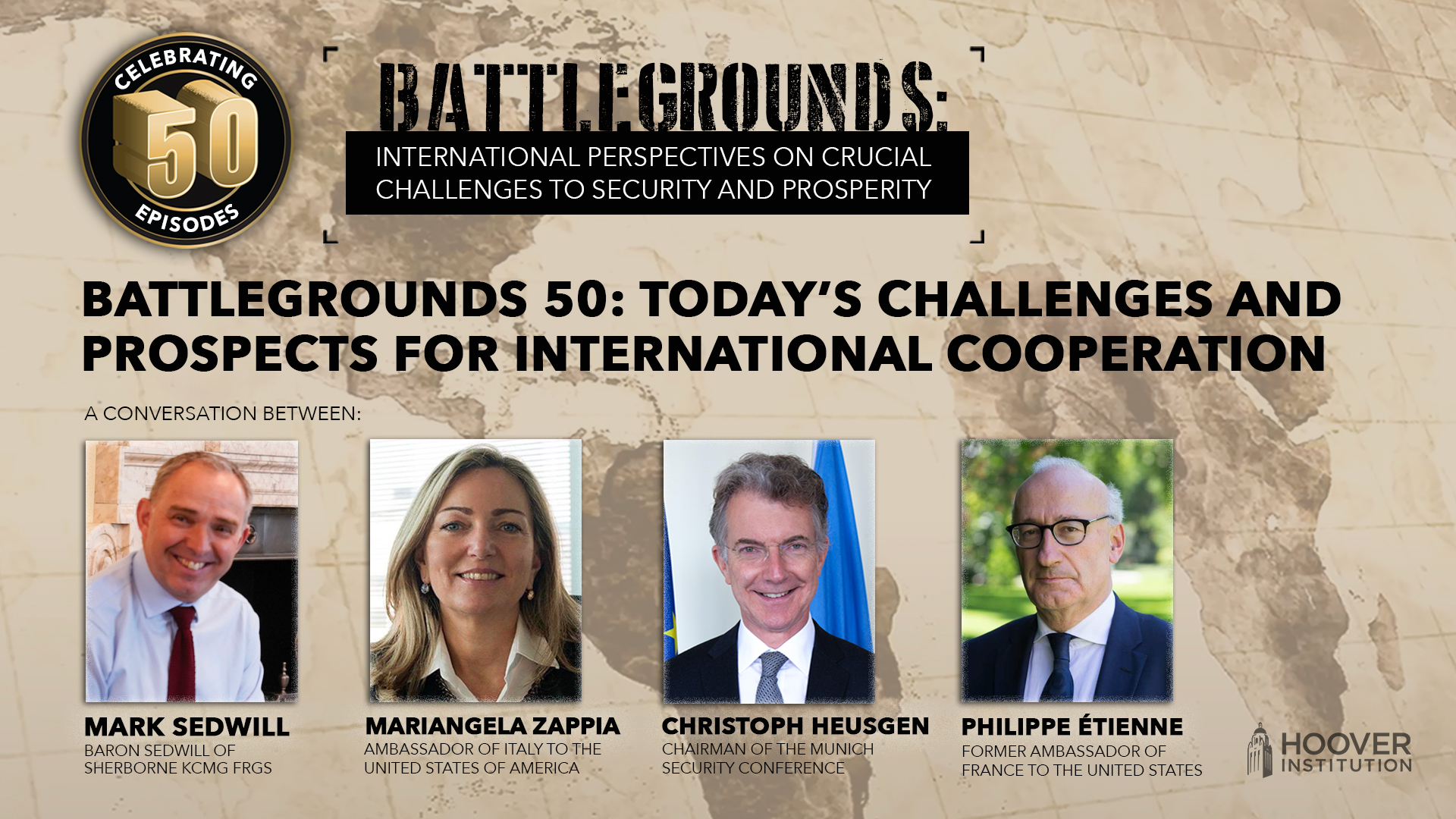 RECAP
In this episode of Battlegrounds, four former European national security advisors who were counterparts to H.R. McMaster during his White House service during 2017–18 join McMaster to reflect on their experiences together as a consultative body known as the "Quint" and discuss contemporary challenges to security and prosperity, in particular threats posed to the international order by Russia and China.
The guests, who have all previously been featured on Battlegrounds, include Ambassador Mark Sedwill from the United Kingdom; Ambassador Mariangela Zappia from Italy; Ambassador Christoph Heusgen from Germany; and Ambassador Philippe Étienne from France.
The five agreed that the United States and European nations need to engage more deeply with the countries of the developing world where China has made economic and diplomatic inroads. Absent competition, Beijing has been able to exert influence on the politics in this arena and in turn shift power within international institutions to suit its policy preferences. For example, several African nations where China has made investments through its Belt and Road Initiative and other programs chose to abstain or vote against the four United Nations General Assembly resolutions condemning Russia's invasion of Ukraine.
The vision purveyed by Western democracies, the national security officials maintain, favors free markets and rule of law. Whereas developing nations may be initially enticed by wealth and resources offered by China and Russia, conducting business with those two powers comes at the risk of entering a servile relationship and losing political sovereignty.
The episode's guests affirmed that Russian president Vladimir Putin was caught off guard by the transatlantic alliance's unified response and will to support the defense of Ukraine's sovereignty. In the invasion's aftermath, Europe also proved capable of reducing its dependency on Russian oil and gas and procuring energy from alternative sources. The national security officials emphasized that Western nations should continue to rally public opinion in favor of Ukraine's defense, so that Kyiv can achieve an outcome to the conflict that it deems acceptable and be able to achieve peace terms that are in line with the principles articulated in the United Nations Charter.
Finally, the guests stressed that in defending their interests against authoritarian forces, democratic nations need to continue strengthening alliances in both Europe and the Pacific. These relationships also require an important economic dimension. By lowering trade barriers between one another, these like-minded countries can prioritize growth, which will in turn help expand prosperity, bolster security, and preserve national sovereignty.
ABOUT THE SPEAKERS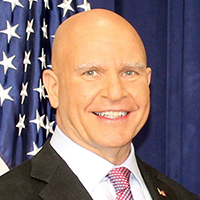 H. R. McMaster is the Fouad and Michelle Ajami Senior Fellow at the Hoover Institution, Stanford University. He is also the Bernard and Susan Liautaud Fellow at the Freeman Spogli Institute and lecturer at Stanford University's Graduate School of Business. He was the 25th assistant to the president for National Security Affairs. Upon graduation from the United States Military Academy in 1984, McMaster served as a commissioned officer in the United States Army for thirty-four years before retiring as a Lieutenant General in June 2018.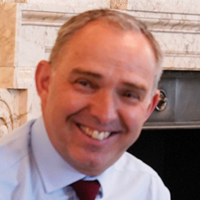 Mark Sedwill, Baron Sedwill of Sherborne KCMG FRGS, is Chairman of the Atlantic Futures Forum, Chairman of the G7 Panel on Global Economic Resilience, and a cross-bench member of the UK Parliament's House of Lords. He is a senior adviser to Rothschild & Co. He was Cabinet Secretary & Head of the Civil Service (2018-20), National Security Adviser (2017-20), Permanent Secretary at the Home Office (2013-17), and HM Ambassador and NATO Representative in Afghanistan (2009-11).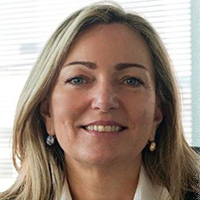 Ambassador Mariangela Zappia is Ambassador of Italy to the United States of America. Previously she served as the Diplomatic Advisor and Sherpa to the Prime Minister of Italy and as Permanent Representative of Italy to the North Atlantic Treaty Organization (NATO).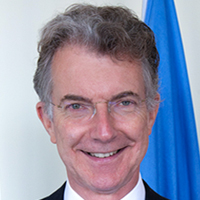 Ambassador Christoph Heusgen is Chairman of the Munich Security Conference.
Philippe Etienne is the former Ambassador of France to the United States. He previously held numerous posts within the Ministry for Europe and Foreign Affairs, notably including Ambassador of France to Romania (2002-2005), Director of the Cabinet of the Minister of Foreign and European Affairs (2007-2009), Permanent Representative of France to the European Union (2009-2014), Ambassador of France to Germany (2014-2017) and most recently, Diplomatic Adviser to the President (2017-2019).