"California Public Pension Solutions" Post Conference Report

In October 2013, the Hoover Institution's "California Public Pension Solutions" conference, co-hosted by Hoover senior fellow Josh Rauh and SIEPR's David Crane and Joe Nation, engaged Hoover Institution fellows, pension scholars from across the country, current and former California and out-of-state policy leaders, and other pension reform specialists to discuss, in-depth, solutions to California's public pension challenges.
After a full day of rigorously discussing solutions and a public address by San Jose Mayor Chuck Reed, conference attendees were asked to complete a post-conference survey.  The survey consisted of ten statements; attendees marked whether they strongly agreed, agreed, were uncertain, disagreed, or strongly disagreed with each statement and then marked their confidence level (very confident, somewhat confident, uncertain, somewhat unconfident, very unconfident).  This survey is modeled after the IGM Forum conducted by the University of Chicago's Booth School of Business.
The Post Conference Report presents the results of the survey providing a graphic for each statement showcasing the raw and weighted responses.  Accompanying each graphic is a short summary providing more detail on the topic addressed in each statement.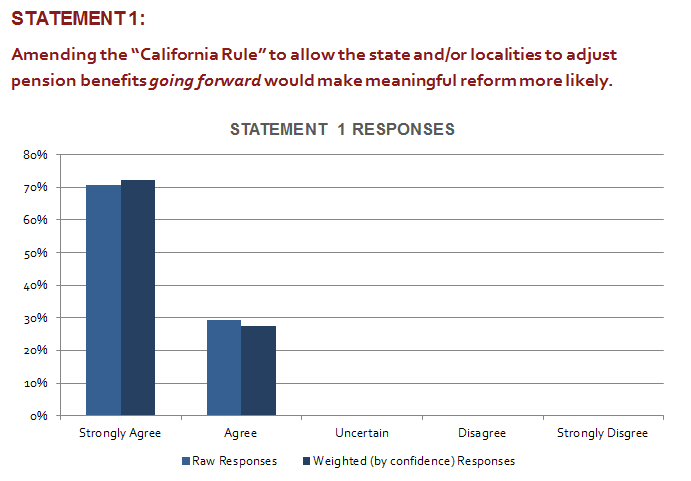 Some key findings include wide consensus that for reform to occur, the "California Rule" needs amended; wide disagreement that small reforms—like eliminating spiking and double-dipping—would solve pension challenges; and strong agreement that San Jose's recent pension reform is the best example for other California cities/localities to follow.
To explore the report directly, click here.
The Defining Ideas article "Reform or Bust" by Hoover research fellow Carson Bruno also provides an analysis of the report.
Join the Conversation