The Chinese Approach To Uyghur Separatism(*)
Around 22 million Muslims live in China (PRC) today. The Hui, the majority Muslim group in China, are fully integrated into all echelons of Chinese society, and are allowed to practice their religion with almost no interference from the authorities. The dominant minority group, the Uyghurs (roughly 10 million people), are a Sunni Turkish-related population who speak a Turkish dialect and live in the northwestern province of Xinjiang. Other Muslim minority groups are Kazakhs, Dongxiangs, Salar, Tatars, Bonans, Tajiks, Uzbeks, Utsul, Kyrgyz, and Tibetans.
Mao Zedong, the iconic Chinese leader, announced the establishment of the People's Republic of China on October 1, 1949, and in the course of that same year, Chinese troops invaded the Xinjiang Province. Following its annexation to the PRC, the name Xinjiang was changed in 1955 to Xinjiang Uyghur Autonomous Region.  Since then, the Uyghurs have demanded their independence and have strived to establish a separate political and religious entity in Xinjiang which is culturally close to the Central Asia republics that share borders with Afghanistan and Pakistan.
Facing the challenge imposed by the Uyghurs, the Chinese central government embarked on a policy of repression whose first and most important step was to implement a policy that was aimed at diluting the Uyghur majority and diversifying the population by encouraging Han Chinese to resettle in the province. The resettlement policy, together with huge investments in infrastructure, was, of course, to the detriment of the Uyghurs, who represent today barely 45 percent of the population in the province compared to a large majority in 1949. Moreover, according to a report published by the Uyghur Rights Project, the Chinese central government initiated a forced transfer of Uyghur young women to eastern China. The transfer policy focused on southeast Turkestan where the percentage of Uyghur inhabitants is actually the highest in the PRC. According to this report, thousands of Uyghur women have been removed from their families and placed in "substandard working conditions" far away from their homes.
In fact, the Chinese central government has focused on banning all signs of Islamic culture and religious education. Islamic domes and signs in Arabic are being erased while no new Arab-style mosques can be built. Posters throughout the province ban Uyghurs from riding buses if they have long beards, wear hijabs, burqas, niqabs, or clothing with the Islamic star and crescent (similar to the ones that appear in the Turkish flag). Taxis are not allowed to pick up men with long beards. Uyghurs who refuse to conform to these rules are threatened "to be handled by police" and sent to re-education camps. A man from Kashgar was sentenced to six years in jail for growing a beard, while his burqa-wearing wife was sentenced to two years. According to the Communist Party secretary of Kashgar, face veils represent a "cultural reverse"– a foreign import from the Middle East and not part of the Uyghur culture. In April 2015, Shaanxi Normal University in Xian issued an order banning female students from wearing veils, followed in May by an additional ban on wearing headscarves on campus. A male student was accused of "illegal preaching" after he was caught reading the Koran in a cafeteria at the same university.
In mid-2015, the PRC banned Muslim Uyghur party members, civil servants, students, and teachers from fasting during Ramadan, while halal restaurants were encouraged by food safety officials to stay open during the day during Ramadan. Those who acted accordingly were rewarded by fewer visits from food safety inspectors. In one county, party officials were forced to give verbal as well as written assurances "guaranteeing they have no faith, will not attend religious activities and will lead the way in not fasting on Ramadan." Violators and individuals accused of encouraging Uyghurs to fast during Ramadan were arrested and accused of spreading harmful propaganda.
Under the pretext of fighting terrorism, the PRC has closed mosques in East Turkestan. Houses which served as underground schools for Quranic studies were torn down in March 2015 as a warning to those who support unofficial religious studies.
Beginning in 2015, the PRC banned all Muslim prayers and Islamic religious practices in government buildings, schools, and business offices in Xinjiang. Chinese authorities have banned Muslim children from Quran classes; fines have also been imposed on those who use mobile phones and the internet to spread Islamic messages, while religious activities were restricted to authorized venues like mosques. The new rules forbid the dissemination of videos about jihad, extremism and terrorism, and demand that religious leaders report such activities to the local police.
In May 2015, Muslim shops and restaurants in northwestern Xinjiang were ordered to sell cigarettes and alcohol or face closure. However, consumers refusing to buy the products openly challenged the government policy to eradicate local Islamic customs.
According to Uyghur sources, the Chinese authorities encourage classical surveillance techniques to spy on Uyghurs. Neighbors, work colleagues, or classmates could all be informers. "The authorities have people they can rely on in every street. Mosques are under surveillance, and they have cameras inside." Hotan authorities offer 2000 yuan ($290) for those who report on those wearing Muslim attire, long beards and other Islamic external signs.
In mid-2014, residents of Kizilsu village in Jiashi county in the Kashgar prefecture were summoned to sign a "joint responsibility contract" issued by the village office of the Communist Party. The village government threatened to apply collective punishment if the villagers did not strictly abide by 30 specific regulations, such as reporting forbidden activities, unusual travel from and to the area, teaching and promoting Islam, unusual land transactions, refusing to read official announcements, or those who suddenly quit smoking or drinking alcohol.
The Chinese authorities also make use of the military to deter Uyghurs. During Ramadan, the police activate a surveillance alert, and tanks and armed police are deployed on every corner.
In September 2015, the Chinese authorities issued a ban on 22 Muslim names among Uyghurs, threatening to prevent children with such names from attending schools unless their parents change them. The banned male names were Bin Laden, Saddam, Hussein, Arafat, Mujahid, Mujahidulla, Asadulla, Abdel Aziz, Seyfulla, Gukdulla, Seyfeddin, Zikrulla, Nesrulla, Shemseddin, and Pakhirdin. The banned female names were Amanet, Muslime, Mukhlise, Munise, Aishe, Fatima, and khadicha.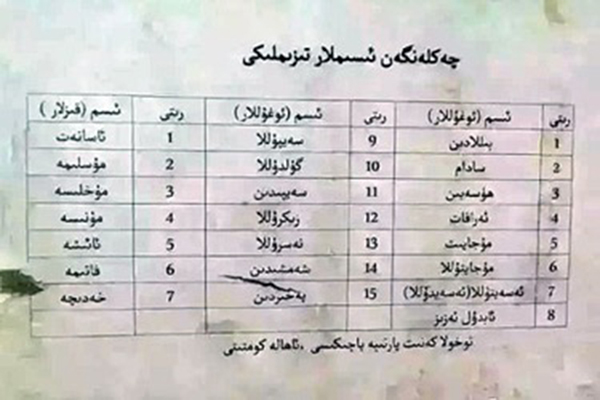 The banned Muslim names
In May 2016, Chinese media reported that bilingual pre-school education would be expanded in Xinjiang province, in a sign that the PRC is trying to push aside the Uyghur mother tongue in favor of Mandarin. According to the report, government funds will be used between 2016 and 2020 to assure three years of pre-school education instead of the current two years for almost 85 percent of pre-school children.
Residents of Kashgar and other cities on the silk road in the Xinjiang province are compelled three times a day to perform mandatory anti-terrorist drills while shopkeepers, at their own expense, must install security doors, panic buttons and security cameras inside the shop and on the street that send a direct link to police.
Trips abroad are restricted; Xinjiang residents in possession of passports had to hand them in to the commissariat of the police before May 15, 2015 and their use had to be requested in advance. Passports not handed back on time were no longer valid.
This policy led to resentment on the part of the Uyghurs, and consequently, sporadic hostilities erupted between China's ethnic Han majority and the Uyghurs. The authorities sided with the Han and conducted massive, bloody repressions against the protesters. The attacks perpetrated by the Uyghurs in Xinjiang follow almost the same patterns as those conducted by Islamic radicals (ISIS and others) in other countries such as car-ramming, suicide bombers, and knife-wielding attackers. But, unlike in other places, the attacks are not publicized by the Chinese government, which keeps a tight grip on the information. As a Reuter's correspondent put it: "The government has delayed reporting some previous incidents in Xinjiang, and limits on foreign journalists working there make it almost impossible to reach an independent assessment of the region's security."
Thousands of Uyghurs fled Xinjiang and smuggled their way into Turkey where they found a safe haven. However, since the beginning of the civil wars in Syria and Iraq, Uyghurs have flocked to the Middle East via Turkey for the purpose of joining rebel forces fighting the Assad regime in Syria and the Iranian-backed Shiite regime in Iraq. The Uyghurs split into different jihadist militias, such as ISIS and the Al-Qaida offshoot, Jabhat al-Nusra (lately re-branded as Hurras el Din- Guardians of Religion who are active in the Idlib region in North West Syria). The first reports of Uyghurs returning home from Syria emerged in July 2013, revealing that Uyghurs have been present in combat areas for some time. The Chinese government has alleged that "more than 1,000" Xinjiang separatists have received terrorist training in Afghanistan and claim to have arrested a hundred foreign-trained terrorists who made their way back to Xinjiang.
According to reports in Arab media close to the Assad and Tehran regimes, the presence of Uyghurs in the Middle East was behind Beijing's decision to dispatch the first Army special forces unit, "the Night Tigers," to Syria's Tartous port on the Mediterranean.  However, there has been no independent confirmation relating to Chinese military activities in Syria.  On the other hand, a video released in late February 2017 by the Islamic State, shows Uyghurs fighters training in Iraq and promising to plant their flag in China, while vowing that "blood will flow in rivers"
The defeat of ISIS in Iraq and the advance of Assad's troops in Syria could potentially result in the return to China of hundreds of Uyghur fighters who have been fighting in the ranks of the rebels, fully trained for guerilla warfare. This could have a great impact on the manner in which the separatist Uyghurs are waging their war  and the response by  Chinese authorities. Added to the latest threats by Uyghurs and contemplating Chinese behavior, one can anticipate that the Uyghur problem has grown to a dimension previously unknown and that the Chinese who, in the past, have tackled the problem by force will probably resort to more extreme methods to contain the problem in the future.
* * *
Notes
* This article is a modified and up-to-date version of an earlier version published by the author at the JCPA, Institute for contemporary affairs, vol.17, No.7, March 27,2017
Col. (ret.) Dr. Jacques Neriah, a special analyst for the Middle East at the Jerusalem Center for Public Affairs, was formerly Foreign Policy Advisor to Prime Minister Yitzhak Rabin and Deputy Head for Assessment of Israeli Military Intelligence.  
Join the Conversation