Victor Davis Hanson, the Martin and Illie Anderson Senior Fellow at the Hoover Institution, has been awarded the National Humanities Medal. President Bush honored Hanson and nine other medal recipients in a ceremony on November 15, 2007, in the White House East Room.
Hanson, a military historian, classicist, and author, is the third Hoover fellow to receive the National Humanities Medal. The Institution itself also has been given the award, in 2006.
"These men and women have shaped our understanding of the past, chronicled stories of tyranny overcome by liberty, and helped preserve our cultural treasures for future generations," Bush said as he introduced the ten humanities honorees.
Hanson was honored "for his scholarship on civilizations past and present," the official White House citation said. "He has cultivated the fields of history and brought forth an abundant harvest of wisdom for our times."
"The Hoover Institution is honored to count Victor Davis Hanson among those Hoover fellows who have been recognized with this award," said John Raisian, the Tad and Dianne Taube Director of the Hoover Institution. "Those medals have been bestowed on Thomas Sowell and Shelby Steele, as well as the one awarded by the president to the Hoover Institution itself. Victor's honor is well deserved and a source of inspiration and pride for all of us."
Steele, the Robert J. and Marion E. Oster Senior Fellow, received the medal in 2004, and Sowell, the Rose and Milton Friedman Senior Fellow in Public Policy, was honored in 2002.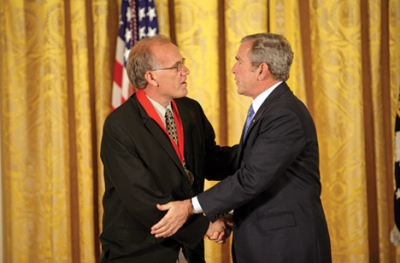 The National Humanities Medal, first awarded in 1989 as the Charles Frankel Prize, honors individuals and organizations whose work has deepened the nation's understanding of the humanities, broadened citizens' engagement with the humanities, or helped preserve and expand America's access to important humanities resources.
Hanson received a bachelor of arts degree in classics from the University of California, Santa Cruz, in 1975 (in 2002 he was named UCSC's alumnus of the year). He became a fellow of the American School of Classical Studies in 1978–79. He received his doctorate in classics from Stanford University in 1980.
He was a full-time farmer before he joined California State University, Fresno, in 1984 to create a classics program. In 1991, he was awarded the American Philological Association Excellence in Teaching Award, which is given yearly to the country's top undergraduate teachers of Greek and Latin.
He was a National Endowment for the Humanities Fellow at the Center for Advanced Studies in the Behavioral Sciences at Stanford University (1992–93), a visiting professor of classics at Stanford (1991–92), a recipient of the Eric Breindel Award for opinion journalism (2002), an Alexander Onassis Fellow (2001), and the visiting Shifrin Chair of Military History at the U.S. Naval Academy (2002–03). He is also the Wayne and Marcia Buske Distinguished Fellow in History at Hillsdale College, where every fall he teaches courses in military history and classical culture.
Hanson has written articles, book reviews, and newspaper editorials on Greek, agrarian, and military history and essays on contemporary culture. Since 2001, he has written a weekly column for National Review Online, and in 2004, he began a syndicated column for Tribune Media Services.
He has written or edited seventeen books. His newest work of military history, A War Like No Other: How the Athenians and Spartans Fought the Peloponnesian War, was named one of the New York Times Notable 100 Books of 2006. He is a co-author, with Heather Mac Donald and Steven Malanga, of The Immigration Solution: A Better Plan Than Today's, which was published late last year.
The nine other 2007 Humanities Medals were awarded to scholar Stephen H. Balch; author Russell Freedman; philanthropist Roger Hertog; author Cynthia Ozick; author and historian Richard Pipes; curator and author Pauline L. Schultz; scholar Henry Leonard Snyder; scholar Ruth R. Wisse; and the Monuments Men Foundation for the Preservation of Art of Dallas.
Join the Conversation