Data Matters: Keeping the Horse Race in Perspective
Our new series Data Matters continues this week with data from Morris P. Fiorina, a Hoover Senior Fellow and Wendt Family Professor of Political Science at Stanford University.
Following the near daily tracking of the presidential race, it's easy to lose perspective on what any poll or even any weekly average of multiple polls can tell us about what will happen on Election Day. This is especially true early on in the General election. If, as they say, a week in politics is a long time, then six months is a very long time. Improvement in or worsening of the U.S. economy, international crises, and events in the campaigns - combined with Americans' increased attention to the candidates and the race as the autumn approaches - can lead to big shifts in support for the candidates between the early polls and the first Tuesday after the first Monday in November.
Professor Fiorina has gathered polling data from the Gallup Trial Heats in presidential elections that show how the early polling can be wide of the Election Day mark. In data from each presidential election since 1972, we can see early leaders, with seemingly comfortable margins of victory, go on to lose. And even when the eventual winner leads in the early polling, landslides disappear and tight races become blowouts.
Click on the image below to enlarge.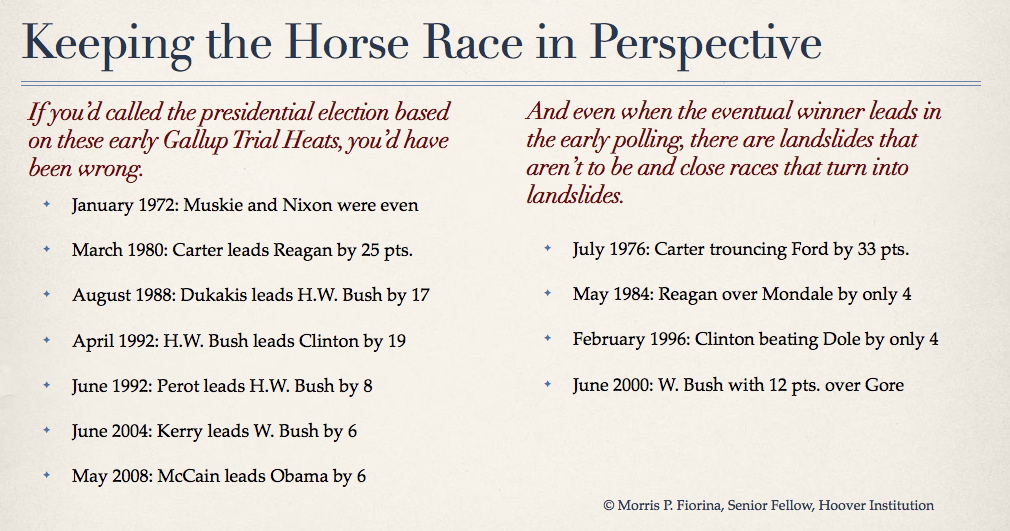 Professor Fiorina also provides analysis of the 2012 election in audio and video podcasts that are part of Hoover's 2012 In Perspective series. The latest audio podcast, "2012 General Election Analysis - The View from the Start Line," was released this week. You can access all the 2012 In Perspective content, including earlier 2012 election analysis podcasts, here.
With Data Matters, we highlight data relevant to public policy that Hoover fellows are using in their research. We feature original data, data from another source that Hoover fellows are presenting in a new way, or data that fellows find helpful in shaping their own thinking. Visit the Data Matters archive here.
Sign up for the Advancing a Free Society RSS feed to follow our data stream.
Join the Conversation