In this episode of Battlegrounds, H.R. McMaster and former Danish Prime Minister and former Secretary General of NATO Anders Fogh Rasmussen discuss the upcoming NATO Summit, international security, and the future of democracy and free markets.   
H.R. McMaster in conversation with Anders Fogh Rasmussen on Wednesday, June 9 at 9:00am PT.
---
WATCH THE LIVESTREAM @ 9AM PT
---
In this episode of Battlegrounds, Fouad and Michelle Ajami Senior Fellow H. R. McMaster interviews Anders Fogh Rasmussen, prime minster of Denmark from 2001 to 2009 and general secretary of NATO from 2009 to 2014. Topics in this conversation include Russian aggression in Europe, especially in the Baltic Sea region; China's attempts to coerce European societies through investments in infrastructure and businesses; and what strategies can be deployed to promote unity within Europe and strengthen the resilience of the world's democracies against the forces of authoritarianism.
Rasmussen explains that NATO forces, in particular the Danish military, have adopted a two-track approach in countering Russian aggression in the Baltic region. Denmark has 1) participated in active air policing of the Baltic states, and 2) maintained a forward presence in the eastern part of the region. In 2022, two hundred Danish troops will rotate back into Estonia, where they had previously been deployed from 2018 to 2020. To further bolster deterrence, Rasmussen advocates that Sweden and Finland also join the NATO alliance. Sweden in particular is primed for membership, he explains, because it possesses sophisticated military capabilities and has participated in recent NATO operations in Kosovo, Iraq, Afghanistan, and Libya.
Rasmussen considers Russia to be a regional spoiler, with limited ability to cause disruption beyond Europe and the Middle East. He argues that Russia is pursuing a coercive strategy with military, economic, and political dimensions. Militarily, Russia has destabilized Eastern Ukraine, occupied Northern Georgia, and contributed to conflict in Moldova. Economically, Moscow has sought to increase Central and Eastern Europe's dependence on Russian energy sources, especially through the construction of ports in the Baltic Sea and the recently completed Nord Stream 2 pipeline. On the political side, Russia meddles in the democratic processes of European states through conducting disinformation campaigns, sowing political and social divisions, and intimidating politicians who favor stronger continental unity and closer ties with the United States.
Rasmussen contends that China, unlike Russia, has the capacity to be a global spoiler. To this end, Beijing has exercised similar strategies as Moscow. It has undertaken strategic financing of European infrastructure and recently struck a multibillion-dollar investment agreement with Brussels. He maintains that while many European leaders have become less naïve about political and economic engagement with China, some in the EU still believe its member states can play a moderating role in the competition between the United States and China. Rasmussen believes this is a strategic mistake. Instead, he advocates reinforcing unity within existing institutions, principally the European Union and NATO, and creating new ones that complement the strengths of democratic societies. Rasmussen favors the establishment of an economic Article 5, which would declare an attack on individual NATO member economies as an attack on all of them. He also supports the creation of a transatlantic free-trade area extending across Europe and the United States. The economic benefits that participating countries would derive from such an agreement, he argues, would demonstrate to the world the value of upholding democratic principles and free-market systems.
---
ABOUT THE SPEAKERS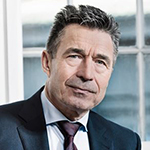 Anders Fogh Rasmussen has been at the centre of European and global politics for over three decades as a leading Danish parliamentarian, Danish Minister of Economic Affairs, Prime Minister of Denmark and, last but not least, as Secretary General of NATO. Upon leaving NATO, Mr. Rasmussen founded his strategic advisory firm "Rasmussen Global", which provides geopolitical and strategic consulting services. He is also the Chairman of the Alliance of Democracies Foundation, a non-profit organisation for the advancement of democracy and free markets across the globe.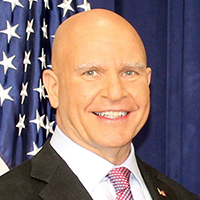 H. R. McMaster is the Fouad and Michelle Ajami Senior Fellow at the Hoover Institution, Stanford University.  He is also the Bernard and Susan Liautaud Fellow at the Freeman Spogli Institute and lecturer at Stanford University's Graduate School of Business.  He was the 26th assistant to the president for National Security Affairs. Upon graduation from the United States Military Academy in 1984, McMaster served as a commissioned officer in the United States Army for thirty-four years before retiring as a Lieutenant General in June 2018.
---
Battlegrounds provides a needed forum with leaders from key countries to share their assessment of problem sets and opportunities that have implications for U.S. foreign policy and national security strategy. Each episode features H.R. McMaster in a one-on-one conversation with a senior foreign government leader to allow Americans and partners abroad to understand how the past produced the present and how we might work together to secure a peaceful and prosperous future. "Listening and learning from those who have deep knowledge of our most crucial challenges is the first step in crafting the policies we need to secure peace and prosperity for future generations."