The FDA's celebration of its centenary this year is far from triumphal. Drug research and development—and their government regulator, the FDA—are ailing. The costs of drug development have skyrocketed, with direct and indirect expenses to bring an average drug to market now exceeding $800 million. Other trends are ominous as well:
• Longer clinical testing extends the time it takes to bring new prescription drugs to market; new medicines that gained FDA approval during 2002–4 required an average of 8.5 years to move through the clinical trials and approval phases, as compared to 7.2 years in 1999–2001.
• Only 58 new drugs in 2002–4 received marketing approval, a 47 percent decline from the peak of 110 during the 1996–98 period.
• The number of applications for marketing approval to the FDA from industry has been decreasing steadily since 1995.
• Fewer than one in three drugs that are approved for marketing ever recoup their development costs.
FDA reviewers and managers are conditioned to be risk-averse. As former FDA commissioner Alexander Schmidt observed: "In all our FDA history, we are unable to find a single instance where a congressional committee investigated the failure of FDA to approve a new drug. But the times when hearings have been held to criticize our approval of a new drug have been so frequent that we have not been able to count them. The message to FDA staff could not be clearer."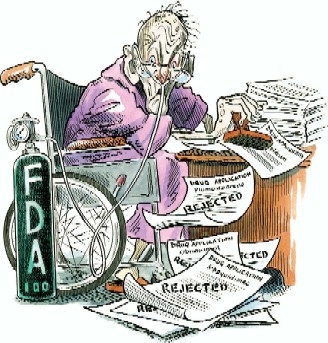 Thus regulators, having become phobic about risks, make decisions defensively, at the cost of denying patients new drugs that can cure diseases and save lives. The regulators tend to delay or reject products of all sorts, from fat substitutes to vaccines to painkillers. That's bad for public health and for consumers' freedom to choose.
A phrase that one commonly hears among FDA-watchers is that the agency lacks "adult supervision." During the past six years, a confirmed commissioner has held office for less than 20 months, "a clear signal that FDA doesn't matter much to the people who are running the country, . . . [which] can't help but affect morale," according to Donald Kennedy, former FDA commissioner and former president of Stanford University.
FDA regulators, having become phobic about risks, make decisions defensively, at the cost of denying patients new drugs that can cure diseases and save lives.
Poor management at the FDA goes back almost two decades. Agency heads David Kessler and Jane Henney, who presided over the deteriorating morale and the lack of focus on public health, politicized the agency to the greatest extent in its history. And about current acting FDA commissioner Andrew von Eschenbach, one senior agency official offered this assessment: "He is smart and pays attention . . . [but] I have the strong impression that no one is running FDA, and that even if anyone were, no one is running [the Department of Health and Human Services] and so nothing remotely controversial, which seems to include any decision on anything that hasn't been decided before, can get done."

Far too much has slipped through the bureaucratic cracks for anyone to be sanguine about the agency's ability to accomplish reform from within. For example, although Dr. Janet Woodcock, the FDA's deputy commissioner for operations, is intelligent, collegial, and forward thinking in many ways, she has been unable to address the agency's deficiencies for more than a decade. Appointed in 1994 to head the FDA's Center for Drug Evaluation and Research, which oversees industry's testing of new drug candidates, sanctions their marketing, and monitors them after they are approved, Dr. Woodcock was promoted several years ago to deputy director of operations for the entire FDA.
Deputy Commissioner for Medical and Scientific Affairs Scott Gottlieb is the FDA's public face and a vocal champion of greater agency flexibility. Still, he overestimates the effect that changes in science have on the agency's culture. "If we could develop better science, there could potentially be smaller trials" and lower costs, according to Dr. Gottlieb. True enough. But these kinds of innovations merely tinker at the margins of a fundamentally flawed system in which line reviewers are too risk-averse to embrace reforms that might expose them to media or congressional criticism.
Another of Dr. Gottlieb's remedies—ostensibly to speed approvals—is extending "user fees" (which drug companies pay to the FDA for the review of submissions) to generic drugs. But user fees are merely a euphemism for a discriminatory tax on a single corporate sector. Such fees have been in place for brand-name drugs for almost 15 years—and all we have to show for them are the negative trends described above.
Dr. Gottlieb's public statements must be weighed against recent FDA actions. Even as he criticized the overuse of "risk minimization action plans," which the FDA applies to drugs after they are marketed, the agency imposed a particularly harsh and inappropriate plan as a condition for reintroducing to the market the multiple sclerosis drug Tysabri.
What we need is not promises of better science or new taxes on drug development. Ultimately, only inspired senior management willing to reform the agency's deeply risk-averse culture—and to defend its actions before congressional and other critics—can produce the impartial, data-driven performance that will benefit patients.
FDA-watchers joke that the agency lacks "adult supervision"—during the past six years, a confirmed commissioner has held office for less than 20 months.
This will not be easy because the contract between society and FDA regulators has been violated. Lifetime tenure for civil servants—which itself exacts costs—is supposed to free regulators to consider only the public interest as they render decisions. Instead, it has given us the worst of both worlds. On the one hand, it has become virtually impossible to remove incompetent or adversarial federal civil servants; on the other, we are forced to live with decision making by federal officials who are frequently influenced by perceived risks to their careers.
During the FDA's second century, the culture of excessive risk aversion at the agency must be changed, but, sadly, it may take a public health crisis—a pandemic or a massive bioterror attack—to accomplish what several generations of FDA leadership have been unable to do.
Join the Conversation