Chris Gibson, a Hoover national security affairs fellow for 2006–7, rounded out his rich and varied Army career last year by commanding a humanitarian relief operation in Haiti. Then he deployed once again: for Washington. Last fall he ran for Congress on his home turf, the Twentieth Congressional District in upstate New York, and won. Today, freshman representative Gibson, one of six new Republicans from New York state, sits on the House Armed Services and Agriculture committees and looks forward to making his mark in the 112th Congress. "The number one priority is to get the private-sector economy going," he said in an interview on the day he took office.
Gibson detailed his plans in a recent podcast on Ricochet.com, telling co-host Peter Robinson that he was focused on helping his dairy and farming constituents in the largely rural district and on shaping the direction of the U.S. military in three ways:
"The first one is to bring a rapid and successful conclusion to the wars in Iraq and Afghanistan, so I'm very interested in working with the Department of Defense on that and being a leader on the Armed Services Committee—ensuring that we have the resources in the near term, but also that we stay on plan in the midterm to successfully complete combat operations by 2014.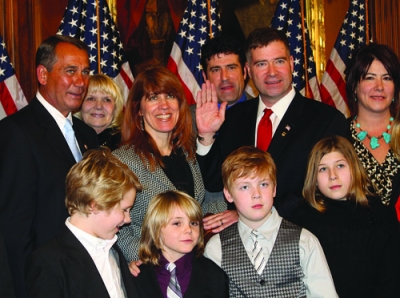 Retired Army colonel Chris Gibson takes the oath of office in January, joined by his wife, Mary Jo; friends and family members; and Majority Leader John Boehner.
"Two is to organize better to neutralize the existential Al-Qaeda threat.
"And three—and I think this is important for the Armed Services Committee—is to look out fifteen to twenty years from now and ask: how do we reorganize the armed services to protect our cherished way of life in a manner that is consistent with a republic, and one that we can afford?"
Among Gibson's first actions in Congress was to issue a statement on the first anniversary of the devastating Haiti earthquake.
"I had the distinct honor of commanding the Eighty-Second Airborne Division's Second Brigade Combat Team during the opening month of humanitarian relief efforts, my last mission prior to retirement from the Army," he said. "The American people can be tremendously proud of the work their servicemen and -women did in Haiti, amid such tragic and difficult circumstances. . . . I know the efforts of the Eighty-Second Airborne saved lives and eased the pain and suffering of those who survived.
"A year later, my thoughts and prayers are with the Haitian people—particularly the children—as they continue what unfortunately will be a long road to recovery."
Gibson also joined the majority vote to repeal last year's health care legislation, saying that "time and time again, I have heard from constituents that we need health care reform, but that this bill was not the answer. . . . I believe that when the American people see this replacement bill, which will be a patient-centered solution, and evaluate it against the government expansion bill, they will choose the replacement legislation. It's time to start over."
While at Hoover, Gibson focused his research on the interaction of civil and military leadership. An article he published in the Hoover Digest singled out the talents of Generals George Washington and George C. Marshall, calling them role models during two critical eras for the important and delicate task of leading the nation's military. Shortly after leaving Hoover, Gibson published Securing the State, a book on national security decision-making.
Gibson retired from the Army as a colonel after twenty-four years on active duty. He was deployed seven times, including four combat tours of Iraq. He went to Kosovo, to the Southwestern United States for an anti-drug operation, and to Haiti. He taught American politics at the United States Military Academy at West Point and served as a congressional fellow with Representative Jerry Lewis of California, the chairman of the Defense Appropriations Subcommittee.
He holds a master's degree in public administration and a doctorate in government from Cornell University. Gibson and his wife, Mary Jo, a licensed clinical social worker, live in Kinderhook—birthplace of President Martin Van Buren—with their three children, Katie, Maggie, and Connor.