H.R. McMaster in conversation with Ambassador Husain Haqqani, Hudson Institute Senior Fellow and Director for South and Central Asia, on October 6, at 9:15AM PT discussing Pakistani foreign policy, jihadist terrorism, and the future of South Asia in the wake of the U.S. withdrawal from Afghanistan.
---
WATCH THIS EPISODE @ 9:15AM PT, OCTOBER 6, 2021
---
In this episode of Battlegrounds, Fouad and Michelle Ajami Senior Fellow H. R. McMaster interviews Husain Haqqani, former Pakistani ambassador to the United States (2008–11) and current senior fellow at the Hudson Institute. Topics in this wide-ranging conversation include the geopolitical consequences of the Taliban's takeover of Afghanistan; Pakistan's rivalry with India; China's growing influence in South Asia; and how all these factors will shape the future of the United States' engagement in this volatile region of the world.
Haqqani explains that the collapse of the Afghan government is nothing short of a human catastrophe, one that will have long-term consequences for the future of South Asia. He asserts that, contrary to arguments that the Taliban have moderated since they were removed from power by US forces twenty years ago, they are now wielding their newly found authority through radical and repressive measures imposed on the Afghan population. The Taliban are executing people for minor crimes and have prohibited women from pursuing secondary and postsecondary education. Taliban rule in Afghanistan will likely result in that country losing out on significant foreign aid opportunities and other economic benefits derived from positive diplomatic relationships with countries of the free world. Afghanistan will thus have to turn toward China for support of its economy.
Haqqani argues that despite the Taliban's claims that Afghanistan won't be used as a terror base, jihadist groups are now regathering in the country and pose a violent threat to Pakistan and India to its east, and Uzbekistan and Tajikistan to its north.
Haqqani maintains that the Pakistan government wholly encouraged the fall of Afghanistan to the Taliban. In Islamabad's view, an Afghanistan under the rule of Islamists is more likely than a pluralistic democracy to align itself with Pakistan. Similarly, Haqqani contends, the Pakistan government encourages Islamic fundamentalism within its borders in order to achieve unity among its patchwork of tribal identities.
Haqqani also explains that since its founding in 1947, Pakistan has experienced a series of military defeats at the hands of India. Nevertheless, the source of the Pakistani government's core support depends on its perpetuating this adversarial relationship through an aggressive military posture. He adds that because of the disproportionate focus Pakistan places on the strength of its forces, it has failed to address the needs of its population. He describes how Pakistan's gross domestic product and literacy rate were, not long ago, ahead of neighboring Bangladesh but now have fallen behind.
Haqqani says that American leaders need to stop believing that their policy advice will be followed by counterparts in Pakistan. During the 1990s, Washington provided conventional weapons to Islamabad, under the false assumption that doing so would put a halt to Pakistan's nuclear program. Instead, Islamabad expanded both its conventional and nuclear weapons arsenals. After the attack of September 11, 2001, then Pakistani president Pervez Musharraf cooperated with the United States on counterterrorism efforts. However, when Musharraf realized that American forces were planning presence in Afghanistan for a longer term, Musharraf began to provide support for Taliban fighters to undermine that country's fledgling democracy.
Haqqani believes that it is a mistake for Pakistan to align itself closer to China. Programs like the One Belt One Road initiative and the China-Pakistan Economic Corridor, while promising broader access to capital, credit, and infrastructure, will only make Pakistan indebted to China and place its sovereignty at risk. Haqqani argues that, alternatively, Pakistan could reduce such risks and ease regional tensions through the expansion of trade with India and by diplomatically engaging with New Delhi on a transactional basis.
Finally, Haqqani advocates that US leaders should avoid mistakes that they made in past engagements with Pakistan. He said that it would be a grave miscalculation for America to abandon South Asia and the greater Middle East in a pivot to East Asia. Ultimately, American disengagement would empower jihadist extremists to export terrorism and enable China to expand its interests in those regions.
---
ABOUT THE SPEAKERS

Ambassador Husain Haqqani is a Hudson Institute Senior Fellow and Director for South and Central Asia. He is also Co-Chair of its Project on the Future of the Muslim World as well as co-editor of the journal 'Current Trends in Islamist Ideology published from Washington DC. Ambassador Husain Haqqani served as Pakistan's ambassador to the United States from 2008-2011 and was an advisor to four Pakistani Prime ministers. His latest book Reimagining Pakistan: The Transformation of a Dysfunctional Nuclear State was released in April 2018.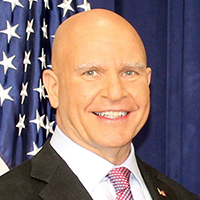 H. R. McMaster is the Fouad and Michelle Ajami Senior Fellow at the Hoover Institution, Stanford University and the Japan Chair at the Hudson Institute.  He is also the Bernard and Susan Liautaud Fellow at the Freeman Spogli Institute and lecturer at Stanford University's Graduate School of Business.  He was the 26th assistant to the president for National Security Affairs. Upon graduation from the United States Military Academy in 1984, McMaster served as a commissioned officer in the United States Army for thirty-four years before retiring as a Lieutenant General in June 2018.
---
Battlegrounds provides a needed forum with leaders from key countries to share their assessment of problem sets and opportunities that have implications for U.S. foreign policy and national security strategy. Each episode features H.R. McMaster in a one-on-one conversation with a senior foreign government leader to allow Americans and partners abroad to understand how the past produced the present and how we might work together to secure a peaceful and prosperous future. "Listening and learning from those who have deep knowledge of our most crucial challenges is the first step in crafting the policies we need to secure peace and prosperity for future generations."