In this episode of Battlegrounds, H.R. McMaster and former Panama Vice President Isabel de Saint Malo de Alvarado discuss Panama-US relations, factors affecting Western Hemisphere security and prosperity, and implications for Panamanian and U.S. policy. 
H.R. McMaster in conversation with H.E. Isabel de Saint Malo de Alvarado on Wednesday, May 12 at 9:00am PT.
---
WATCH THE LIVESTREAM @ 9AM PT
---
In this episode of Battlegrounds, Fouad and Michelle Ajami Senior Fellow H. R. McMaster interviews Isabel de Saint Malo de Alvarado, the former vice president of Panama. In this wide-ranging conversation, topics include how COVID-19 has placed stress on governments throughout Latin America and the delivery of vital public services to their citizens; the allure of statist models of governance throughout the region; what steps should be taken to address rampant transnational crime; and Panama's role as a facilitator of international trade.
Saint Malo explains how Latin America has suffered some of the harshest consequences wrought by COVID-19. The region makes up 9 percent of the world population but accounts for 20 percent of pandemic cases and 30 percent of related deaths globally. The pandemic has also laid bare economic disparities. School closures have disproportionally impacted disadvantaged youths, many of whom could not transition to remote learning because they lack internet connectivity in their homes.
Saint Malo is concerned about a recession of democratic governance in the region. She states that the fragility of democratic systems isn't caused by the rise of ideological rivals but by an emerging lack of confidence among many middle-class and poor citizens in the ability of their governments to respond to their needs. She notes that even Chile, which has been a longtime beacon of economic success and good governance in the region, experienced nationwide protests in late 2019 because of citizens' anger over income inequalities.
Saint Malo also raises concerns about people living under authoritarian regimes in Nicaragua, Venezuela, and Cuba. She notes that Nicaragua's leader, Daniel Ortega, has expelled all human-rights organizations and that the country will soon carry out an election with little or no transparency to outside observers.
Saint Malo explains that Venezuela is afflicted by "indescribable" poverty. Many of its citizens are unemployed and have limited access to food and medicine. She hopes that Venezuela's opposition, key Latin American countries, and other regional stakeholders—namely, China, Russia, and the United States—can come together and support an exit strategy for the country's current president, Nicolas Maduro.
In Cuba, Saint Malo describes Raul Castro's recent decision to step down from leadership as a positive development but maintains that she would like to see a full transition to democracy from Communism.
She also argues that the battle against transnational networks such as the narcotics trade should be addressed in multiple domains. She believes that: 1) narcotics traffickers wouldn't be in business if there weren't a market for their products and hence, the demand fueled by drug addiction needs to be reduced; 2) governments should help farmers replace the cultivation of coca and poppies with that of legal and equally lucrative crops; 3) people, especially youths, need to be able to find meaningful job opportunities that pay more than crime; and 4) countries should expand cooperative frameworks to disrupt the flow of narcotics, especially via maritime routes.  
Finally, Saint Malo touts Panama's role as a facilitator of international commerce via its canal's service to more than 140 global trade routes. Specifically, she describes how her government's recent expansion of the canal has reduced transit times and lowered greenhouse-gas emissions.
In response to a question by McMaster related to China's presence in Panama, Saint Malo responds that her country can't afford to ignore the second biggest user of the canal. She clarifies that ultimately, however, in pursuit of goals of economic growth and improving the livelihoods of its citizens, Panama is open to expanding and diversifying its trade and investment relationships.
---
ABOUT THE SPEAKERS

H.E. Isabel de Saint Malo de Alvarado is the first woman elected Vice-President in Panama and a former Minister of Foreign Affairs. She has over 20 years' experience in consulting, development, and implementation of public policies in Latin America. The Vice President started her diplomatic career with posts at Ministry of Foreign Affairs and the United Nations Permanent Mission in New York and worked for 15 years with the United Nations Development Program (UNDP) in Panama. She has been a member of different boards of directors and is a champion in sponsoring issues related to transparency, sustainable development, gender equality, and human rights.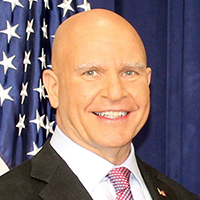 H. R. McMaster is the Fouad and Michelle Ajami Senior Fellow at the Hoover Institution, Stanford University.  He is also the Bernard and Susan Liautaud Fellow at the Freeman Spogli Institute and lecturer at Stanford University's Graduate School of Business.  He was the 26th assistant to the president for National Security Affairs. Upon graduation from the United States Military Academy in 1984, McMaster served as a commissioned officer in the United States Army for thirty-four years before retiring as a Lieutenant General in June 2018.
---
Battlegrounds provides a needed forum with leaders from key countries to share their assessment of problem sets and opportunities that have implications for U.S. foreign policy and national security strategy. Each episode features H.R. McMaster in a one-on-one conversation with a senior foreign government leader to allow Americans and partners abroad to understand how the past produced the present and how we might work together to secure a peaceful and prosperous future. "Listening and learning from those who have deep knowledge of our most crucial challenges is the first step in crafting the policies we need to secure peace and prosperity for future generations."