Podcast with John Cochrane: Immigration's Effect On Wages And The Economy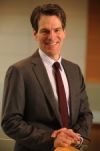 In this audio podcast, Hoover senior fellow John Cochrane argues that immigration has very little effect on American workers' wages, especially since so many start new businesses and there's not a fixed supply of jobs.  Cochrane also believes in open borders because a free market in labor is beneficial to the overall functioning of the economy.
[audio src="//www.hoover.org/wp-content/audio/JohnCochraneOnImmigration.mp3"]
Click here for Cochrane's essay on the purpose and unintended consequences of immigration reform.
Join the Conversation