In this episode of Battlegrounds, H.R. McMaster and General Rajmund Andrzejczak discuss the US-Poland relationship and security  challenges including increasing Russian aggression in Europe, energy security, and transnational terrorism. 
H.R. McMaster in conversation with General Rajmund Andrzejczak on Wednesday, February 2, 2022 at 9:00am PT.
Note: There is a glitch in the audio for 60 seconds from 1:00-2:00 of this recording. We apologize for the inconvenience, but hope you enjoy the rest of the interview.
 
---
WATCH THIS EPISODE @ 9AM PT, FEBRUARY 2, 2022
---
RECAP
In this episode of Battlegrounds, Fouad and Michelle Ajami Senior Fellow H. R. McMaster interviewed General Rajmund Andrzejczak, the chief of the general staff of the Polish Armed Forces. Andrzejczak discussed the transformation of the Polish military, the threats posed by Russia to Ukraine, and the challenge of mass migration to Poland and other countries within the European Union.
Andrzejczak explained that as Russia has displayed aggression against countries of the former Soviet Union over the past two decades, Poland has enhanced its military capabilities and, in recent years, has maintained defense spending at a proportion of 2 percent of its gross domestic product. He said that Poland's geography at the crossroads of Western and Eastern Europe burdens his country's armed forces with the responsibility of being a reliable partner in providing security and stability to the continent. Russia has amassed more than 100,000 troops along Ukraine's border and maintains an aggressive military posture in the Black Sea and the Baltic Sea. Meanwhile, in response to sanctions by the European Union, Belarus president Viktor Lukashenko, a Russia ally, has allowed thousands of refugees from Iraq, Syria, and elsewhere to pass through his country and flow into bordering Poland, Lithuania, and Latvia.
In deterring aggression from Russia, Andrzejczak maintained that Poland and its NATO partners must not only build up their militaries to counter high-tech weaponry such as hypersonic missiles but also must strengthen their soft-power capabilities. This means combating Kremlin propaganda and disinformation that threaten cohesion within and between European societies and weaken their ability to maintain a united front against Russia.
Andrzejczak stressed that energy independence is a vital component of Poland's security. He said that although Poland will soon not have to rely on external sources of natural gas, it still faces constraints from European Union climate-change and carbon-emissions regulations.
He also described how Europe faces challenges posed by China as an economic power. He explained that unlike the Soviet Union, which could only project its power militarily, Beijing can potentially weaponize its vast economic resources to influence and coerce European societies into adopting policies that align with Chinese Communist Party preferences. As well, the export of Chinese technology to these societies can be used as a tool for political and military espionage.
Finally, Andrzejczak, a veteran of the war in Afghanistan, lamented the fall of that country to the Taliban. He worries that this crisis will lead to more waves of migration westward, which will further threaten the security and political stability of the European community.
---
ABOUT THE SPEAKERS

General Rajmund Andrzejczak is Chief of the General Staff of the Polish Armed Forces. General Andrzejczak has served in the Polish military for over three decades and was nominated to the rank of General in 2019. He is the recipient of the Order of the Second Class Military Cross - Commander's Cross, Star of Iraq and Star of Afghanistan. He is a graduate of the Military Academy of the Armored Forces in Poznań, the Defense Academy of the Czech Army, the National Defense Academy in Warsaw and the Royal College of Defense Studies in London.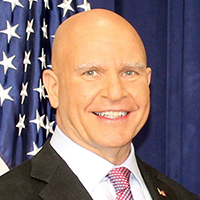 H. R. McMaster is the Fouad and Michelle Ajami Senior Fellow at the Hoover Institution, Stanford University and the Japan Chair at the Hudson Institute.  He is also the Bernard and Susan Liautaud Fellow at the Freeman Spogli Institute and lecturer at Stanford University's Graduate School of Business.  He was the 26th assistant to the president for National Security Affairs. Upon graduation from the United States Military Academy in 1984, McMaster served as a commissioned officer in the United States Army for thirty-four years before retiring as a Lieutenant General in June 2018.
---
Battlegrounds provides a needed forum with leaders from key countries to share their assessment of problem sets and opportunities that have implications for U.S. foreign policy and national security strategy. Each episode features H.R. McMaster in a one-on-one conversation with a senior foreign government leader to allow Americans and partners abroad to understand how the past produced the present and how we might work together to secure a peaceful and prosperous future. "Listening and learning from those who have deep knowledge of our most crucial challenges is the first step in crafting the policies we need to secure peace and prosperity for future generations."