It feels strange to see your name on a cassette tape recorded in 1992 in San Jose, California, and have it show up among donated research materials in 2015 in Palo Alto, California. Samsara of the archival world!
I met Professor Gottesman in 1992 when he came to San Jose to interview me for his research on the role of literacy in the Eritrean national liberation movement. The result has been published as To Fight and Learn:The Praxis and Promise of Literacy in Eritrea's War of Independence (Lawrenceville, NJ, 1998). I don't remember what I said then (now I know thanks to the donation) but all has been preserved for posterity along with others in the Professor Leslie Gottesman Papers at the Hoover Institution Archives.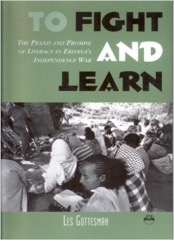 Professor Gottesman, a US educator and writer, was born in Portland, Oregon, in 1941; attended Columbia University where he received his BA and his MA in 1968 and1969, respectively, and his Ed D from the University of San Francisco in 1994, along with an MFA from the California College of the Arts in 2011. He is a professor emeritus of English at Golden Gate University in San Francisco, where he taught for twenty-eight years, as well as serving as the dean of the School of Arts and Sciences from 1994 to 1996 and director of general education from 2001 to 2007.
Professor Gottesman's collection, which was donated at the beginning of the year, contains thirteen manuscript boxes, two oversize boxes, and one card file box (6.6 linear feet); the collections includes correspondence, writings, pamphlets, bulletins, serial issues, other printed matter, audio and video recordings, transcripts of interviews, and slides, all relating to the history of Eritrea, political and social conditions there, and education in that country.
The donation has two unique aspects for future researchers:
One, the research is the first systemic study on the role of literacy by the Eritrean People's Liberation Front (EPLF), with a focus on the EPLF's National Literacy Campaign 1983–87 (pre-independence) and efforts to understand the postindependence Eritrean educational policy. The research includes audio recordings with those directly involved in the campaign as well as other researchers.
Two, the role of support committees of various national liberation movements such as the EPLF, the African National Congress (ANC), the South West Africa People's Organization (SWAPO), and others in the United States has never been thoroughly studied. As semiautonomous entities, these committees developed unique literature, targeting their respective localities, that includes brochures, pamphlets, posters, flyers, and postcards. Those groups also organized film screenings, speakers, fund-raising, community outreach, and so forth. One of the local EPLF support committees of the San Francisco branch was the Eritrea Material Aid Campaign (EMAC/1980­–85). As a member, Professor Gottesman collected various rare publications of EMAC that are included in his collection.
Professor Gottesman's papers are now available to the public at the Hoover Archives.
Below are some samples.