T
he Soviet Union had little patience for writers who spoke their minds independently of official ideology. Whether these minds were overtly political, or simply embraced a worldview that valued the individual over the masses or the spiritual over the material, did not matter. Recognizing the power of the written word, the authorities frequently arrested and sometimes imprisoned, exiled, or executed writers.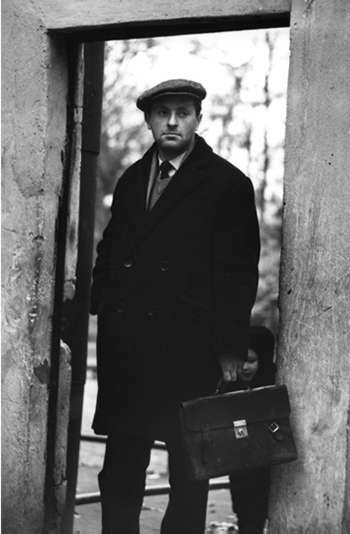 ---
In 1964, Joseph Brodsky was a 23-year-old, virtually unpublished poet living in Leningrad. The authorities considered him dangerous, despite the fact that his writing, using classical and metaphysical themes, was apolitical. Brodsky was arrested and charged with "having a worldview damaging to the state, decadence and modernism, failure to finish school, and social parasitism . . . except for the writing of awful poems." (Social parasitism was a term coined by the authorities to describe those who did not engage in "socially useful work.") Shortly thereafter, Brodsky was tried, convicted, and sentenced to five years of hard labor. His sentence was commuted after a year and a half.
The following testimony from his trial, taken in shorthand by journalist Frieda Vigdorova and released to the Western press, propelled Brodsky from a little-known poet to an international symbol of the individual's rights against the state:
Judge: And what is your profession in general?
Brodsky: Poet translator.
Judge: Who recognized you as a poet? Who enrolled you in the ranks of poets?
Brodsky: No one. And who enrolled me in the ranks of humanity?
Judge: Did you study this?
Brodsky: This?
Judge: To become a poet. You did not try to finish high school where they prepare, where they teach?
Brodsky: I didn't think you could get this from school.
Judge: How then?
Brodsky: I think that it . . . comes from God.
Martin Esslin produced a BBC radio dramatization of the trial, Radio Free Europe filled the airwaves with the news, and international newspapers published the story. The trial prompted the acknowledged grande dame of Russian poetry, Anna Akhmatova, to say, "What a biography they have created for our redhead. You'd think he had hired them." But Brodsky was unaware of much of the furor as he carried out his sentence, shoveling manure in the little village of Norinskaya, close to the Arctic Circle.
Captivity and a Growing Reputation
Born in Leningrad, Brodsky had attended various schools until dropping out at the age of 15. A series of jobs followed, including positions on geologic expeditions that took him across the expanse of the Soviet Union. It was on these expeditions that he began writing poetry.
On his return to Leningrad, Brodsky became friends with the writers Yevgeny Rein, Dimitry Bobyshev, and Anatoly Nayman. "The idea of individualism, of a man on his own all by himself was our proud property," Brodsky wrote years later. "But the possibility of realizing it was minuscule, if it existed at all." The only path was literature and the private act of reading. Brodsky read the Bible; he read English and Polish poetry, dictionaries in hand. He tried his hand at elegies, writing Elegy to John Donne. Published in samizdat (underground copies, usually typewritten and passed from hand to hand), such writings fueled a growing reputation in Western literary circles.
After several warnings, a newspaper campaign was mounted against Brodsky, characterizing him as a "literary drone." His arrest, trial, and conviction followed. Brodsky later looked back at the sentence of hard labor in the north as a profitable time. His typewriter and books—particularly Louis Untermeyer's anthology of British and American poetry and a Russian-English dictionary—allowed him to translate the great English-language poems and improve his use of the language. It was also a creative period for the poet.
In 1974, a Russian writer was sentenced to four years in a labor camp and two years in exile for attempting to distribute underground literature, including copies of Joseph Brodsky's poetry. By 1990, Soviet glasnost policies made it possible to obtain a copy of Brodsky's poems in the Leningrad airport bookstore.
Following his trial many of Brodsky's poems were published in the United States, beginning with Gleb Struve and Boris Filippov's 1965 Stikhotvoreniia i poemy, edited from the samizdat texts they had collected. Struve, a specialist in Russian literature of the twentieth century, had published works from both Soviet and émigré writers. Within the next few years, translations of Brodsky's poems appeared in English, German, French, Hebrew, Polish, and Czech. Foreign visitors beat a path to Brodsky's door. The KGB took notice.
In May 1972, during a visit from Carl Proffer, a professor at the University of Michigan and head of a small publishing house, a message came for Brodsky to report to the Ministry of Visas and Immigration. An ultimatum was presented, leaving Brodsky no choice: he had to leave the country of his birth and language. Proffer helped to arrange a position at the University of Michigan; Brodsky accepted.
The Years in Exile
The Soviet authorities assumed that once Brodsky left the country he would become just one more émigré among many and that his importance would diminish accordingly. This could not have been further from the truth. In fact, rare for a poet, Brodsky gained celebrity status with his dry humor, his openness to the media, and his prolific writings. His poems, reviews, interviews, and essays appeared not only in small literary journals but in the mainstream press, including the New York Times Magazine, the New Yorker, Newsweek, Vogue, and Mademoiselle. He gave public readings. He bought a typewriter with roman characters and started writing in English.
Meanwhile, back in the USSR a total of only four of Brodsky's poems had been published and these during his very early years. Although many knew his poetry through samizdat copies and smuggled Western editions, it took the commitment of Russian writer Vladimir Maramzin to attempt a complete edition of Brodsky's poems. Between 1971 and 1974, he gathered Brodsky's poems from all available resources, then retyped and photocopied them. Maramzin managed to collect approximately 2,000 pages of poetry that he hoped to publish as an underground typewritten publication. He painstakingly searched for texts, established the correct dates, and wrote scholarly commentaries. He presented his findings to Brodsky before his exile in 1972, who then selected and corrected the texts.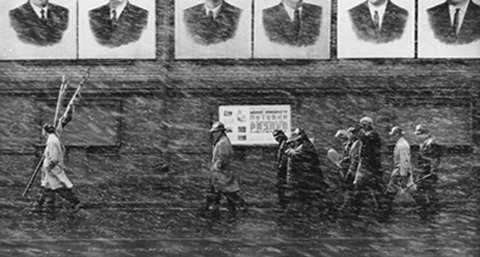 ---
Mikhail Kheifets, another Russian writer and literary critic, wrote an introductory essay to the collection entitled "Joseph Brodsky and Our Generation." In April 1974, the homes of both Maramzin and Kheifets were searched, and numerous manuscripts and samizdat documents were confiscated, including Brodsky's poetry and the introductory essay. Maramzin and Kheifets were interrogated by the KGB, accused of anti-Soviet propaganda and agitation, and tried by the Leningrad City Court. Maramzin was sentenced to five years in a labor camp but in July 1975 was allowed to emigrate from the Soviet Union. Kheifets served four years in a labor camp and two years in exile.
When the policies of glasnost and perestroika created greater freedom of expression in the Soviet Union, Brodsky's poems began to appear, first in the periodical Novyi Mir (1987), followed by Neva (1988). Then the floodgates opened. By 1990, it was possible to obtain a copy of Brodsky's poems in the Leningrad airport bookstore.
In 1992 Sochineniia Iosifa Brodskogo (Works of Joseph Brodsky) appeared in St. Petersburg, based on Maramzin's collection. Brodsky had approved for inclusion in this edition 14 of the 26 poems that had been included in 1965 by Gleb Struve in Brodsky's first published collection, Stikhotvoreniia i poemy, but which Brodsky had not permitted to be published subsequently.
Meanwhile, in the United States Brodsky received a John D. and Catherine T. MacArthur award in 1981, followed by a Guggenheim award, an honorary doctorate in literature from Oxford, and the National Book Award for the book of essays Less Than One. In 1987 he was awarded the Nobel Prize for literature. Brodsky responded: "I'm the happiest combination you can think of. I'm a Russian poet, an English essayist, and an American citizen!"
From 1981 until his death in 1996 he spent each spring teaching at Mount Holyoke College. His eighteenth-century home in South Hadley with its rough maple floors reminded him of his family's room and a half in Leningrad and his mother's admonition not to walk barefoot on the wooden floors. His parents had tried for years to obtain exit visas, but their applications were always rejected; they both died without seeing their only son again.
In 1996, Joseph Brodsky suffered a massive heart attack and died at the age of 55, leaving his new wife, Maria Sozzani, and two-year-old daughter, Anna.