H.R. McMaster in conversation with Yalda Hakim, BBC World News presenter and correspondent on Thursday, September 9 at 9:00AM PT discussing her new film "Return of the Taliban," which explores the Taliban of today, what they stand for and what is at stake in the unfolding situation in Afghanistan.
ABOUT RETURN OF THE TALIBAN
In Return of the Taliban, which was filmed during the weeks before the Taliban took power, Afghan-born, Australian reporter Yalda Hakim traveled to Afghanistan and secured access to two Taliban leaders and key people in Kabul about the country's future. In the country of her birth, Yalda talks extensively to a Taliban commander from the front line, as well as to the leadership in Doha. They claim they have changed and have regrets about their actions in the past, but who are the Taliban in 2021 and are they planning a return to the brutal regime of the 90s? And she meets with the then Vice President Amrullah Saleh who is adamant he would never surrender to the Taliban. Yalda asks what is at stake for the Afghans who are now in their first weeks under Taliban rule.
To watch Return of the Taliban, click here.
Password: 0urw0rld!
---
WATCH THIS EPISODE @ 9AM PT, SEPTEMBER 9, 2021
---
ABOUT THE SPEAKERS

Yalda Hakim is a BBC World News presenter and correspondent and host of BBC's program "Impact with Yalda Hakim". Before joining BBC World News, Hakim was the presenter of SBS Dateline in Australia. Hakim has delivered award-winning stories from crisis zones and interviews with political leaders in the Middle East, the United States, Africa and Europe. Hakim also launched the "Yalda Hakim Foundation for Young Women" in partnership with the American University of Afghanistan to support the professional advancement of exceptionally talented women in Afghanistan. Hakim was born in Afghanistan and moved to Australia in the late 1980s after her father fled Kabul with his family when Russia invaded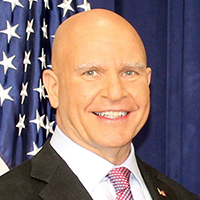 H. R. McMaster is the Fouad and Michelle Ajami Senior Fellow at the Hoover Institution, Stanford University and the Japan Chair at the Hudson Institute.  He is also the Bernard and Susan Liautaud Fellow at the Freeman Spogli Institute and lecturer at Stanford University's Graduate School of Business.  He was the 26th assistant to the president for National Security Affairs. Upon graduation from the United States Military Academy in 1984, McMaster served as a commissioned officer in the United States Army for thirty-four years before retiring as a Lieutenant General in June 2018.
---
Battlegrounds provides a needed forum with leaders from key countries to share their assessment of problem sets and opportunities that have implications for U.S. foreign policy and national security strategy. Each episode features H.R. McMaster in a one-on-one conversation with a senior foreign government leader to allow Americans and partners abroad to understand how the past produced the present and how we might work together to secure a peaceful and prosperous future. "Listening and learning from those who have deep knowledge of our most crucial challenges is the first step in crafting the policies we need to secure peace and prosperity for future generations."