Senior Fellow Condoleezza Rice co-authors op-ed on immigration reform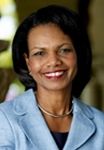 Former Secretary of State and Hoover Institution Senior Fellow Condoleezza Rice released a report and an op-ed today in conjunction with the Bipartisan Policy Center's Task Force on Immigration, where she is a co-chair. Her op-ed, titled "The way forward on immigration" was co-written with the co-chairs of the BPC's immigration task force, Henry Cisneros, Ed Rendell, and Haley Barbour. The BPC also released a statement titled "Room for Consensus."
She writes: "As the debate continues, we must avoid making the perfect the enemy of the good: Our current system is fundamentally flawed and broken. If we can focus on where there is agreement and then work conscientiously to narrow our differences, then real and durable reform is possible."
Join the Conversation